Some many months ago in a secret location there was a meeting of three of the most important theatrical people on earth; William Shakespeare [by way of the Royal Shakespeare Company], Lin-Manuel Miranda and Gloria Gifford. Their goal was to stage the absolute best performance of the great Shakespearian classic Antony and Cleopatra.
Sir Shakespeare insisted the show stay true to his original intent and style, while Lin-Manuel Miranda suggested not only music but even contemporary musical forms such as rap and rock. All Gloria Gifford wanted was the best possible performance of the classic play in its modern most compelling form to appear under her direction on stage at Gray Studios in North Hollywood, California. Now in all honesty I am confident that such a meeting did not actually occur but from what I just saw it very well might have happened that way.
What is playing right now at Gray Studios is a beautiful, heart-warming, glorious show with the best of 16th century Shakespearean drama magnificently illuminated with ample doses of 20th and 21st century music. How do you quickly establish a core element of Cleopatra's personality? You start the show with a fun and powerful rendition of "Super Freak." a Rick James classic. And when the soldiers become a bit frustrated with the way things are going just add in a fantastic group version of "Satisfaction" from the Rolling Stones. Yes, and then there is Shakespeare all along the journey.
Cleopatra is undeniably gorgeous but very manipulative and often cunning. Because the show is double-cast you may see either Lauren Plaxco or Lucy Walsh in the role of Cleopatra. Both fit the image of magnificent beauty and both deliver superb performances. This I say with absolute authority because I actually watched the show twice in just two days, something I cannot recall ever doing before in somewhere around 3,000 plays viewed.
To my utter amazement I was equally thrilled two days in a row, because yes, it is that good. Also Antony is played by Danny Siegel as well as by Chad Doreck and Caesar is played variously by Justin Truesdale and George Benedict. One other character that deserves special mention is Mardian the Eunuch played in all performances by Antonio Roccucci who displays subtle yet powerful wit as well as some compelling vocal skills.
When it is all said and done "Antony and Cleopatra – the musical" remains one of the most powerful and gripping love stories ever told. However in its modern incarnation with abundant contemporary music it is in this man's opinion the best version of a great Shakespearean play to have ever been put on stage. I am convinced that even the ghost of the Great Bard himself is smiling as he looks down upon this performance.
There are of course two great tragedies within this show. One is the death of both Cleopatra and Antony and the other is that it is but a short run closing December 30th 2017. If you enjoy theatre you will love this show so make your reservation now because in this case to hesitate is to swallow the poison.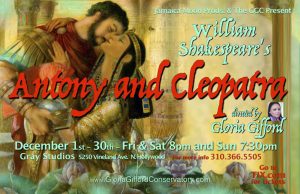 Antony and Cleopatra is at Gray Studios, 5250 Vineland Avenue, North Hollywood, California. Performances are Fridays and Saturdays at 8:00 p.m. and Sundays at 7:30 p.m.  Reservations can be made at: 310-366-5505 and tickets may be purchased online at:  www.tix.com.
My totally unabashed kudos to the entire cast and crew of this great show. It is one show you will never forget. But yes I am a critic so therefore I must criticize. Here then are my two criticisms: rarely but once in a while a performer may be briefly and slightly off on his or her lip sync. The other is that the run is just too darn short. So there you have it and it is still a must see show.
•••• •••• ••••• •••• ••••
Please check out Ron's website at: www.ronirwin.net
Photos by Mathew Caine
Top photo: Chad Doreck and Lauren Plaxco