If you like country music and I mean good old fashion s**t kicking Grand Ole Opry playing country music than you will absolutely love this show. The two principal characters Lana Mae Hopkins, played by Bets Malone, and Katie Lane Murphy, played by Misty Cotton, sometimes solo and sometimes in duet deliver right around 24 country classics with abundant skill and gusto as they weave their stories of cheatin' men while conquering fear and tough times.
It all begins in the Wishy Washy Washateria owned and operated by Lana Mae Hopkins. One day her employee gets arrested and can't make it in to work. Shortly after the very lathered up Katie Lane Murphy arrives and soon becomes the new employee. Then the story evolves as both women face betrayal, fear and regret.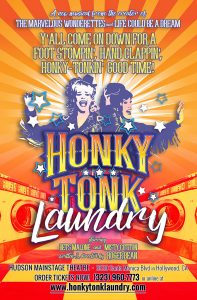 They tell their stories mainly through such classic western songs as "Stand By Your Man," "Before He Cheats," "Independence Day" and many more. One of the stand out performances wraps Act One with a very impressive rendition of Nancy Sinatra's one big hit, "These Boots Were Made for Walking."
It has often been said that humor flows from pain and since both women in the show are clearly deeply upset over their cheatin' men there is plenty of pain that is beautifully transformed into abundant humor. But for all of us men the message is also abundantly clear, don't cheat on your woman, especially not Katie Lane Murphy who is a blazing torch of scorn and vengeance.
As you sit in the audience enjoying this show what you will experience most is a steady flow of hilarity, some darn good western music and without giving away a spoiler a strong message of overcoming obstacles and disappointments with positive determination and a strong will. So it is funny, witty and filled with inspiration.
But it is all also very, very country music driven. Many but not all people enjoy country music but if are not among those who enjoy the genre you might want to avoid the show.  For everyone else well come on down and have yourself a ton of boot stomping knee slapping fun. Yee haw!
Honky Tonk Laundry is at the Hudson Mainstage Theatre, 6539 Santa Monica Boulevard, Los Angeles, California, 90038. It's playing now through September 17, 2017.
Show times are Fridays and Saturdays at 8:00 p.m. and Sundays at 3 p.m. and 7 p.m.  For reservations and ticketing either visit online or call 323-960-7773.
•••• •••• ••••• •••• ••••
Take a moment and explore this.
Top photo: Bets Malone and Misty Cotton, by Michael Lamont