T&T national Christopher Battoo makes it seven in a row – Running beyond the Boston bombings 
It's been seven years of good luck for Trinidad and Tobago national, Christopher Battoo, who has jogged through the Boston Marathon from 2013 to 2019. On Monday, Batoo and thousands of runners, ran beyond the Boston bombings that upset the annual athletic event on April 15th, 2013. Three people lost their lives, approximately 264 injured.
The battle of best ligaments, muscles and absolute fitness was put to the test yet again today — Monday, April 15, in a more fun game of thrones for medals and a peace of mind.
"I have been running for 6 years 3 months now and I have never gotten injured", a formidable Battoo tells the L.A. Post-Examiner.
Running loves Battoo and Battoo loves running. The fitness preparation for this showdown is a year round exercise, full of beautiful and bad weather, fun, relief and medals for the Trini American runner.
Battoo a winner
Watch Christopher pose for the cameras after winning the Hyannis 10K back in February.
 More success in photos: Battoo won the race at the black cat 10 miler in Salem on Saturay March 9th. His friend, Ryan Woolley won the 20 miler.
 Nothing to it for Battoo — running is his life; and he is not trying to escape anything, just never missing an opportunity to blend in with nature and follow the direction of the wind, moving past rough seas and under snowy conditions, nothing will get Battoo-boy to make an excuse to stay indoors.
Nature Boy Battoo
Watch Battoo deliberately connect with nature as he purposely runs alongside the beautiful lake Michigan back in October 2018; enjoying one of his annual fun training sessions, in preparation for his pleasurable marathon events.
After seven years of the same event, what could possibly be so special about this year's Boston Marathon? It was that curiosity that made the L.A. Post-Examiner team realize that Battoo is contented with both the simple and challenging things of life.
"This year is special because the past year the Boston marathon has gotten more popular and more runners are training hard. I have trained a lot better for this race than some of my previous Boston build up. Another special thing is that last year was an intense freezing rain storm which was bad for the runners and for the race — it looks a lot better and on the warmer side, so people want to have a better race than last year."
In this photo, Battoo walks on frozen ice at the Charles River after his long run
 In spite of the beauty of this exercise, scars are a funny and memorable thing. There is still the question of the Boston bombings, the trauma that trails in the memories of those who were there and vacuum it left in the soul of the game for a very long time after.
"The Boston marathon bombing will never fade away. There will always be memories of the horrible terror that happened. I always think of Richard Martin who died in the Bombing during the race; In Copley Square at the finish line, the city built a Marathon memorial for the victims. People always leave flowers in memory of the victims every year. The memories are always there" Battoo admits to the L.A. Post-Examiner.
Battoo keeps on trekking 
Track work out at Boston University 3×2 miles
Battoo's Aim
To get his running down to 2:29-2:33 — He says to run that time in Boston is hard, because the weather can be hot, cold, windy, humid… "we trained all winter so it vary". "I always have big goals for Boston marathon, but it's not an easy course like California International Marathon, Berlin or Phoenix marathon, I want to go after fast courses but I want my PR to be in Boston Marathon since it's a World class marathon" Battoo said.
Never suffering an injury, but go under 2:30 in the marathon event, Battoo is just extremely happy to run a very consistent race those past years.
Run Battoo run
"I enjoy every moment of running, I have traveled around the country doing races, including N.Y, Maine and Chicago Marathon. Sometimes if I do get my goal, I always tell myself I'm very consistent in running. Running 90-100 miles per week is not easy; it takes a lot of time and especially in winter there are some days in 15°f I don't want to run. I will listen to some nice 80's music, have a cup of coffee and oats and head out."
Finish line
Watch Battoo in photos with the Greater Boston Track Club — the club he runs for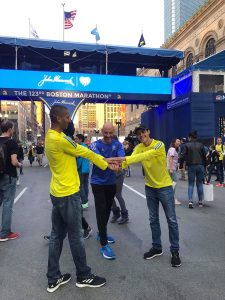 Five Trinidad and Tobago runners ran in Mondays Boston Marathon. Natalie Dorset lives in Manhattan N.Y, Christopher Battoo lives in Boston, Dominique Em lives in Port-of-Spain Trinidad and Tobago, Lori Caldon in New York and Dexter Web lives in Trinidad and Tobago.
•••• •••• ••••• •••• ••••
Editor's note: Lawrence Cherono of Kenya won the Men's and Worknesh Degefa of Ethiopia won the women's. Christopher Battoo finished with a time of 2:29:35