American Assassin could be the next franchise
3 out of 4 stars
Move over Ethan Hunt and James Bond: You've been replaced by a new top spy — Mitch Rapp.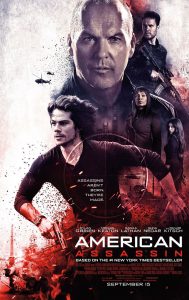 Rapp is younger, more good looking and after seeing American Assassin, you'll agree the future of superspies has arrived.
Rapp, who is played by former Teen Wolf star Dylan O'Brien, shines in American Assassin, which is a spy thriller based on novels written by late author Vince Flynn.
Rapp gets into the spy business for the simplest reason of all: revenge. He's out to get the Islamic terrorist who gunned down the love on the life minutes after he proposed to her in an opening scene in which the movie grabs your attention and never lets go. Rapp, who himself is shot during the murderous rampage at a Spanish beach resort that leaves dozens dead including his fiance, spends more than the next year recovering and training to become an assassin intent on murdering those who ruined his life.
He's a badass — a trained killer whose as good with his fists and knives as he is with a gun and he shows absolutely no remorse. His plan is to infiltrate the terrorist group as an American jihadi. But just before he can be indoctrinated into the extremist group, the CIA bursts into the compound and kill everyone and brings Rapp back to America to train him to become their next superspy. Rapp is managed by CIA boss Irene Kennedy (Sanaa Lathan) and trained by Stan Hurley (Michael Keaton), who was one of the country's best black-ops stars but comes out of retirement to help Rapp save the world from the rest of the Islamic group who is trying to blow up the world.
The threesome hunts to find weapons-grade nuclear material that was stolen from a Russian vault and has fallen into the hands of "Ghost," a rogue agent played by Taylor Kitsch, who was once the U.S.'s top assassin.
The chase and action scenes will have audiences buzzing and longing for a sequel, which you can bet will hit screens in a few years. O'Brien has found his role and could easily turn this one movie into a franchise.

Jon Gallo is an award-winning journalist and editor with 18 years experience, including stints as a staff writer at The Washington Post and sports editor at The Baltimore Examiner. He's also an editor for CBSSports.com. He's crossing his fingers the only baseball team in Baltimore that will contend for a title this summer won't be his fantasy squad, the Catonsville Cartel. He also believes the government should declare federal holidays in honor of the following: the Round of 64 of the NCAA men's basketball tournament; the Friday of the Sweet 16; the Monday after the Super Bowl; and of course, the day after the release of the latest Madden NFL video game.