Big News: A Presidential Search Warrant and Fernando's Suspension
The biggest news —  the absolutely biggest news — in the U.S. is the FBI's lawful search of the ex-president's Florida residence looking for documents that were illegally held by the ex-president. That includes documents that have the highest security ratings: TS/SCI There's nothing bigger.
The right — the MAGA supporting GOP — were crying for a few days, claiming the FBI illegally searched Trump's Mar-A-Lago residence, which is in a golf resort. For a few days Trump enablers and bootlickers threatened members of the Justice Department and the FBI, demanding to know exactly what the federal agents were looking for and what they took from Trump's Florida home.
So, on Thursday evening Attorney General Merrick Garland said he and his team were requesting a federal judge in the Southern District of Florida unseal the documents and make them public.
Trump, being the idiot that he is said he agreed — make the search warrant and inventory public. So the judge did.
Now the MAGA supporting right is parroting Trump's extremely stupid claim that "Obama has 33 million pages of classified documents in Chicago." Really? The National Archives refuted that, saying all of Obama's records are being safely stored by them
Well, here is their statement"
"The National Archives and Records Administration (NARA) assumed exclusive legal and physical custody of Obama presidential records when President Barack Obama left office in 2017, in accordance with the Presidential Records Act (PRA). NARA moved approximately 30 million pages of records of unclassified records to a NARA facility in the Chicago area where they are maintained exclusively by NARA. Additionally NARA maintains the classified Obama Presidential records in a NARA facility in the Washington, DC, area. As required by the PRA, former President Barack Obama has no control over where and how NARA stores the presidential records of his administration."
Ba-dumb-bump. With the Trump Cult no lie is out of bounds. The fervor to support the insurrectionist-in-chief continues on social media and the MAGA loving "news" outlets … well, propaganda outlets.
Never before have we had a former — or current — president investigated for possible crimes that include espionage.  There was only one other president, Richard M. Nixon, who was investigated for obstruction of justice and he was forced to resign and the only reason he wasn't prosecuted for his crimes is that his successor, Gerald R. Ford, gave him a blanket pardon for all crimes committed while he, Nixon, was president. So this current situation for the ex-president is not completely unprecedented. — but damn! It sure makes Nixon and his crooks look like the Backstreet Boys getting caught shoplifting … not that the Backstreet Boys would be out shoplifting at this time in their lives.
Oh yeah, the far right has taken a position from the far left who cried out, "DEFUND THE POLICE!" Rep Paul Gosar, the nut bar from Arizona, said the FBI should be destroyed. Below is that actual Tweet Gosar posted.
The FBI raid on Trump's home tells us one thing.

Failure is not an option.

We must destroy the FBI.

We must save America.

I stand with Donald J. Trump.

— Rep. Paul Gosar, DDS (@RepGosar) August 9, 2022
And the crazy rep from Georgia … well, let's be more specific, the craziest rep from Georgia, Marjorie Taylor Greene, agreed with Gosar, obviously, and came up with crazy ideas of her own. She just drafted articles of impeachment to remove Merrick Garland from office.
I'm a little reticent about mocking the crazies in Congress, which includes Lauren Boebert of Colorado and … jeez, that list could get too long. The problem with the crazies in Congress is that there are millions of people who consider themselves to be educated voters and they agree with the crazies. Some of those followers are ready and able to be violent against everyone that opposes and criticizes Donald J. Trump. Some nut bar shot a nail gun at an FBI office in Cincinnati, Ohio. He was chased down by law enforcement and killed. He will most likely become a martyr to the MAGA Cult.
The most popular phrase on Trump-ish social media is "Lock and Load!" The nut bars of the MAGA Cult want to start a civil war and they want to square off with the FBI and Justice Department first.
I'm sure they want to pick off a few people like me and will try to take out targets of opportunity. It is going to happen. The nail gun kook is just the first one. He was one of the insurrectionists on January 6, 2021 so he can join the woman thug who waa shot and killed by the capitol police during the insurrection. If there is a Hell they can get together and compare bullet wounds.
There is a lot more I could write about that, but there is a bigger story for Sandy Eggo and maybe the entire Major League Baseball world: San Diego Padres super star Fernando Tatis, Jr. has been suspended for 80 games for testing positive for a performance enhancing drug, or PED for short. In his statement, which can be found all over social media, Tatis Junior apologized to everyone for his "mistake" said he looks forward to joining the team in 2023.
It was an innocent error. Tatis, in a statement issued by the players association said:
"I have been informed by Major League Baseball that a test sample I submitted returned a positive result for Clostebol, a banned substance. I should have used the resources available to me in order to ensure that no banned substances were in what I took. I failed to do so."
No shit. Of course he's getting roasted on social media. No one believes his excuse. Had he just admitted what he had done, with that apology, he would still have an 80-game suspension, but people wouldn't be laughing at his explanation.  We would be laughing because he thought he could get away with it.
Below is the full statement by Tatis, through the MLB Players Association.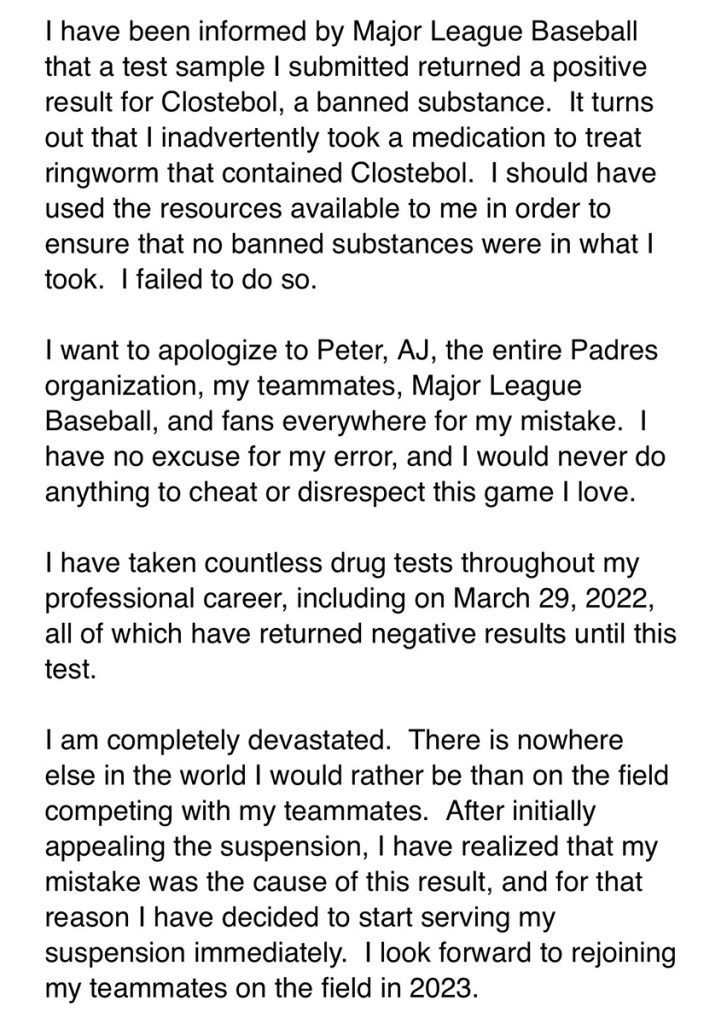 Busted.
Still, the Padres are doing well without Tatis. They just signed Juan Soto so their offense should improve a lot. Still, they are 17 games behind the Los Angeles Dodgers. The Padres will not win the division this season, but they can grab a wild card slot.
At this point the World Series Trophy is the Dodgers' to lose. The New York Mets are in a good position to win the National League pennant, but right now the Dodgers are a 12-cylander Ferrari 812 GTS blowing past every other car on the track (because they don't drive recklessly).
If the Padres want a real chance to win that trophy they need to cut the Dodgers' lead over them in the standings. Tough for the Padres to do. The Dodgers just swept the Friars in a three-game series. Well, Padre fans will just be excited to see their team in the postseason.
Without Fernando Tatis, Jr.

Tim Forkes started as a writer on a small alternative newspaper in Milwaukee called the Crazy Shepherd. Writing about entertainment, he had the opportunity to speak with many people in show business, from the very famous to the people struggling to find an audience. In 1992 Tim moved to San Diego, CA and pursued other interests, but remained a freelance writer. Upon arrival in Southern California he was struck by how the elected government officials and business were so intertwined, far more so than he had witnessed in Wisconsin. His interest in entertainment began to wane and the business of politics took its place. He had always been interested in politics, his mother had been a Democratic Party official in Milwaukee, WI, so he sat down to dinner with many of Wisconsin's greatest political names of the 20th Century: William Proxmire and Clem Zablocki chief among them. As a Marine Corps veteran, Tim has a great interest in veteran affairs, primarily as they relate to the men and women serving and their families. As far as Tim is concerned, the military-industrial complex has enough support. How the men and women who serve are treated is reprehensible, while in the military and especially once they become veterans. Tim would like to help change that.