Chargers take on the Cardinals in first preseason game
Today the Los Angeles Chargers are in Phoenix, Arizona to face the Arizona Cardinals in their first preseason game. It's the first chance for the coaching staffs of both teams to see how well some of their newer players perform in an actual game. For the Chargers and NFL fans this is the first time we will see the number one pick of the draft — and Heisman Trophy winner — Kyler Murray in action as a professional football player. He famously — or infamously for those living in Oakland — turned his back on a very lucrative baseball contract with the Athletics for this chance to play in the NFL.
In a post-practice press conference on Tuesday L.A. head coach Anthony Lynn was asked about facing the young QB. He said, "I'm not sure how much he's playing. We really don't care. We just know what guys we're going to play. It will be exciting to watch him play. I think he is a heck of a football player, that's why he was the first pick in the draft. He grew up 15 minutes from where I grew up, so I've known about him all his life. I knew his father, so I know he is raised right. He's a solid young man, but he's been a winner on every level — high school, college and I don't see him stopping that in the pros. He's just a winner."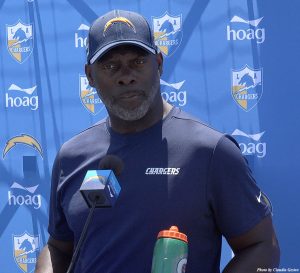 The team's star running back, Melvin Gordon III has not been to camp, holding out for a new contract. There are also rumors he wants to be traded. He is not listed in the Chargers roster on their website so speculation is running wild, but the likely trading partner, the Houston Texans, have backed off any trade. But the Chargers feel they have some good running backs in camp.
On Tuesday Lynn said, "That group has had a fine camp as a group. You have some young guys in there that you probably haven't heard of, but I think they're going to catch your eye in the preseason. There's Jeremy Cox, he's pretty steady and we will get a chance to see him run a little bit. He's playing two positions. He's playing fullback and running back so that slowed him down a little bit, but I like what he has done so far."
Improving the defense has been a high priority for the Chargers. Last season they were hard pressed for linebackers due to injury. LAPX reporter Claudia Gestro asked about the linebackers and secondary. Lynn responded, "Linebackers have had a good camp so far, but we've got to go and play an opponent. We will get a chance to watch the film and evaluate and see how they are learning the system because we have a lot of new guys. Right now, they are playing fast, they are playing physical. I like what I see."
Cornerback Desmond King II talked about the linebacker corps being healthy. "It's very encouraging. I'd say only because of how we ended last year with no linebackers available. Having everybody back, getting healthy, I think is a very good asset to our team. Just so that we can have extra people out there on the field. Having our linebackers will definitely help us in the run game, for sure."
Safety Nasir Adderley is out and won't appear in tonight's game, but Coach Lynn told the media we will see many of the young players. "You're going to learn a lot on Thursday night about some of these guys because you see them all at OTAs, minicamps, two weeks of training camp and now you get to see them in a live game. This is the real evaluation right here. We've had a lot of exposures, but this is the big one right here. So, we are going to learn a lot about the depth that we have, and we expect that depth to continue to get better and continue to develop. [There are] a lot of young guys right now and they're going to play, so I don't want to put too much into Thursday, but it'll be the first time that we get a chance to see these guys in a live game."
It's not likely we we will much of QB Philip Rivers, if at all. Lynn said Rivers got a lot of reps in training camp already. ""I had him close to 95-100 reps and those are as live as can be, but protecting the quarterback so those are valuable reps."
As far as the game, Lynn said, "He will be a guy that might be wearing a ball cap. I think we have four quarterbacks in camp. We have three good guys that are competing hard and I want to see all three of those guys play."
The three quarterbacks Chargers fans will see tonight are Cardale Jones, Easton Stick and Tyrod Taylor. Jones and Taylor were teammates with the Buffalo Bills before coming to Los Angeles. Coaches have a decision to make about which one will be the backup to Rivers once the season begins.
Game time tonight will be 7 p.m. Below is a video report by Claudia Gestro from Tuesday's practice.
Photos by Claudia Gestro

We are not the typical news website – nor do we wish to be. We will be offering more than news and blogs, but an opportunity for fiction writers, poets, comedians and musicians to showcase their talent and skills. Much like when the Beatles formed Apple Corps Ltd, they opened the door to all kinds of inspiring talent that never really got a shot. From that came the likes of James Taylor and others. We hope by providing a similar approach we can shine the light on some tremendous undiscovered talent and at the same time offer some familiar voices who live in Los Angeles and beyond.