Clayton Keshaw return uncertain, but Dodgers doing well without him
When a team's ace pitcher goes down with an injury they quickly move into damage control. With a team as deep and talented as the Los Angeles Dodgers, they don't have to do much scrambling right now. They have a strong bullpen that has been winning games for the past few months and they've been trying out their young prospect, Julio Urías as a starter.
What concerns Dodgers management and fans is: just when will Clayton Kershaw return to the rotation? He was on track to have his best season ever when he developed a back problem at the end of June.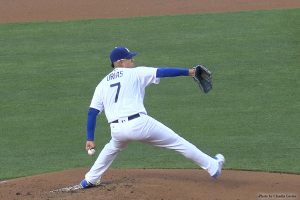 That was diagnosed as an irritated disc, but then after throwing a simulated game he felt more pain, so his return is still listed as unknown.
Up until June 26, his last start, Kershaw was having a great season. His ERA was 1.79, with 145 strikeouts over 16 starts and 121 innings. His record is 11-2.
In a short pre-game chat with the media, Kershaw said, "I'm trying to make it back to have an impact on this season for our team," adding, "I don't know what that means exactly."
The Dodgers have been doing well without him, and Kershaw has enjoyed watching them play, although it's not as much fun watching his team on TV. "It's not easy to watch games on TV, but these guys make me want to be a part of it. Just the way these guys are playing, it's a great team, it really is. It's just fun to watch."
Of his teammates Kershaw said, "One of the closest teams that I have been a part of. It's hard to be away, I hate it, but I'm really happy they're doing so well, and hopefully, I can make it back and help out in some way."
Since Kershaw has been out the Dodgers have a record of 15-8, so they aren't in desperate need of a replacement.
The rumor is the Dodgers have been looking around for another arm and White Sox pitcher Chris Sale has been mentioned in those rumors. LAPX reporter Claudia Gestro asked Dodgers manager Dave Roberts how much interest the team has in Sale, especially considering the trouble Sale got into last week that got him suspended for a game by the team. "He's a very good pitcher, but I don't know."
He did tell reporters the team was comfortable with a four-man rotation for now because the bullpen has been so good.
You can see his full answer in the video below, as well as other questions he and Clayton Kershaw spoke to before the game with the Tampa Bay Rays, which the Dodgers won, 3-2.
New pitcher Bud Norris got the start and the win, pitching 6.1 scoreless innings. He gave up only two hits and walks, with six strikeouts. If the Dodgers are going to trade for someone like Chris Sale or Chris Archer of the Rays (who got the start Tuesday), they would have to give up something big, like Julio Arías and Norris could lose his spot in the rotation.
Right now the Dodgers record is 57-44 and they are 2.5 games behind the San Francisco Giants in the National League West Division.
Their second interleague game with the Rays is a day game and begins shortly.
Below is the video from yesterday's pregame remarks and the report after Norris's first start with the Dodgers On July 1.
Photos and videos by Claudia Gestro who contributed to this article

We are not the typical news website – nor do we wish to be. We will be offering more than news and blogs, but an opportunity for fiction writers, poets, comedians and musicians to showcase their talent and skills. Much like when the Beatles formed Apple Corps Ltd, they opened the door to all kinds of inspiring talent that never really got a shot. From that came the likes of James Taylor and others. We hope by providing a similar approach we can shine the light on some tremendous undiscovered talent and at the same time offer some familiar voices who live in Los Angeles and beyond.