Diary of a road tripping Tesla Mom Part 3: American Girls
KINGSLAND —I press the key fob and hear a click as the power liftgate rises above me allowing a rush of hot Georgia air into the car. I'm in the Tesla bed, lying next to my 7-year-old daughter, Abbey. Vivienne, my silver Tesla Model S, is plugged into a Supercharger just north of the Georgia State Line.
Sitting on the edge of the trunk, sliding sandals onto my feet, I notice a police car parked 40 feet away. Am I breaking the law, I wonder? So far we've had no trouble with the law, and I don't want to start now. Right then a uniformed officer approaches the patrol car and looks straight at me. I freeze. He nods in my direction and opens his driver's side door. Relieved, I smile back. If he was going to hassle me, he would have done it already.
Red dots light up across Vivienne's 17-inch touchscreen as the navigation calculates our route to Washington DC. Each dot indicates a Supercharger we will stop at along the way. A few weeks ago, I formally requested tours of the U.S. Capitol Building (APPROVED) and the White House (DENIED). Apparently, it's not easy to get into the White House these days, requiring a 6-month advance request and a lottery win. Still, I'm determined to see how close I can get.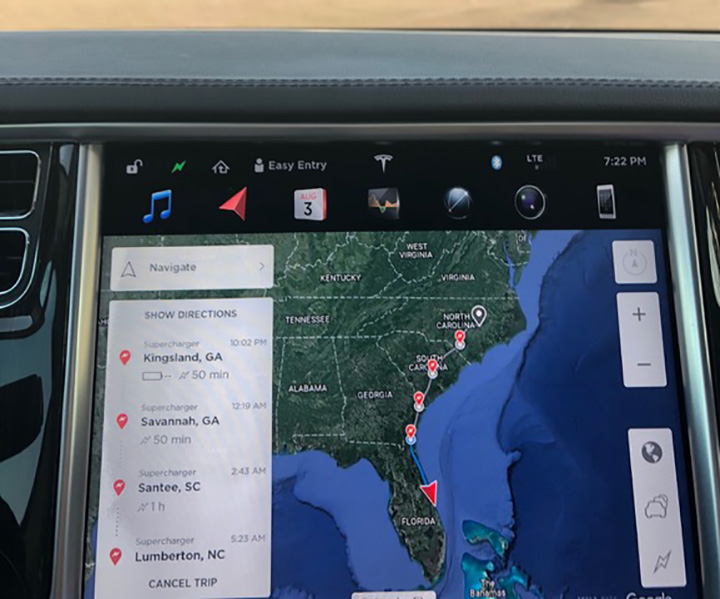 As the satellite navigation completes the route plan, I see that we will be in Savannah mid-morning. Savannah is where Abbey's godmother, Amanda, grew up. She lives in California now, but I text her mom, Kristina, a quick message to see if she wants to meet up.
It's been 25 days since Abbey, Vivienne, and I left Los Angeles and began our adventure. One thing I've learned from driving over 4,000 miles across the country on free supercharging: there is no shortage of Tesla chargers. Erring on caution, I packed all of Vivienne's charging adapters (J1227, NEMA 14-50, 110V), but I have had zero use for them so far.
As I pull away from the Supercharger, I wave to the policeman still sitting in his car and get back on I-95. Vivienne's premium sound plays 'Jah Music Radio.' Abbey organizes her sticker book and asks random questions like why glass is invisible, and why vampires are allergic to garlic.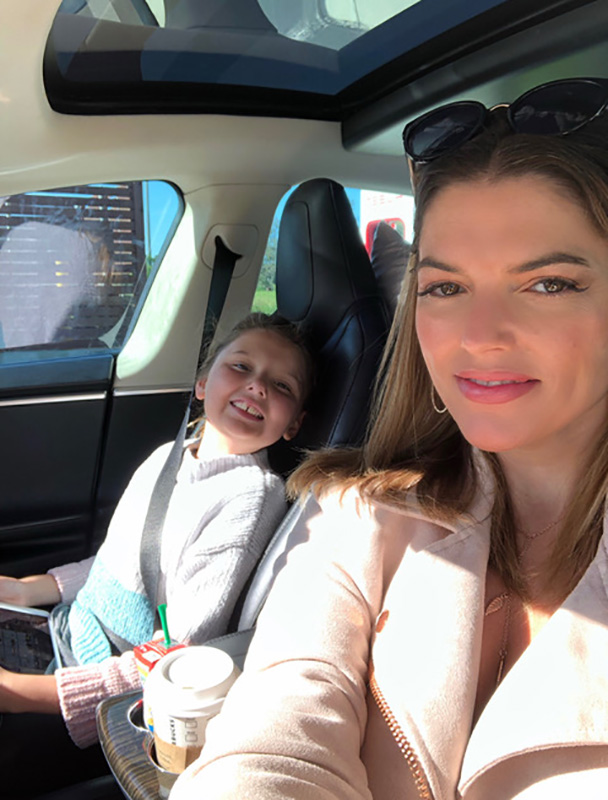 "Mom. Mom. Mom. MOM!"
"Yes, Abbey."
"I have to go to the bathroom."
I look around and see only trees. "There's no gas station for miles. Can you hold it?"
"No!"
"Okay. Can you squat on the side of the road? I'll pull over."
"NO WAY! I need a real bathroom." Abbey starts crying.
We are in the middle of nowhere. Just when I'm about to panic, we round a curve and I see a sign.
"Welcome to Hofwyl-Broadfield Plantation."  Hallelujah!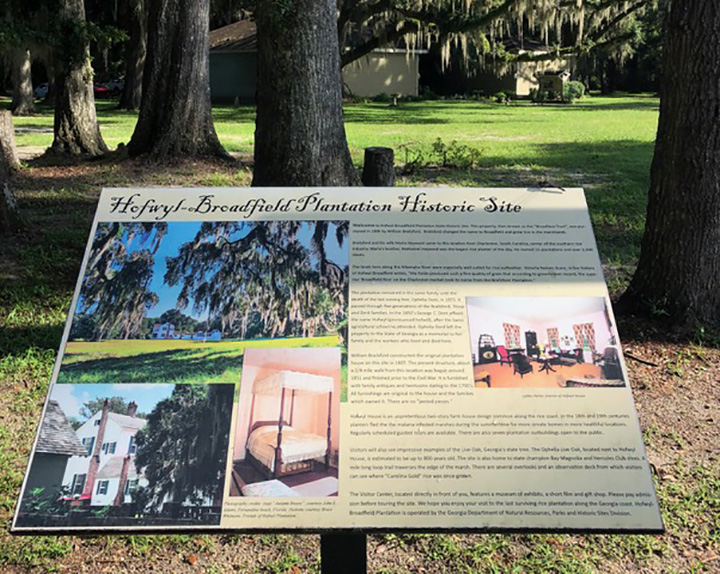 Cautiously, I turn down a beautiful oak alley admiring the moss hanging from the outstretched tree branches.
"Sooo… what is this place?" I ask the cashier of the gift shop after leading Abbey to the restroom.
"Back in the 1800s, this was a rice plantation with 7300 acres and over 350 slaves. Now it's a Georgia State Historic Site. Next tour in half an hour."
Outside, we wait for the tour to begin.
"It's the Avatar Forest!" Abbey exclaims as she peeks around one of the trees. She is searching for unicorns but so far the only one she found is her beanie baby. I am resting on the Tesla bed, quietly contemplating the history of this place. A sense of melancholy lingers among these beautiful oak trees. If it is true that ghosts exist there are certainly a few here in the "Avatar Forest."
I check my phone to see a message from Kristina inviting us to spend the night in Savannah. As much as I'd like to tour the plantation, I am not sure Abbey is ready for this lesson, and I am eager to see our friends, so we head out.
"Hi, girls!" Kristina, a former Swedish model turned Real Housewife of Savannah, welcomes us into the large 3-story estate. "Put your bathing suits on, girls. We're going swimming."
After a relaxing day at Savannah Yacht Club's newly renovated pool, we pick up Amanda's brother, Chris, on the way to dinner. Quickly I realize Chris and Kristina know EVERYONE. People are waving as we drive by. Kristina is having a conversation at the stoplight. This is quite a community!
"You bring me to eat at a swamp?" Abbey asks as we pass an old shed with "the WYLD" painted across the side in black block letters. The Wyld Dock Bar doesn't look fancy at first glance, but their modern food presentation, extensive wine list, and impeccable service puts it on par with the some of the finest dining I've experienced.
It's late but Kristina and I are in her eclectic art-filled living room, sipping pinot gris and chatting about life and relationships. I share the toast I gave at my sister's wedding; "to be grateful in the good times, to find humor in the bad times, and let your love guide you always."
"Oh, this is true," she says in her thick Swedish accent, "Tommy and me. We get the humor. Oh, we LAUGH so hard, maybe people don't know what we laughing for," she says, shaking her head intensely. "But we know."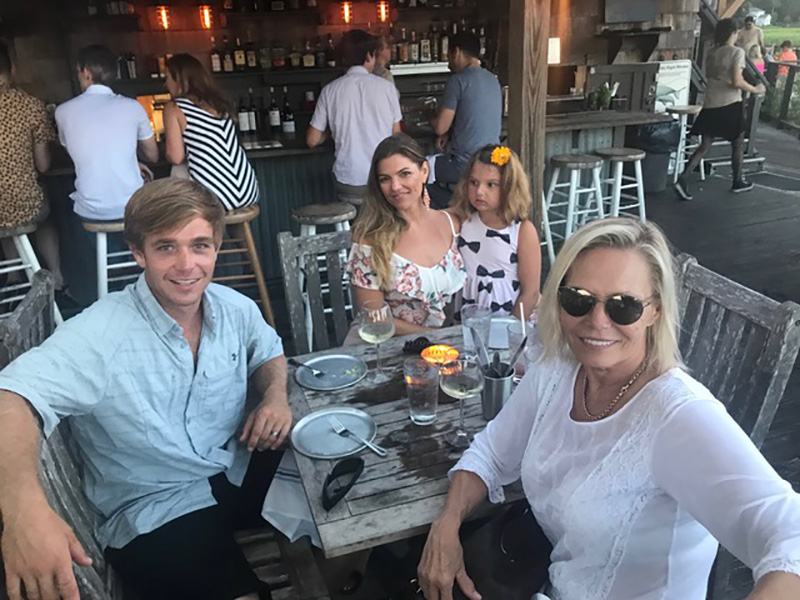 The next day, I can't get over how great it was to spend some unexpected quality time with Amanda's family. Abbey and I left Kristina's showered, rested, and laundry freshly washed. Like Vivienne, we have been supercharged and are ready to move on toward our nation's capital.
At the wedding, my brother mentioned we should stop by if we are near him.
Now that we are back on the road, I call him hands-free using Vivienne's voice command feature.
"Hey, Sean, we're just leaving Savannah now, but it looks like Goldsboro is a perfect halfway point to DC. We'll be there this afternoon."
"Sounds good. I can take you onto the base to see the F-15's if you want."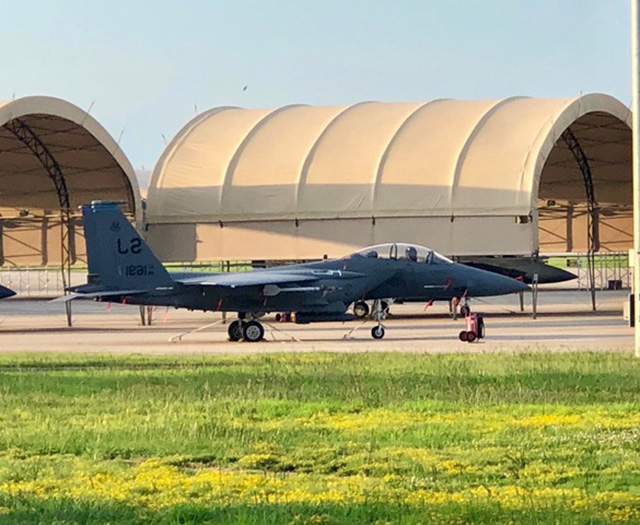 I cannot believe my ears. My grandpa was a pilot for the Marines, my father was a Navy fighter pilot, and I was a commercial flight attendant. A love for aviation runs through my veins. Now it looks like we'll have an opportunity to see the latest United States Air Force fighter jets. I can't speak for Abbey, but I'm excited.
We are standing in Sean's office on Seymour Johnson Air Force Base. His job is way over my head, but he patiently attempts to explain. I nod and smile.
"Sounds… technical." I respond, completely confused yet proud as a big sister can be.
He showed me a badass fighter jet, F-15E, and taught us about the "Missing Man Formation," a beautiful tradition to honor fallen pilots. Incredible. And the sweetest part of the entire visit, he taught Abbey to salute.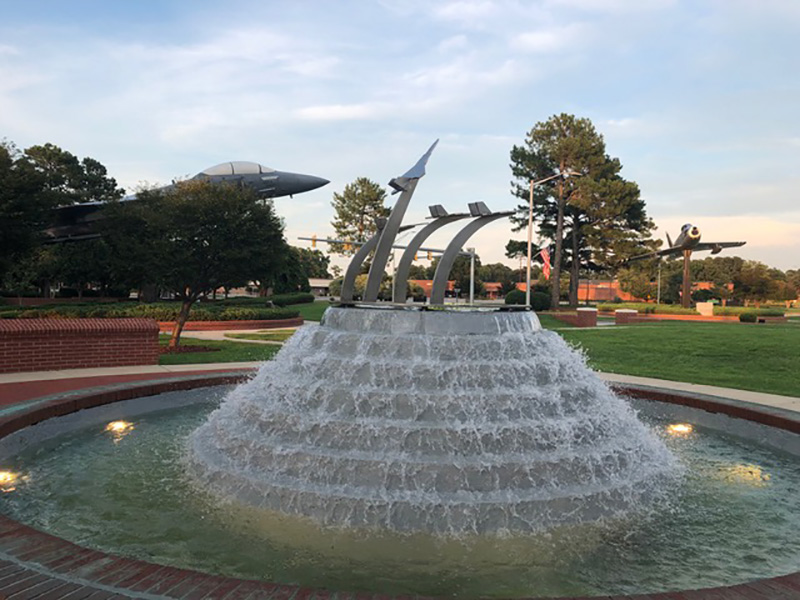 It's the crack of dawn. Sean is now dressed in his fatigues. He has work, and Abbey and I have a tour at 2pm. According to Vivienne's calculations, we should make it to DC right on time.
We made it! God Bless America!
My heart is racing as I enter our country's capital for the first time. I am driving in circles, literally, because all the streets in DC curve around. I figure the best strategy to arrive on time for the tour is to search the satellite navigation for a nearby hotel with Tesla Destination Chargers. Then I'll leave Vivienne with a valet and catch an Uber back to the U.S. Capitol Visitor Center. Surely the driver can get us to the right spot in less time than I can.
In the Uber, our driver assures me he knows exactly where the Visitor Center is. Then he utilizes the excess drive time to side-hustle his fragrance business. Politely, I smell the homemade samples between stoplights.
"That smells ah-mazing!" I say dreamily. He beams and makes me promise to follow him on Instagram. Finally, we arrive at an underground level of the Capitol building.
As we approach the gigantic building, the blue sky is perfectly framing the white dome. I've seen it countless times in photos and on the news, but in person, it is truly breathtaking. I take a photo, but the iPhone does not even come close to capturing the grandeur of the sight, or the buzz of the moment.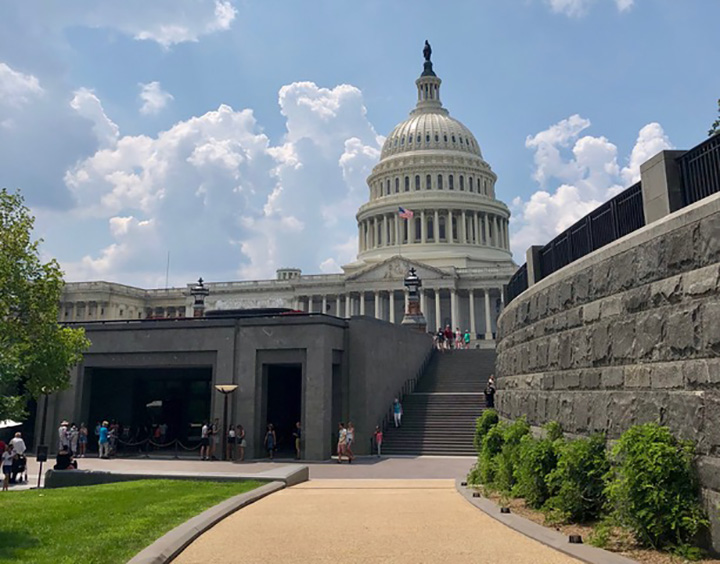 The Capitol is so packed and loud we need headsets just to hear our guide. In the rotunda, Abbey gets chastised for crawling on the statue of Frances H. Pierpont. I am blown away by the detail and extravagance of this building. The symbolism, the history, all of it is extraordinary.
Okay, I confess Abbey's crawling on the statue is not the only incident that occurred today. Government property was defiled. It is inexcusable, and I feel terrible. Now I just need to make it right … before anyone finds out.
Stay tuned for the next installment.

A former flight attendant, Tiffani A. Van Ee now balances her time as a travel writer, professional organizer, and single mother living in the Greater Los Angeles Area. She earned a Bachelor's degree in 2011 from UC Berkeley and worked as a grant writer in Hawaii. Tiffani recently returned from a 10,000-mile cross-country sojourn in an electric car with her 7-year old. You can follow along on her continuing adventures on Instagram at @TeslaMom.usa – Twitter: teslamom_usa – Website: https://sparkjoyla.squarespace.com