Dressing for success: A good T-shirt Is getting hard to find
I am not a hoarder. The past 16 months has seen me rid myself of a lot of stuff thanks to a few moves and some serious downsizing. I doubt there will be a day when my family has to hold an intervention for me because the inside of my home looks like a holding tank for my entire life. However, there is one thing I tend to hang on to much longer than is normal: t-shirts.
Lately, a good t-shirt is hard to find. I suppose, like most everything else, they are not made like they used to make them. For the last 20 years or so I could always rely on places like Marshall's, Ross, or T.J. Max for finding not just good quality t-shirts, but also ones that checked in at under ten bucks.  They were always good for a heavy duty 100 percent cotton tee that would hold up well while teaching Physical Education under some of the most extreme conditions.
Currently, I have four dresser drawers of t-shirts that fall under different categories. The top drawer holds shirts that are predominantly white with something eye catching on the front. Nothing is more frustrating than finding a really nice white t-shirt and getting a stain on the front well before its usefulness as a go-to shirt is up. However, it was always an occupational hazard that came from teaching in the heat of Riverside County. You do not want to teach middle school PE in 100°f heat while wearing a dark colored t-shirt.
The next drawer down holds my color t-shirts. Just like my white ones, these also are cotton and might show a particular logo. Often, they were unsold shirts depicting some sports team having won a particular title. I used to rely on these for my fashion statement to students during the cooler months of the year. Lately, I have gotten a lot of use out my black Anaheim Ducks tee.
In my third drawer are my sleepers. These are currently in a state of disrepair as a result of being worn nightly to sleep in and are in need of replacing. I have a couple waiting in the wings. Once a good t-shirt is no longer able to hold up for public display, I find they are perfect for slumber.
Right now, three of the four are from when I used to wear an extra-large. I swim in them now, but before I had three shoulder surgeries, I used to fit into them perfectly thanks to my pursuit of a goal of being  able to bench press 100 pounds more than my body weight.
One is an absolute classic that is riddled with holes. It's about 20 years old with a graphic that reads Psycho Chihuahua and dates back to when I used to find my t-shirts at a place called The Family Bargain Center. We used to shop there when my ex-wife was a stay at home mom and we pinched every penny I earned. I saw the rack with the shirts on it and loved the $2.97 price they carried so much that I bought all of them. I did the same with a batch of Mr. Potato Head shirts where he is playing hockey and using his nose as a puck. Middle school students used to love that shirt.
My bottom drawer is reserved for what I call my sawed off t-shirts, the ones I wear when I work out that have their sleeves cut off. I am not real picky about which shirts end up here. Usually, they are still in good shape at first but somehow failed to be among my favorite go-to shirts. I hate to see them just sit unworn in a drawer. Once they have served their time in the gym, I use them for things like cleaning my bikes, mopping the floors, and this past spring, to line the bottom of a planter I built so water would drain out without the dirt going with it.
You won't see me purchase a sleeveless tee, the kind where they hem the shoulders. They have to be cut off and for some strange reason, I have been doing this since the 1970s when I first hacked off the sleeves of my old PE shirts. I was ready when punk replaced disco in the t-shirt department.
For ten years, beginning in the mid 1980s, I never purchased t-shirts. I collected more than I could wear from all the running events I entered. I used to wear them with pride. I am a firm believer you should never wear a t-shirt from a running event you either did not run or failed to finish. None of those are left, but I do still have an old favorite from a 100K bicycling event that I now use for sleeping.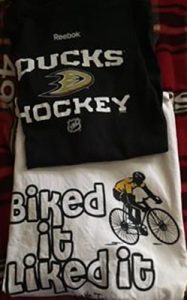 It's not even a color I like, but it is the shirt that came from the first 100K bicycling event I completed after my horrible accident ten years ago. Three days a week of grueling physical therapy were easier to get through knowing I had a goal in mind and the Avenue of the Oaks and all of its steep climbs seemed like the perfect goal for a man who was struggling just to stand upright at the time.
There is a t-shirt I purchased in Lake Tahoe that is sold to people who have biked around the entire lake, all 72 miles of it. Mine shows a serious looking cyclist on the front. I figured I deserved it when I reached my goal of cycling around the lake in under four hours. Funny how a t-shirt was all I needed to reward myself. However, I wasn't going to buy it to wear and tell people it took me four hours and four minutes, my time from my first attempt, so I had to come back the next year and push myself just a bit more before earning the right to wear such a quality shirt.
One of my favorites that will have to become a sleeper soon is a seldom worn t-shirt that used to be from when students wore simple looking shirts for middle school PE.  It is white with a name box that sits between the words Acacia on the top and Cougars on the bottom in blue. It dates back to 1992.
Today it seems like the PE shirts parents buy their kids are a blend of materials and are gray to hide sweat stains. Worse, they all appear to have some snappy looking lion, wild cat, or cougar on the front as if the brighter the school logo the faster the kid will run. Most do all they can not to sweat while they wear them.
Lately, I have found it very difficult to find quality t-shirts so this past spring I broke down and ordered three from Chico State University where I went to college. They're great quality and the graphics are not too obnoxious, however, they cost an arm and a leg. They have no choice but to hold up for a few years.
Recently I found two nice new t-shirts at the local Goodwill Store that balanced off the high priced college tees. Where else can you find a new t-shirt for a $1.25? I may go there again today when I drop off some stuff, among which is one of those newer t-shirts designed to wisk moisture away from the body. All it seems to do is make me sweat and feel sticky. They can sell it to someone with a different fashion sense than me. I proudly pull off my cut off t-shirts after a sweaty workout and wring out the moisture before hanging them to dry in the garage. Then they get tossed into the wash.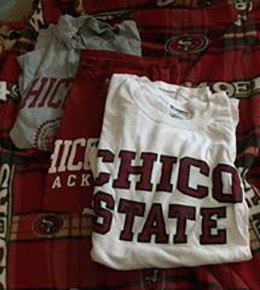 Last night, my wife was teasing me about my choice of clothes. T-shirts and shorts are far more comfortable than a suit or jeans and a dress shirt. My wardrobe to some might depict a guy who is lazy and maybe even borderline homeless at times, although I consider it appropriate wear for a man who is retired.  I just really like my 100 percent cotton. Even my few polo shirts need to be 100 percent cotton and they can only have two buttons or they are not much use.
Today, I supervise the skate park for the Recreation Department. I get to wear shorts and a company t-shirt which I am happy to report is 100 percent cotton. I also wear it when I work the Junior Park Ranger program and hand out produce and bread to seniors. However, I am under strict orders not to wear it for anything other than work, although I bet someday it will either become a sleeper or have the sleeves cut off because already, it brings me many great memories.
Fortunately, next to my four drawers of t-shirts are another set of four drawers, all of which hold my collection of shorts — but that's another article.
Photos by James Moore

Jim is a life long resident of California and retired school teacher with 30 years in public education. Jim earned his BA in History from CSU Chico in 1981 and his MA in Education from Azusa Pacific University in 1994. He is also the author of Teaching The Teacher: Lessons Learned From Teaching. Jim considers himself an equal opportunity pain in the ass to any political party, group, or individual who looks to profit off of hypocrisy. When he is not pointing out the conflicting words and actions of our leaders, the NFL commissioner, or humans in general, he can be found riding his bike for hours on end while pondering his next article. Jim recently moved to Camarillo, CA after being convinced to join the witness protection program.