"Master Class" is the best show in town
Master Class was written by acclaimed playwright and longtime friend of Garry Marshall, Terrence McNally. It was also one of Garry's favorite plays and now it has become one of mine.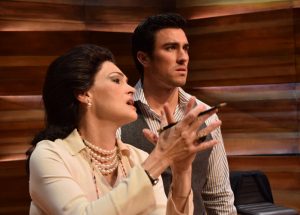 Master Class is a brilliantly written masterpiece delivered with stunning power and perfection by the cast now on stage at the Garry Marshall Theatre in Burbank, California. It is based on the life of Opera super star Maria Callas, a life of wild swings and lofty aspirations, filled with monumental success and overwhelming tragedy. Bringing that story to life on stage now is Carolyn Hennesy as Maria Callas. Her performance is totally riveting. I have never seen any performance that was more engaging, moving and compelling than that being presented by Carolyn Hennesy in Master Class.
The entire production is a presentation of a Master Class offered to aspiring opera singers by the gloriously famous Maria Callas. It is nothing like a typical play but then Maria Callas was far from being a typical person. Her first student in the show is Sophie de Palma played by Maegan McConnell. Now I will admit that I have never been a huge fan of Opera but when Maegan McConnell sang as Sophie her voice totally captured and held me. She was and is spectacular.
Another of Maria Callas' students was Anthony Candolino brought to life by Landon Shaw II. He also has a rich and powerful tenor voice, but for him it was far more a display of attitude that added yet another dimension to the show.
Then there was Sharon Graham played by Aubrey Trujillo-Scarr, Manny portrayed by Roy Abramsohn and Jeff Campella as the stagehand. All superb performances adding laughter, context and texture to this beautiful show. You will laugh, you will cry and you will never forget this great presentation of Master Class."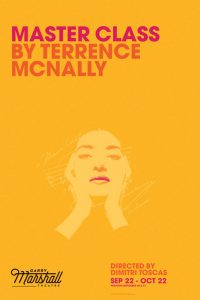 This play is in many ways the perfect choice for the launch of the rebirth of the fabulous Falcon Theatre as the Garry Marshall Theatre, renamed and reformed in honor of its founder, the late great Garry Marshall. It is absolutely a show not to be missed.
Now playing at the Garry Marshall Theatre, 4262 W. Riverside Drive, Burbank, California. The show runs now through October 22nd, 2017 with show times Thursday and Friday evenings at 8:00 p.m., Saturdays at 2:00 p.m. and 8:00 p.m. and Sundays at 3:00 p.m. The easiest ways to make your reservations and purchase tickets is by simply calling 818-955-8101 or HERE.
Many many years ago now I had the great pleasure of watching Joel Grey in Cabaret on Broadway. That experience was so delightful it has never faded in my memory.  Master Class at the Garry Marshall Theatre is of that same caliber. Go see it, you will be glad that you did.
•••• •••• ••••• •••• ••••
If you want to see other recent reviews take a minute and visit ronirwin.net
Photos by Chelsea Sutton
Top photo: Carolyn Hennessy and Maegan McConnell

Ron Irwin was born in Chicago, Illinois a long time ago. He served in the Marine Corps in Vietnam, became a trial lawyer, TV and radio host, CEO of a public company and once held an Emmy. He never won an Emmy he just held one. Ron has written and published twelve books. His most important book to date is "Live, Die, Live Again" in which Ron tells of his early life and his unexpected and very temporary death in 2012. That experience dramatically refocused his life and within the pages of that book Ron reveals how he achieved a much healthier life, ridding himself of Diabetes, Cancer and Heart Failure. Now Ron enjoys writing about many things including health topics, travel [he has circled the globe several times], adventure, culinary experiences and the world of performing art. Ron's motto is "Live better, live longer and live stronger because it feels great and annoys others." Contact the author.