NFL Week 12: Charged up in the AFC West
How many of you are still catching your breath from last week's Monday Night game between the Los Angeles Rams and Kansas City Chiefs? The Chiefs suffered just their second loss of the season and if it were not for just a play or two in each, they would be undefeated. Instead, they entered their bye week just a game up in the loss column to their divisional rival, Los Angeles Chargers. The Chiefs will be in the playoffs and yet at 9 and 2, they are not even guaranteed a divisional title.
We are a dozen weeks into the season and now down to crunch time. Most of the league's teams fall into one of three categories: Those headed to the playoffs; those headed for a total rebuild; and those scrambling for a wild card slot. This week, we will look at each group, but first, the lead.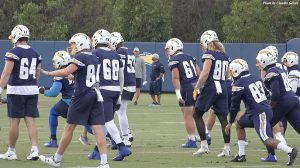 First Down:The Los Angeles Chargers. I still have difficulty with typing Los Angeles for this team. As a kid who had a difficult time paying attention in school, I often spent my time drawing detailed pictures of some of my favorite football players. Bart Starr was a go to as was anyone from the Buffalo Bills. I was drawn to how both teams played football in some of the worst snowy conditions while I lived in the comfort of the San Francisco Bay Area.
However, another favorite was drawing John Hadl throwing long bombs to the outreached arms of Lance Alworth. The Chargers were my favorite California team and for some reason, as a kid, I saw myself living in San Diego someday. Housing costs may have priced me out of the San Diego area, but I remained a fan of theirs.
I will admit I got pissed off at the team when they dumped Drew Brees and have struggled to embrace them since then. You can call it a trade, but I saw them dumping a guy who had brought the team back to life only to get tossed to the curb after they feared his shoulder was permanently damaged.
If I were the team's GM, I probably would have done the same. However, I still wished it was Brees at the helm today and Phillip Rivers in New Orleans.
That said, what the Chargers have done in the face of an unpopular move is pretty amazing. They play in a pint sized stadium, are set to be the red-headed step child in the Rams new stadium, and unless they win a lot, will play before fans who are more likely to be cheering on their opponents.
Despite this, they have a team guided by one of the toughest quarterbacks in the league (how many quarterbacks play in a playoff game a week after tearing his ACL?), and have a roster of names most of us have never heard of. Their best defensive player, Joey Bosa, has been injured much of the season, and still this team has a shot at winning their division.
How do you think the rest of the league feels about the Chargers hosting one or more postseason games in a stadium that seats just 27,000 fans? What do you bet the NFL moves those games to a larger venue?
The Rams may well be the more exciting team to watch, but this year's Chargers have a pretty wonderful story of their own to enjoy.
Second Down:Thanksgiving Day offered up a slate of games featuring six teams from the NFC. In the opener, the Chicago Bears showed why they are legit. Having to play a game on the road against a division rival inside a boisterous domed stadium is a challenge for any team. Having to do this on a short week makes it a bigger challenge.
However, having to do this while missing the services of your starting quarterback makes winning close to impossible. The Bears not only managed to win the game, they did it by coming from behind while being led by Chase Daniels making just his third career start. Chicago's 23 to 16 win over Detroit should be enough to show anyone who doubts them they are for real.
As for Detroit, all I can say is I wish they wore their Thanksgiving Day uniforms all the time.
On the flip side, the Washington Redskins were in the same situation as Chicago was and fell flat on their faces to the Dallas Cowboys. The Cowboys win looked impressive, especially when it was their third straight, but is a bit misleading. They have a brutal stretch coming up with games against New Orleans, Philadelphia, and the red hot Colts. We will see in a few weeks if they are as good as Jerry Jones will claim they are.
Hard to believe two weeks ago the Redskins looked like a sure thing. Now, they may be lucky if they win eight games. What a difference an injury can make.
Who remembers when the Saints and Falcons played what looked like the game of the year back in week three? Since then, the Falcons have been decimated by injuries and failed to pull out victories in close games while New Orleans has grown into a beast setting offensive records almost weekly.
The Saints may win it all this year while Atlanta has some tough choices to make this off season. First, do they find a new coach and change course or do they stand pat? Is there enough talent there to win next year if they draft right or do they need to rebuild? If they decide to rebuild, do they trade quarterback Matt Ryan for a slew of draft picks? Do they offer up Julio Jones for more picks? Atlanta is one of the few clubs where it is a hard call to make as to what to do next year.
Third Down: Adrian Peterson has had a tremendous season given his age and the fact no one wanted him until the Redskins lost their featured back for the year at the end of preseason. He clearly can still play the game at a high level and is doing so at the NFL's minimum wage.
Why in the world would he shoot himself in the mouth and tell a reporter he still uses a belt to punish his kids after he was suspended a year for using a switch on his son?
He clearly believes he is in the right to punish his kids in this manner while many of us may think it is wrong. He also clearly did not learn a thing while suspended by the league and has now publicly doubled down on his beliefs. The problem for him is he lied to the commissioner when he made statements about how much he has learned and grown from the incident that landed him a suspension.
Goodell is not likely to make a big deal of this during the middle of the season, but you can bet he and his team of investigators are all over the situation. This is one of the times they are right to poke into a life of a player's off field actions.
Don't be surprised to see Mr. Petersen having the NFL belt on his back side this off season and if he has trouble finding work next year, he has himself to blame.
Fourth Down:  Ruben Foster was finally released by the San Francisco 49ers after his latest arrest for domestic violence. He is just one more example of why it usually is not a good idea to risk a high draft pick on a player with a questionable past and bum shoulder.  When he was not injured, he was usually suspended. You would think after their time with Aldon Smith, the 49ers would have learned their lesson. Now they have one more hole to fill.  Perhaps next time they will seek to fill it with character.
Over Time:  Here are just some quick thoughts on the Sunday games.
Baltimore 34 Oakland 17: This game is just what the Ravens needed to stay in the hunt for a wild card birth.
New England 27 New York Jets 13: Another AFC East opponent laid to waist by Brady and company.
Seattle 30 Carolina 27: Now is not the time of year to lose three straight, but then Carolina does things their own way. Meanwhile, Seattle is about as difficult to kill as a cockroach.
Cleveland 35 Cincinnati 20: Ex-Browns coach, Hue Jackson, is now a special assistant with the Bengals and rumored to already be their coach next year. No wonder Cincinnati played like the Browns team he coached while Cleveland showed us they are vastly improved without their former leader.
Tampa Bay 27 San Francisco 9: The Niners have nothing but holes to fill this off season. Their defense is not to be feared and their offense can get nothing going without Jimmy Garrapalo. Now they need to find a back up quarterback since the two they have are worthless.
Philadelphia 25 New York Giants 22: Yes, the Eagles play in the NFC East and remain a game behind Dallas and Washington. However, this team flew the coup several weeks ago and show no signs of being a playoff team.
Buffalo 24 Jacksonville 21: Would someone please post the Jaguars team photo on the back of milk cartons fast? They have been missing now for two months. What the hell happened?
Indianapolis 27 Miami 24: Indy just keeps winning and if they continue, they will be in the postseason.
Denver 24 Pittsburgh 17:Who needs home field advantage to win in the postseason? Pittsburgh does, but they just coughed it up after losing on the road in Denver.
LA Chargers 45 Arizona 10: The Chargers plan to keep breathing down Kansas City's neck while Arizona appears set to change direction once again this off season. Phillip Rivers goes 28 for 29, about as close to perfection as you can get, while Arizona played like a team about as close to complete imperfection as possible.
Minnesota 24 Green Bay 17: I know a lot of Packer fans out there who live and die by their Pack. If Sunday night was not enough to make you pull the plug on this season, then you must be one of those people who believe in unicorns. Maybe Santa will bring you a new coach for Christmas.
Song Dedication: Since this year we have seen a number of rookie quarterbacks leading their teams, I figured it would be nice to dedicate a song to each one of them. They get beat up and battered around as they find the post college life of pro football more challenging than they ever thought. With that in mind, here are The Traveling Wilburys with a little something just for them.
••• •••• ••••• •••• ••••
MNF UPDATE:
Odd things to say, from the announcers: "This is a pro-style defense!" These are NFL teams; what other style of defense would it be?
Another, talking about DT J.J. Watt: "He has the freedom to make plays." Just out curiosity, would a coach ever tell a player, "We're putting you in the game, but you're not allowed to make plays."
In the announcer's defense, he did give a very good analysis of what the Houston offensive line was doing right for QB Deshaun Watson to have the success he was enjoying in Monday's game.
Booger McFarland aside, The Houston Texans had an incredible game — after the Tennessee Titans got off to a quick start. Marcus Mariota is one of the quarterbacks of the future. He's got talent, he's got poise; Mariota and his team have to learn more about closing games, or more importantly, staying in games.
In the second quarter, with Houston on its own 3-yard line, Deshaun Watson handed the ball off to running back Lamar Miller who then ran the ball 97 yards for a touchdown. Even though Tennessee missed several tackles that would have kept Miller inside the 15, the real issue for the Titans is that they let the Texans carry that momentum forward to the end of the game.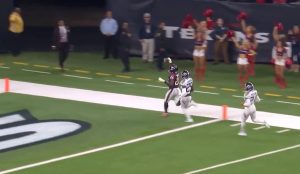 Tennessee never recovered after that. Houston was in the lead before Miller made that spectacular run (10-14), but the Titans were still looking good.
Both the Houston offense and defense were energized by Miller's run and the Titans were never able to snatch it back. They did score another TD in the third quarter to get within 10 points (17-27), but were not able to mount a comeback.
Final score: 17-34, Houston Texans, who are now firmly on top of the AFC South.

Jim is a life long resident of California and retired school teacher with 30 years in public education. Jim earned his BA in History from CSU Chico in 1981 and his MA in Education from Azusa Pacific University in 1994. He is also the author of Teaching The Teacher: Lessons Learned From Teaching. Jim considers himself an equal opportunity pain in the ass to any political party, group, or individual who looks to profit off of hypocrisy. When he is not pointing out the conflicting words and actions of our leaders, the NFL commissioner, or humans in general, he can be found riding his bike for hours on end while pondering his next article. Jim recently moved to Camarillo, CA after being convinced to join the witness protection program.