NFL Week 7: Time to start thinking of exit strategies
Green Bay 26-Chicago 10
The week began with the NFL's oldest rivalry in which the Green Bay Packers beat up on the Chicago Bears 26 to 10. The big news here was Chicago lost their latest starting quarterback, with a broken left arm. Hoyer will be out for eight weeks, however, he has the option of starting for Cleveland next week. Chicago cannot get a break with a broken arm because they still sit one game behind the Browns for the first pick in next year's draft. Worse, the Cleveland Browns found a way to continue their perfect season while also losing another quarterback.
Cincinnati 31-Cleveland 17
Everything was perfectly aligned for both the Browns and Bengals to win this weekend. The best professional football team in Ohio, Ohio State, lost on Saturday so you had to figure the stars were lining up for more Ohio craziness. It seemed the perfect weekend for the two worst college teams in Ohio to win on Sunday until the NFL schedule makers decided both Cleveland and Cincinnati (The Bengals and not the Bearcats) play each other.
Now that their 5th starting quarterback has been knocked out with a concussion, I am anxiously awaiting a phone call from Hue Jackson telling me to drag my 58 year old but to Cleveland just so I can fulfill my NFL fantasy. Fortunately for me, euthanasia is not allowed in Ohio and there are no cheap flights available.
NY Giants 17-LA Rams 10
Not sure if Jared Goff was cheering each interception tossed by Case Keenum or wishing he was still playing for Cal on Saturdays. However, thanks to Keenum's performance and the fact the Rams have extra time to prepare for their next game, Ram fans should see the number one pick in this year's draft take a beating soon enough.
As for the Giants, they keep their heads above water while they try and figure out a way to get their remaining opponents to start Case Keenum against them every week.
Detroit 20-Washington 17
This is the type of game In have been telling you about was headed Washington's way. They may still have four wins and just three losses, but now they have made the Lions seem like contenders. They're not because Washington has been a mirage all season. They are the kind of team that plays down to their opponents level, which in the end will be their demise. It also does not help when star corner back Josh Norman gets a concussion and is heard saying, "I thought I saw a puddy cat," in response to being drilled by a Lion.
Kansas City 27-New Orleans 21
If you are a fantasy football geek, you must love Drew Brees. However, if you are a fan of the Saints and want to see them rebuild and possibly win again, you are wondering why have they invested so much money in him when they have more holes than a golf course. With the win, Kansas City stays in the thick of the AFC West race which keeps getting better with each week.
Miami 28-Buffalo 25
I don't care who was missing from the Buffalo line up, this should have been a glorified scrimmage for the resurgent Bills. Instead, in typical Rex Ryan fashion, as soon as the talk gets to be about how dangerous this team is, they prove any team he coaches is only a threat to shoot themselves in the foot.
The Bills are pretty much the AFC East version of the Redskins and are bound to disappoint in the long run. Not to worry, Rex will get just enough out of them to secure another year coaching them and watch, next year they will be back to five and eleven.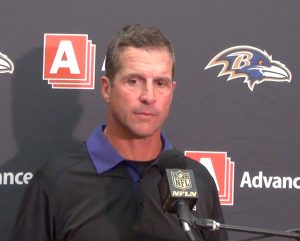 New York Jets 24-Baltimore 16
Oh where, oh where has the Raven offense gone? Seriously. How does a team with Joe Flaco at quarterback not put up 45 points on the Jets? How does this team lose to the Jets after new starter Gino Smith goes down and rejected starter Ryan Fitzpatrick goes back in? My guess is, John Harbaugh is dusting off his resume and thinking about where he wants to coach next. His team is dropping faster than Trump's poll numbers and the NFL is not filled with a lot of Hillary Clintons on the schedule.
Philadelphia 21-Minnesota 10
Sam Bradford is the gift that keeps on giving. Not only did the Eagles get a nice haul of draft picks for trading him to the Vikings, he also turns around and guides them to their first loss of the season to an Eagles team in desperate need of a victory. With the loss, the Vikings come down to earth, but can expect to bounce back. However, with the win, Philly stays very much alive in the now great looking NFC East.
Indianapolis 34-Tennessee 26
Does anyone outside these two cities care about this game? They represent all that is wrong with the NFL; two teams horrifically shy of talent will fight it out to season's end and possibly win the division with an 8 and 8 record while a team with ten or eleven wins goes home. This is a solvable problem, but the NFL owners prefer to create problems than solve them to maintain the integrity of the game. I am calling bullshit on this.
Oakland 33-Jacksonville 16
Crappy teams find a way to beat themselves and Jacksonville is a crappy team. Down 10 points with enough time to get two scores, what do the Jacksonville and the Pussycats do? They rush the punter and go for a block on 4th down only to see a skipped snap get picked up by the Raiders punter where he then RUNS 27 yards untouched for a first down.
I think it is in the NFL bylaws that whenever Miami wins a game they shouldn't win, all the people of Florida can talk about is how much the Jaguars suck. Congratulations for doing your job, Jacksonville.
Tampa Bay 34 -SF 17
Meatloaf one sang that two out of three ain't bad; he was wrong. Quarterback Colin Kaepernick, head coach Chip Kelly, and GM Trent Balke can't all be in the team's future. Two out of three is bad for this team and needs to go away. In my book, I keep Kelly and see what he can do with a new GM who knows how to draft talent and a QB who is interested in leading a football team to wins.
Of course, this means Kelly probably wises up and returns to the NCAA at one of the many choice college openings for next year, Kaeprnick leaves because he hates Balke to the core, and the York family extends Balke ensuring another five years of San Francisco fog.
San Diego 33-Atlanta 30
This really proves just how much San Diego needs a seven-day work week to choke. Four days was two little when they picked up a win number two and this week ten days were too many. Rest well, they will be returning to their seven day gag fest soon enough and Charger fans can go back to jumping off the Coronado Bridge.
As for Atlanta, they need to right their ship fast. They play in a weak division and have a chance to still run off 11 or 12 wins and host a playoff game or two. However, another game or two like this and they will be watching the Super Bowl from their living rooms.
New England 27-Pittsburgh 16
The Steelers defense did their job this week. They played their hearts out and gave their team a chance to win. However, led by back up quarterback Landry Jones, Pittsburgh had to settle for field goals inside the red zone all too often and were hurt with an early pick in the endzone. Why is it I see these two going at it in New England during the playoffs? These are the two best-coached teams in the NFL and they will find a way to cross paths in January.
Seattle 6-Arizona 6
Thanks to a ninth inning home run, Seattle ruined the Cardinals chance at history with the first ever Sunday Night no hitter in NFL history. Worse, with beer sales ended, exits closed and locked, fans were forced to sit through the league's version of extra innings and watch overtime to no avail.
Fans began chanting began chanting "No mas," until thankfully, Bud Selig stepped in and called an end to this travesty and Don Merideth stepped up to the mic and sang, "Turn out the lights, the party never started." The play was so wretched, players couldn't even score with the cheerleaders after the game. The sad thing is, had this game been played in London, half of the fans could have done what neither team's kicker could do, kick a winning field goal.
Monday Night Call: Houston vs Denver
When Denver players say they really want to kill Brock Osweiller for choosing the Texans over them in the off-season, they mean it. And because they mean it and because JJ Watt is not available to do the same to Denver's offense, this game becomes the same as watching a NASCAR race. The only reason to tune in is to see if someone is killed, in this case Osweiler.
My guess is, by game's end, Osweiler will wish he were dead. If Denver really wants to exact punishment on him, they will pull a Princess Bride move and just leave him mostly dead and make him live a lifetime of regret.
I Call Bullshit
So how does the NFL solve the nightmare of mediocre teams with a .500 record taking a playoff spot from a more deserving team with more wins? It's simple. You scrap all the divisions and go with just two conferences.
Each team in the NFC will play each other once for fifteen of their sixteen games. Their one remaining game would pit themselves with the AFC squad who finished with the same conference rank as them the year before (#1 vs #1; #16 vs #16). Obviously, the AFC does the same.
When the regular season ends, the top eight teams in each conference advance to the playoffs with #1 vs #8, 2 vs 7, 3 vs 6, and 4 vs 5 with the top four teams hosting home games.
First tiebreaker is head to head competition.
Second tiebreaker or multiple team tiebreaker is a caged match WWE style.
It's not that complicated.
•••• •••• ••••• •••• ••••
Editor's note: In the Monday Night game the Denver Broncos rudely reminded Brock Osweiler he left a very good team when they beat the Houston Texans 27-9. We say "rudely" because Osweiler fumbled the ball three times and barely threw for 131 yards with no touchdown tosses — the Texans had no touchdowns of any kind.
On the other hand, Trevor Siemian, the current Broncos QB, threw for 157 yards with one TD pass and no fumbles.
Photos by Claudia Gestro
Top photo: Aaron Rodgers of the Green Bay Packers

Jim is a life long resident of California and retired school teacher with 30 years in public education. Jim earned his BA in History from CSU Chico in 1981 and his MA in Education from Azusa Pacific University in 1994. He is also the author of Teaching The Teacher: Lessons Learned From Teaching. Jim considers himself an equal opportunity pain in the ass to any political party, group, or individual who looks to profit off of hypocrisy. When he is not pointing out the conflicting words and actions of our leaders, the NFL commissioner, or humans in general, he can be found riding his bike for hours on end while pondering his next article. Jim recently moved to Camarillo, CA after being convinced to join the witness protection program.