Rams show much improvement in win over Raiders
The Los Angeles Rams are unbeaten in the preseason, although it is only two games so far. Their next game is August 26 against the Los Angeles Chargers, at the L.A. Memorial Coliseum. Their fourth and final preseason game will be in Green Bay, against the Packers.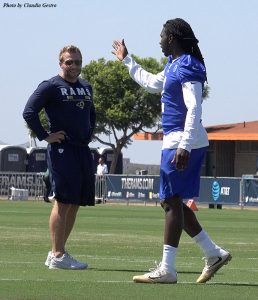 In this second game both Jared Goff and Sean Mannion looked good, driving the offense down the field to score points. Goff threw for 160 yards and a touchdown and Mannion 132 yards and a touchdown.
The running game only had 59 yards though, with Todd Gurley getting 38 yards on 8 carries. That's 4.75 yards per carry. If he can get that average in the regular season, getting to run the ball 20 times each game, he could have another season like he did in 2015.
Malcolm Brown and Justin Davis will have to do more than 1.4 and 1.6 yards per carry though. Todd Gurley can't carry the running load on his own.
Goff and Mannion had 12 receivers on Saturday, 11 of them had double digit yards. Tyler Higbee and Todd Gurley each caught one pass for 12 yards each. Cooper Kupp led all receivers with six receptions for 70 yards. With Sammy Watkins, who had two catches for eight yards, Kupp could be an explosive target once the season gets started. Many people questioned the trade for Watkins, due to his injury history, but they do have some wide receivers that could fill any gap if Watkins loses time to injury.
After Saturday's game it looks like this season the Los Angeles offense will be what fans expect. It is better than last season, especially considering Gurley had some success running the ball. If that continues, and Gurley gets 20 or more carries per game, this offense could challenge the Raiders and Seahawks this season.
In their first preseason game with the Dallas Cowboys, the big take away from the game, for both teams, was fumbles. In Oakland, the Raiders had no fumbles and the Rams had one.
In the second quarter Trumaine Johnson intercepted a Derek Carr pass. The Rams defense will need more of that as the season gets started. On August 31 the Rams will play the Packers in Lambeau Field and they will have a big test against a Super Bowl winning team and quarterback.
On Saturday the Oakland Raiders had 267 yards of offense, so the Rams defense did a good job against a team that averaged 258.5 yards passing and 120 yards rushing per game last season (378.5 total yards).
Both teams scored three touchdowns, which was close to the Raiders' average last season. But it was higher than the Rams' average per game, which was 1.43.
The Rams need much improvement before the season starts, but as we see the starters play more minutes, especially in the final preseason game, fans should have an idea of how their team will look in the regular season.
In this NFL, where passing is emphasized, the defense will have to limit teams more than they did against the Raiders. And they have to keep the rushing yards of their opponents under 100 yards per game.
The Rams defense misses defensive tackle Aaron Donald. If he holds out into the season the backups will have to step up. The defense played well last season, so it is likely they will perform as well this season.
The difference in the game was a field goal, a 35-yard shot by Greg Zuerlein. Last season he made 19 of 23 field goals.
It's too early to predict how the Rams will do this season, but it seems clear they will do much better than 2016.
Below are video reports by Claudia Gestro, including her interview with wide receiver Cooper Kupp.
Photos by Claudia Gestro

We are not the typical news website – nor do we wish to be. We will be offering more than news and blogs, but an opportunity for fiction writers, poets, comedians and musicians to showcase their talent and skills. Much like when the Beatles formed Apple Corps Ltd, they opened the door to all kinds of inspiring talent that never really got a shot. From that came the likes of James Taylor and others. We hope by providing a similar approach we can shine the light on some tremendous undiscovered talent and at the same time offer some familiar voices who live in Los Angeles and beyond.