Reggae on the Mountain is the best reggae venue in Los Angeles
In mid-July, when summer's heat sears L.A., Angelenos and savvy outsiders know the best, most refreshing, rejuvenating thing to do is to go to Reggae on the Mountain. Aptly dubbed by L.A. Weekly as "L.A.'s best reggae festival," I'd go a step further and opine there's no better place in all of Los Angeles to see live reggae music than in the stunning natural beauty of Topanga Canyon, California. Recently I had the opportunity to interview Reggae on the Mountain co-producer Amit Gilad about some of the positive vibrations festivalgoers can expect this year. What follows is a transcription of the interview, modified only slightly for clarity and space considerations.
Q: Hey Amit, thanks so much for taking the time to talk with me about the ninth annual Reggae on the Mountain.
Amit Gilad: Yeah man.
Q: I've attended the festival the last two years, and honestly, I just had the best time ever. You guys do a great job organizing and putting it all together. I'm excited!
Amit Gilad:  Thanks man, I really appreciate that. We put a lot of hard work into it. I'm excited this year, too: Bringing Toots [and The Maytals] and Barrington [Levy] is huge. And [all of] the music is [going to be] top-notch. Obviously there's a lot to be done right now, but as a reggae lover, I'm excited. We're all there to have fun. People can forget that because there's a lot of moving parts. Some people like to use the word "stress," I don't; "challenges," yes, there are always challenges, but when you have the gears turning, and everyone's doing their job, then you're [better] able to have fun and enjoy the event. That's the goal: run it smoothly so we can have a good time. 
Q: I thought it funny that in an interview with L.A. Weekly before last year's festival you were asked to name your wish list of performers for [when you host] the tenth annual Reggae on the Mountain. And at the top of your list you named Toots and The Maytals; and here we are in year nine [of the festivals], and you've already got Toots on the billing! You have to be pretty happy with that? 
Amit Gilad: Yeah man. It's been a long time coming. We've been talking to Toots and Toots's people for years. And he just got his work visa cleared up, whatever issues he had. So yeah, it just takes time. You have to talk to these guys and show them that you're serious year after year. He's a legendary guy. He might be the best living reggae vocalist out there right now in my opinion. 
Q: Now I doubt you got them for the price of one, but you actually have two Toots[es] who'll be performing – not only Toots and The Maytals, but also, Junior Toots!
Amit Gilad: Yes. This is going to be the first time in California history where both Toots and Junior Toots are performing [at the same festival].
Q: It seems like there's a decent chance we might see Toots and Junior Toots on stage together at the same time even, don't you think? 
Amit Gilad: I would assume so. I would expect that. I mean, it's all up to them, but I think that would be a lot of fun and our audience would love that. What's also really cool is that Quinto Sol will be backing Junior Toots. And Quinto Sol has played every single year; there's really no Reggae on the Mountain without Quinto Sol.
Q: [Quinto Sol] definitely put[s] on a great show.
Amit Gilad: It'll be cool to see them backing Junior Toots; it's gonna be great.
Q: One of the things I love about Reggae on the Mountain is often there are impromptu, unexpected collaborations where artists [who aren't even scheduled to perform] get up on stage [together] and create. Like last year, when Papa Michigan [of the famous duo Michigan and Smiley] just showed up at the festival unplanned and got on stage with King Yellowman. That was unbelievable! 
Amit Gilad: Yeah and we [also] had [DJ] Ranking Joe coming out with Michael Rose [last year too].
Q: Now looking again at this year's lineup, in addition to Toots and The Maytals, it would have been difficult for you to have booked more world-renowned reggae music stars from Jamaica than Barrington Levy and Derrick Morgan – what a treat!  
Amit Gilad: (Laughing) It's heavy. 
Q: Now less than a month ago there was disturbing news Barrington Levy had been accidentally shot in the back at his home in Clarendon [Jamaica]. Thankfully, Mr. Levy subsequently posted a message to social media letting his fans know he was O.K., and further, that he gives thanks for being alive. Were you able to confirm with him that he's still able to perform this year? 
Amit Gilad: Yeah. First of all, we're just so happy he's alright. It was a close call, and so I just thank God he's alright. It definitely raised some concerns [as to whether he could still perform at Reggae on the Mountain], but we checked in with his team and were assured everything is alright.
Q: Cool, 'cause I'm quite sure everyone wants to hear Barrington sing "Black Roses" and many of his other [smash] hits. Now in addition to reggae hall of fame type artists like Toots and The Maytals, Barrington Levy, and Derrick Morgan, who are some of the performers this year that people may not know a ton about yet, but, as co-producer of the show, you're most excited to have [festivalgoers see perform]?
Amit Gilad: Well, you know, everyone performing at the festival is a great artist. I'm really excited [to have] a rare performance from The Rastafarians. They're all old school L.A. cats. 
Q: Yeah!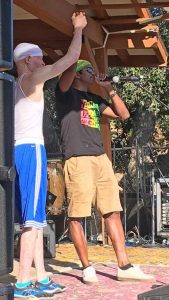 Amit Gilad: They do not play often, [in fact,] hardly at all. That's a pretty special performance.
Q: I had to look them up and find out a little more about them. They released a very highly regarded album called "Orthodoxy" [in 1981] – 
Amit Gilad: Yeah! Good stuff, man. That's gonna be a really special performance. And then of course, I love The Lions. Dan from the Lions lives here in Topanga, so that's some local love. I'm a musician so when I'm picking the bands, I'm really picking performers I know are going to put on a fantastic show.
Q: That feeds into my next question: As you've become more and more experienced producing the festival and booking the talent, what are the top things you consider when you're booking artists [to perform at] Reggae on the Mountain?
Amit: Obviously the level of talent. "Draw" as well; obviously this is a business, we have to book artists that are going to bring the people in. We've really billed ourselves as a roots reggae festival so we want to bring in [the most famous guys] in roots [reggae music]; [many of the artists from the older generation], we don't know how long they're going to be around for and they're total legends! Being able to work with these guys, these old school cats, the founding fathers of the genre – it's just awesome. [So,] I look at the draw, I look at the talent. Those are the two aspects, and, you know, have I seen them live before. I'm watching recent [footage] of them to make sure their [music] is still top-notch. 
Q: This year I note you have Empress Akua performing [on day one of the festival]. Now I could be mistaken, but is she the only female artist who'll be performing at this year's Reggae on the Mountain?
Amit: We also have Bodhi Rock who'll be on the main stage. I wanted to and I tried to have more female artists; we were talking to Leilani Wolfgramm, talking to Hempress Sativa, and [a few other female artists too], and the scheduling [just didn't work out]. We'd like to have more female artists. We managed to put [more female artists on the stage] last year. [The] [r]eggae [music industry] is a [very] male-dominated genre; I'm always considering that when I'm booking. I'm looking for solid female artists. At least we have one solid female artist per day with Bodhi Rock and Empress Akua. In the future I'd like to maybe get Jah9, –   
Q: Yeah, people would love to see that.
Amit: – Marcia Griffiths, and maybe also …
Q: Etana?
Amit: Yup, Etana. That would be great.
Q: Reggae expert and veteran radio announcer and presenter Junor Francis has emceed Reggae on The Mountain since its first year. How important is Mr. Francis's participation to the festival's success? And why?
Amit: Junor Francis!? He's a great supporter [of the festival]. He runs his radio show at KXLU and he's just a powerhouse emcee. You need an authentic Jamaican emcee to keep the vibes up at a festival. He's a regular emcee at [Los Angeles's popular and famed] Dub Club, and there's really no [reputable] reggae festival in California where you don't see Junor Francis.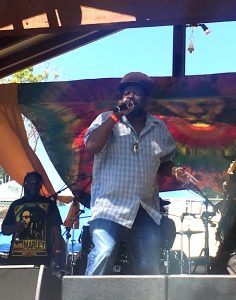 Q: That's true. As someone who writes about reggae and goes to a fair amount of reggae events, whenever I see Junor Francis in the audience, I'm positive I'm gonna have a great time. 'Cause he's usually there for the top [performers]. And I don't think anyone can quite raise the crowd's spirit like he does – in that very unique and distinct way that he does – each and every time.
Amit: [Emceeing] is a talent and just as important as any artist on the stage – being the master of ceremonies and keeping the vibes going. He also helped out a lot too with booking Derrick Morgan [to perform this year].
Q: As you said, you guys bill the festival as being a roots festival, and in an interview that you and co-producer Brooks Ellis did with The Culture Trip, Brooks said that each year you guys pay respect to the Rastafarian culture with the symbols and imagery you choose for your festival poster. And Amit you were quoted in the same interview saying, "It's been really cool to learn so much about the Rasta culture." What are a few elements of the Rastafarian culture that [attracted] you to it, and made you want to promote it with Reggae on the Mountain?   
Amit: It's about One Love. And rising up against oppression. It's kind of a rebel culture, you know? It's rebelling against a lot of the things that are keeping us down as people, and as a culture. It's [also] about community. [And,] once you get deeper into the culture, you realize [that there's a great diversity of beliefs within it]. When [co-producer Brooks Ellis and I] were teens, Ras Michael used to invite us down to his place for bible reasoning and Nyabinghi [drumming], and all this really amazing stuff. He would interpret verses [for us]. [And] it's just a really inspiring philosophy. And then the music of course is so interwoven with the philosophy and cannabis; the way that they treat the herb as a meditative vibration-raising sacrament. There's a lot of beauty in Rastafarian culture, and it resonates with a lot of people.

Stephen Cooper is a former D.C. public defender who worked as an assistant federal public defender in Alabama between 2012 and 2015. He has contributed to numerous magazines and newspapers in the United States and overseas. He writes full-time and lives in Woodland Hills, California. His twitter is: @SteveCooperEsq