Tucker Gets the Boot and Half the Nation Rejoices
The flash from Fox (not) News on Monday, April 24: Tucker Carlson is out, gone, kaput. Neither Tucker or Fox will use the "F" word — Fired. They won't use the other "F" word on air either, although that is true for most news organizations, including this one. It has been strongly suggested, by the publishers, that I refrain from using that particular "F" word or any of its derivatives. So, no fucking "F" bombs from me.
At any rate, the firing of primetime liar, fascist, racist, misogynist and elitist Tucker Carlson has caused major upheaval in the worlds of politics and news/opinion television. After Fox (not) News settled the defamation lawsuit with Dominion Voting Systems for more than $787 million Carlson said nothing — nothing — about the settlement, but continued to spew major misinformation that very day. The only comment from the network was a statement that includes the most outrageous comment made by a news organization ever.
"This settlement reflects Fox's continued commitment to the highest journalistic standards."
Sometimes real life is much funnier than any comedy sketch we could watch on SNL or Comedy Central. Jordan Klepper talking to fanatical Trump Cult members and nutty gun enthusiasts for The Daily Show is very funny, but almost pales in comparison to Fox (not) News claiming to have "The highest journalistic standards."
It's the exact opposite of what the Dominion lawsuit against Fox proved: the media company ditched whatever journalistic standards they may have has so they could retain their audience by — knowingly — telling the lies about the 2020 election that Donald J. Trump was spewing out every day. And Fox gave a platform to all of Trump's crack team of grifters to promote all the crazy conspiracy theories.
Did the lawsuit by Dominion change the propaganda network's practices? Hell no. There wasn't an open apology to the voting systems company or their viewers. As far as the Fox (not) News regular viewers know, the lawsuit was just a minor inconvenience.
Most people have expressed their deep disappointment when the case was settled before any of the Fox Corp management and hosts took the stand to testify under oath. We have the transcripts of Carlson's text messages with his colleagues and staff — and some of the worst misogyny by an on air host since … dang, I've forgotten his name already. Bill O'Reilly. It's amazing how quickly we can forget A-holes like him, once they are off the air. Maybe it will be faster with Tucker.
So the talk is there are Carlson text messages we haven't seen that were the major reason the nonagenarian owner of Fox Corp pulled the plug on the most elitist, racist person to ever have a popular talk program. The ones we have seen would be troubling for Rupert Murdoch, but are quite entertaining to the rest of us. Like "We worked really hard to build what we have. Those f****rs are destroying our credibility. It enrages me."
Watching those F-bombs here.
Then there were all the conspiracy theories that Carlson promoted — but didn't even believe — that made the leadership at Fox Corp uneasy.
So the top-rated Fox (not) News host was shitcanned after telling his audience on Friday they would see him the following Monday.
Oh yeah, a former Tucker Carlson Tonight producer, Abby Grossman, is suing Fox because of the alleged misogyny and harassment at TCT. It's probably not alleged if there are emails and text messages that show Carlson being a racist and misogynistic A-hole.
I reluctantly bring this up because it might look like I'm defending Trump Lawyer Sydney Powell, but in a text Carlson called Powell a … C (rhymes with hunt). Carlson and his buds also talked about which female politicians were more … starts with F, rhymes with tuckable …
Carlson just tweeted something, but is he still relevant?
The best joke about Fox (not) News and Tucker Carlson belongs to Desi Lydic who was hosting The Daily Show this week. "I can't believe a network that's so opposed to gender affirming surgery just cut off their own dick." BOOM!
Recently I read an article from the New York Times that had several very disturbing images from the recent NRA Convention and gun nut sale-a-thon. The pictures were of small children — very small children — holding and sighting gun-mounted scopes. Who is grooming young children? Will one of these children become a mass murderer? As far as I can tell, Drag Queen Story Hour, all-inclusive children's books, teaching more complete U.S. history and using terms like "gay" were not grooming children to be killers.
So much going on these days. President Joe Biden and Vice President Kamala Harris officially announced they were running for re-election. People think Joe is too old, but some guy on the The Young Turks said he would gladly vote for the octogenarian over a lying, thieving, fat F**k racist and misogynist A-hole who is currently in a civil trial in which he has been accused of rape and defamation and has been indicted by the District Attorney of Manhattan and is under at least three other investigations at the state and federal levels. And he really isn't that much younger than Biden anyway.
Former GOP governor of South Carolina and Trump's Ambassador to the U.N., Nikki Haley predicted President Biden will be dead in five years and therefore a vote for him is wasted, unless you like the idea of Kamala Harris being president. I like the idea of Kamala Harris being president, but not because of Biden resigning from office or dying. I'd love to see her run and win in 2028.
Max Rose, the former Democratic New York Representative has the best comeback for Haley's wish that Biden will be dead in five years. Rose told MSNBC anchor Alex Witt Haley's political career will be dead in five years … BANG! Actually White House spokesperson Andrew Bates had the top response to Haley's remarks. "As you know, we don't engage with campaigns. But honestly, I forgot she was running." D'OHHH! That hurts! If this were an NBA playoff game it would be like the Lakers' big man Anthony Davis posterizing the Memphis Grizzlies' power forward Xavier Tillman with a monster two-handed dunk … "Umm, Xavier who?" Basketball hounds will claim they know who Xavier Tillman is, but only because they got stuck with him in their fantasy basketball league.
That's it, I'm done. Originally this was going to be about guns, but Tucker and Fox (not) News upended that. Maybe next time. Thanks Desi.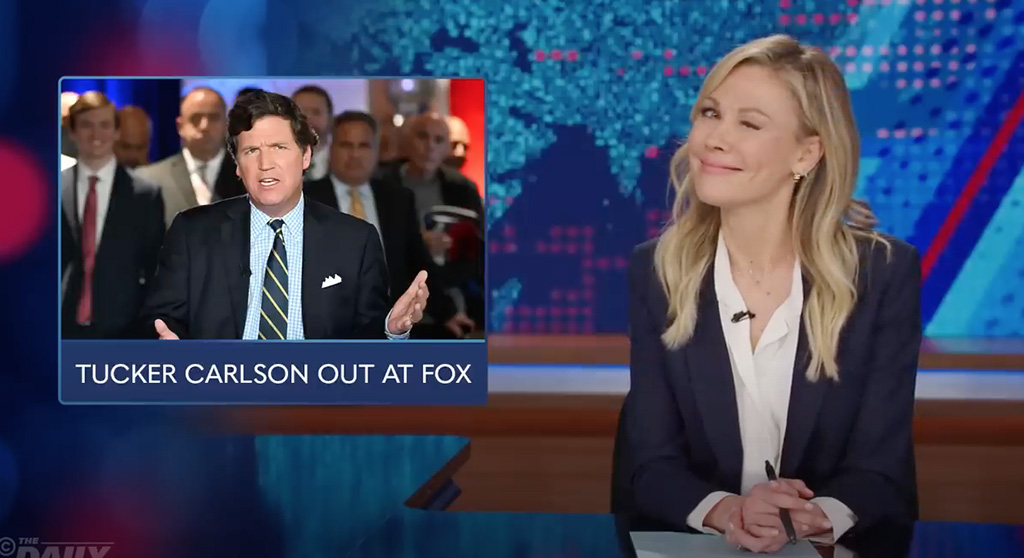 Tim Forkes started as a writer on a small alternative newspaper in Milwaukee called the Crazy Shepherd. Writing about entertainment, he had the opportunity to speak with many people in show business, from the very famous to the people struggling to find an audience. In 1992 Tim moved to San Diego, CA and pursued other interests, but remained a freelance writer. Upon arrival in Southern California he was struck by how the elected government officials and business were so intertwined, far more so than he had witnessed in Wisconsin. His interest in entertainment began to wane and the business of politics took its place. He had always been interested in politics, his mother had been a Democratic Party official in Milwaukee, WI, so he sat down to dinner with many of Wisconsin's greatest political names of the 20th Century: William Proxmire and Clem Zablocki chief among them. As a Marine Corps veteran, Tim has a great interest in veteran affairs, primarily as they relate to the men and women serving and their families. As far as Tim is concerned, the military-industrial complex has enough support. How the men and women who serve are treated is reprehensible, while in the military and especially once they become veterans. Tim would like to help change that.