3 out of 4 stars
Leave it to a Volkswagen Beetle to return the power to a Transformers story that had gotten worse with every chapter after an explosive start more than a decade ago.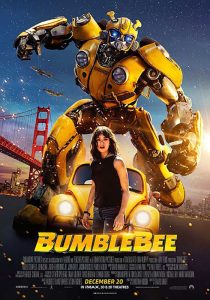 Bumblebee, the yellow and black car-turned-robot who is perhaps the best-known Transformer next to Optimus Prime, flexes his muscle as the title character in Bumblebee.
The robot may not be the most powerful Autobot, but he's strong enough to lift the Hasbro toy-inspired franchise to new heights.
What separates Bumblebee (which is the franchise' lone prequel, the robot isn't alone) is how he and his fellow robots interact with humans.
It's San Francisco in 1987 – ironically when Transformers as toys were at their height of popularity – and Bumblebee is found in his hidden state as a car by teenage mechanic and tomboy Charlie Watson (Hailee Steinfeld). Charlie convinces the garage owner to give her what appears to be a broken down Volkswagen Beetle as a birthday present.
But upon returning home, she learns there's more about the car than meets the eye.
Charlie doesn't have many friends and isn't really accepted by her family – namely her mother Sally (Pamela Adlon), step-father Ron (Stephen Schneider) and younger brother Otis (Jason Drucker). She seeks companionship with her car, naming it, of course, "Bumblebee."
What Charlie doesn't know, but soon finds out, is Bumblebee's past. On his planet of Cybertron, he's a rebel sought by the ruling Decepticons for his role in the Autobots' failed uprising.
A pair of Decepticons, Shatter (Angela Bassett) and Dropkick (Justin Theroux), track Bumblebee to Earth, where it's up to Charlie and Bumblebee to protect the planet from being conquered by the bad guys.
Directed by Travis Knight ("Kubo and the Two Strings") from a script by Christina Hodson ("Birds of Prey"), Bumblebee remains true to the franchise's trademark of outrageous fight scenes. But it provides depth by explaining to audience why the shape-shifting robots who became one of the most popular toys of the 1980s came to our planet in the first place.
The movie does a good job of seizing the audience from beginning with an explosive, action-packed fight scene that would make Michael Bay, who directed the first five "Transformer" movies, proud.
Staring at defeat, Optimus Prime (Peter Cullen) distracts the Decepticons so Bumblee and other Autobots can flee Cybertron before being killed. He orders Bumblebee to go to Earth, where he can protect the planet while the Autobots regroup and plot to regain control of Cybertron.
Bumblebee runs into trouble when he encounters a squad of soldiers, led by Jack Burns – played terrifically by WWE superstar John Cena, who's getting better with every role. Burns orders his troops to kill Bumblebee, who is also being targeted by the Decepticons.
What transpires over the next two hours is fun. It's what you expect, nothing more, nothing less, in a classic good versus evil tale that should dominate the box office, considering the previous five films have combined to gross more than $4.37 billion. However, the franchise's previous film, Transformers: The Last Knight, made $605.4 million at the box office in 2017, which was more than $100 million less than any of the other sequels and about half as the franchise's top-earner, Dark of the Moon, which took home $1.123 billion when it was released in 2011.
Bumblebee probably won't touch Dark of the Moon or 2014's Age of Extinction ($1.104 million)at the box office, but it does more than enough to keep the franchise alive, which is what really matters.
At this rate, the war between Autobots and Decepticons will never end, as a peace treaty would be too costly for Hollywood.