Chargers are looking forward to Sunday's game
As the Los Angeles Rams prepare for their first playoff game of the season, the Los Angeles Chargers already have a win behind them and are preparing for the next opponents, the New England Patriots. These two teams met before, in 2006 and 2007. The Patriots had the same head coach and quarterback and for the Chargers, the quarterback is about all that repeats. The Chargers aren't even in the same city as they were 11 years ago.
Both QB's, tom Brady for New England, and Philip Rivers of Los Angeles, are playing at elite levels, with Rivers having one of his best seasons. While their skills and football IQ's are the biggest reasons they are doing so well, both have great offenses with reliable targets for both passers.
On Wednesday Chargers head coach Anthony Lynn had high praise for the winningest team of the past 20 years. "Well, we have our hands full this week. This team is a good football team — well-coached. They have a lot of talent. Can't say enough good things about this quarterback. They just continually find ways to win football games with what they have. They're very good at exploiting your weaknesses and they've had two weeks to prepare for us. So it's definitely going to be the toughest challenge we've had all year. We're looking forward to it. We're getting ready right now, but it's going to be a tough game."
The Chargers have an excellent defense, but they will be rushing what many believe to be the greatest QB of all time, Tom Brady. On that point Lynn said, "You know, it matters because he knows what he's looking at. He can make changes at the line of scrimmage and he can get that offense in the right plays so they're not fighting uphill all day. He gets rid of the ball quicker than any quarterback in the league. So, in fact, that can negate a pass rush right there."
There was some question on whether Chargers running back Melvin Gordon III would suit up for Sunday's game, but coach Anthony Lynn has been suggesting Gordon will be on the field. On Wednesday Lynn told the media the plan was to get Gordon to the game and, "The goal is to get him to the game and, … we'll play him Sunday."
Even though the New England special teams has made some mistakes in recent games, Coach Lynn saw no advantage in that phase of the game. He told LAPX reporter Claudia Gestro, "They have a really good special teams. They have one of the best special teams players of the past decade in [WR Matt] Slater. So the situation is very stable and they have one of the best kick returners that I've seen in a long time. So that's going to be a heck of a challenge for our special teams. It's a good thing we have one of the better cover units in the league right now, but that's going to be a heck of a challenge."
Offensively Lynn really likes hi QB and has a lot of confidence in what Rivers can do on and off the field. "Having an experienced quarterback in these games helps a lot. Philip's play all year has been very consistent and [I'm] looking forward to watching him play on Sunday. Having Philip Rivers as our quarterback helps."
Lynn added, "… with guys that haven't been in the situation and have veterans that have, you can kind of calm those guys down, helping those guys out. You can help in their preparation this week before you get to game day. Veteran players and the coaches job is to slow the game down for other players."
Philip Rivers is not fazed by the magnitude of the moment. "Yeah, I think that's one of the many challenges you have in the postseason. Your body says it's not quite ready yet, but you get excited for the next challenge. I just do what we did last week. We had the exact same schedule from the practice, from the travel standpoint, for the most part, and we just stick with what we've been doing. I thought we managed all those kinds of things very well last week and found a way to win. It's going to be a challenge again trying to find a way this week."
LAPX reporter Claudia Gestro asked Rivers what was different about playing the Patriots Sunday from their past playoff games. He said, "We've played them once — no twice in the postseason, actually. Both of those were obviously, tough, tough finishes, but we have another opportunity with this team. It's about this team. We have a chance. Again, we're 1 of 8 that are alive. As I said last week, somebody's going to win it. So we have a chance to get one step closer. You know, again, it's a heck of a challenge, but they all are when you get to this point."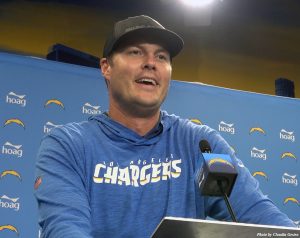 Rivers spoke about the success of the New England red zone defense, "I think, again, how well they play together. I think that's the key. How well they play as a group. You just see them. Their different fronts, their different personnel groups, and they play so well together. How they communicate, there are guys that switch things off, and hey, you just see how well from a cover standpoint how they — all the way around, they're on the same page. You don't see guys screaming running wide open. You don't see busted coverages. You don't see them not gap sound, all those things again, that I think are the fine details." He added, "It's funny, if you get to this point that, you know, you say the first meeting in high school, it comes down to the fundamentals. It comes down to blocking and tackling and protecting the football. Yes, we have to make some plays and there will be things schemed up, and they'll scheme things up — but who can out-execute the other, and that's what they've been able to do more than not in the last 15, 20 years."
In relating the 2007 playoff game, with the Patriots won, Rivers had to say this about New England's red zone defense, "If you watch these guys over the course of this year, they do a heck of a job. You see a lot of teams move the football, and they get down there and they don't score. Then you look up, and the score's 21-6. So I think that will be a challenge again. Obviously, we have to get down there, but when we get down there, we need to get touchdowns instead of field goals."
Joining Rivers will be long-time Chargers tight end, Antonio Games. He has been with the Chargers for his entire 16 seasons and played alongside Rivers since the 2006 season. Gates was an undrafted free agent who had never played football in college, only basketball. It was his basketball acumen that made him stand out from the crowd.
Gates holds the NFL record for most touchdown receptions by a tight end and #6 on the all-time touchdown reception list (116 as of this writing). Philip Rivers is excited to have Gates back and spoke about the playoff appearances with Gates and having another shot this year. "Yeah, I don't want to speak for him, but I would say it's probably special for him, too. He may have been in worse shape than I was with his toe in that game. Try to play tight end with a dislocated big toe, I can't even imagine. So, I'm sure it's special for him, too. You look last week, he's obviously still contributing, and he's been an awesome teammate in the locker room and on the field. So it is exciting. We found out he was coming back, that was one of the things we talked about, we have a chance. We've got one last shot at it, and here we are. In 12 quarters somebody's going to win it. Each team has 12 quarters potentially. We've got to win the first four to get the bonus four. So excited about the opportunity, and we'll prepare like crazy and be there, ready to go."
The game will be Sunday, in Gillete Stadium, in Foxboro, MA. Game time is 10:05 a.m. (Pacific Time). Snow was predicted for the game, but that doesn't appear in the forecast, but the high temperature will be 29°f.  Coach Anthony Lynn called it good football weather. As for Philip Rivers, the weather doesn't matter. He told the media, "These are the kind of games you dream about playing in. These are the ones we all grew up watching. We have an opportunity, shoot, it's awesome."

We are not the typical news website – nor do we wish to be. We will be offering more than news and blogs, but an opportunity for fiction writers, poets, comedians and musicians to showcase their talent and skills. Much like when the Beatles formed Apple Corps Ltd, they opened the door to all kinds of inspiring talent that never really got a shot. From that came the likes of James Taylor and others. We hope by providing a similar approach we can shine the light on some tremendous undiscovered talent and at the same time offer some familiar voices who live in Los Angeles and beyond.