Chargers fire Mike McCoy and search for new coach begins
Just minutes after Mike McCoy told reporters he wanted to be back with the San Diego Chargers for next season, the team announced McCoy was fired.
McCoy did his usual post-game press conference, talking about how proud he was of his players for having persevered through their 4-12 season. He was asked about his status with the team and at that time he still had a job. But literally minutes after that press conference the Chargers sent out a press release announcing the coach had been "dismissed."
In the press release Chargers President of Football Operations John Spanos said, "Mike McCoy is a man of high character, and we thank him for his dedication to the Chargers. The decision to dismiss Mike was made in the best interests of our franchise.  Our team's disappointing performance has not matched this team's potential and has fallen short of the demanding standards that we seek to impose throughout our organization.  Our comprehensive search for a new head coach begins immediately."
McCoy served four seasons with the Chargers, posting a 28-38 record. His record against AFC West opponents is a dismal 7-17.
Now the big question the city of San Diego is waiting to have answered is: Will the Chargers stay n San Diego or head north to share a stadium with the Los Angeles Rams? The Chargers wouldn't be co-owners of the stadium in Inglewood, but would be tenants of the Rams. The question is does the Spanos Family, owners of the Chargers, like the idea of being tenants? In the recent past Spanos has said he wants to keep the team in San Diego, but the trouble he's had trying to get the city to back a downtown stadium has pushed him into the position of having to choose between San Diego and Los Angeles.
The team moved to San Diego from Los Angeles in 1961 and they do have a large cadre of fans in the area. But often fans for their opponents sometimes outnumber the Chargers fans at Qualcomm Stadium when they play at home. San Diego is a military town with many people coming from other areas and they bring their team loyalties with them.
Other teams, like the Oakland Raiders, Kansas City Chiefs, Denver Broncos and Green Bay Packers (to name just four) "travel well," in that many of their fans will make the trip to San Diego to support their team. In November and December the weather in San Diego is a lot nicer than it is in Pittsburgh, Kansas City, Denver and Wisconsin.
It's likely we will hear from the Chargers management soon about the team's plans for next season.
•••• •••• ••••• •••• ••••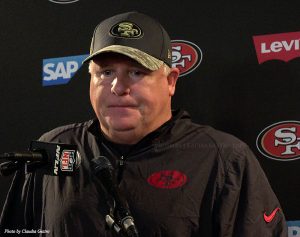 UPDATE: The San Francisco 49ers have fired head coach Chip Kelly and General Manager Trent Baalke. Niners President Jed York announced the moves moments ago, saying, ""I have informed Trent and Chip of my decision to pursue new leadership for our football team. These types of conversations are never easy, especially when they involve people you respect personally and professionally." He added, "Despite my feelings for Trent and Chip, I felt the decision to change our football leadership was absolutely necessary. The performance of this team has not lived up to my expectations or those of our fans, and that is truly disappointing. We all expected to see this team progress and develop as the season went on, but unfortunately that did not happen. That is why now is the time to find a new direction for this team."
The Niners have a 2-14 record for the season, losing their final game to the Seattle Seahawks, 25-23. Last week the Niners managed to beat the Los Angeles Rams. Kelly had only been with the team for one season.
Photos by Claudia Gestro

We are not the typical news website – nor do we wish to be. We will be offering more than news and blogs, but an opportunity for fiction writers, poets, comedians and musicians to showcase their talent and skills. Much like when the Beatles formed Apple Corps Ltd, they opened the door to all kinds of inspiring talent that never really got a shot. From that came the likes of James Taylor and others. We hope by providing a similar approach we can shine the light on some tremendous undiscovered talent and at the same time offer some familiar voices who live in Los Angeles and beyond.