Cardinals roll over Rams in season finale
The season ended very badly for the Rams. The Cardinals, led by quarterback Carson Palmer and wide receivers Larry Fitzgerald and J.J. Nelson, had 13 points on the board before Los Angeles was able to kick two field goals, which would be all the scoring for the Rams.
Arizona then scored 31 more points, with field goals and touchdowns from Darren Fells, who scored on a 37-yard pass from Palmer, a one-yard run by Kerwynn Williams, a five-yard pass from Palmer to Fitzgerald and an interception by Justin Bethel that he ran in from 66 yards out. Chandler Catanzaro kicked the field goals and PATs for the Cardinals.
Place kicker Greg Zuerlein kicked two field goals for the Rams, of 37 and 36 yards.
After the game Rams interim head coach John Fassel told the media, ""It hurts bad. It hurts. I was expecting to win. Anytime you lose [it] hurts, but it hurts to lose in the fashion that we did because people are going to ask 'did the team quit, did they not prepare, did they not care?' Before you ask that, I will just say, in my opinion, whether it's correct or whether it's naïve, preparation this week was great. We had a good Tuesday, Wednesday, Friday practice – we did. There wasn't any lack of energy, there wasn't anybody that was late and obviously, today, we just weren't good enough. Offensively, again, we just couldn't get anything going. That just puts us in a hole and it's hard for us to come back, when we don't have a lead. It hurts. Sorry for a long answer to a simple question."
When asked if there was anything positive he and the team could take from this 4-12 season, Fassel replied, "That's a really good question. It's hard to think of one right now. The only thing I would say is, you know, in the full year of moving out here and being in different places and not having really any sustained success except for maybe that three-game winning streak early in the season, is I think the positive thing you take from it is, there are some pros in the locker room that, as bad as things got, prepared, practiced, and gave it their all to perform, although I can see how some people might question that. But, that's not at all what I saw. So maybe, intangibles, I think there's some positives to take, but as far as the measurables, with offensive numbers, wins and losses, it's tough maybe to see the positives in any form or fashion from that, other than, there is fighters in the locker room, and there's guys who I think believe in the 'stonecutter credo.' "
The "Stonecutter Credo" is a metaphor for not quitting. It simply states that the stonecutter pounds on his stone with a hammer until it finally breaks.
When asked what he learned from his first season in the NFL with the Rams, quarterback Jared Goff said, "I think you can learn a lot about yourself, a lot about your teammates, a lot about how not to do things and that sometimes can be the best stuff. You can learn from the bad things. In life and in football and everything you do it's not always going to be up, up, up, up, up all positive. There's going to be down years, down games, down times in your life and the way you get better from them is you learn from them. That's what we need to do."
When asked about his sense of ownership of this team and the season record, Goff said, "It's huge. As a quarterback of this team and a leader of the team it's big, especially going through a little bit of a change and a shift, but I know I won't have to do it all on my own. I know there's guys in there that think the same way I do and understand that things need to be changed and the culture needs to be changed and a million other things have to be changed and I don't have to do it by myself because those guys are in there. A bunch of great guys, and a bunch that is going to be as resilient as anybody else."
When Rams guard Rodger Saffold was asked about why the Cardinals scored so many more points, he replied, "That's pretty easy to understand – we had all of those turnovers. We had, I think it was, I don't know how many straight three-and-outs, you'd probably know better than I know. But, then your defense gets tired. They probably ran 90 plays today – anytime that you do that towards the end of the game, they're going to be really tired from running all around. The other offense from the other side is going to be really amped to continue to score."
Wide receiver Tavon Austin didn't put the blame for the season on the coaches. He told the media, "You can't blame on the coaches, you can't blame on nobody else. We're the guys out there playing. Like I said, we continue to shoot ourselves in the foot with the type of things that happened. This is the NFL. There's not going to be way too many blowout games going to be like this in the NFL. A lot of our games that we lost was one point, one yard too short – things in that nature. We just got to correct little things. If we can convert on those, it's a different type of ball game right now. But, we didn't. I think that's one thing we got to work hard on."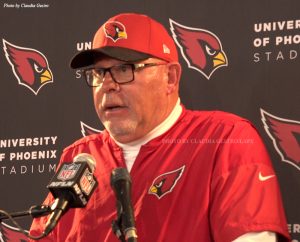 Austin also had a message for the fans, ""I want to say from my heart, I apologize for the things that happened this year. We thought it was going to be a better year, but it wasn't. Like I said, the tables will be turned around, and we will be on top one day."
Cardinals head coach Bruce Arians told the media, "Very good team win. I'm very, very proud of our guys. I think it speaks volumes about the leadership of our football team these last two weeks, as hard as they prepared and hard as they played. Quick isn't in their vocabulary. The veteran guys, they are really, really proud that we haven't lost a division game on the road in three years and we are going to keep that going. To be 4-1-1 in the division, even though it's not good enough to win the division, still we are built for it – to play in our division."
Cardinals QB Carson Palmer went to USC and played his college games in the Coliseum. When asked what it was like to be back, Palmer said, "I never dreamt I would get an opportunity to play in this facility again, and it was everything I could have asked for and more. It was a beautiful day. We had a ton of fans here. It seemed like sixty-forty (percent Rams to Cardinals fans), almost. Our fans were loud, they were intense. They showed up and brought some electricity into the stadium. The Rams fans were into it. Just a great day and a great way to finish off this season."
The final score of the game was 44-6, Arizona Cardinals.
Photos by Claudia Gestro
Top photo: Rams fans still filled the Coliseum on Sunday, but will they be back next September?
The team will need to put up a winning season.

We are not the typical news website – nor do we wish to be. We will be offering more than news and blogs, but an opportunity for fiction writers, poets, comedians and musicians to showcase their talent and skills. Much like when the Beatles formed Apple Corps Ltd, they opened the door to all kinds of inspiring talent that never really got a shot. From that came the likes of James Taylor and others. We hope by providing a similar approach we can shine the light on some tremendous undiscovered talent and at the same time offer some familiar voices who live in Los Angeles and beyond.