Chargers and Rams set to play at the Coliseum today
Today the Los Angeles Rams are hosting the Los Angeles Chargers at the Los Angeles Memorial Coliseum. These are two teams that had unsuccessful seasons last year and wound up with new coaches this year: Sean McVay for the Rams and Anthony Lynn for the Chargers. And then there was that move from San Diego to Los Angeles for the Chargers.
It's a whole new season and era for both teams as they try to get back into the winning column of the NFL. The Chargers have their veteran quarterback Philip Rivers under center today, and he is expected to play much of the first half. The Rams have their second year, first round draft pick Jared Goff starting at quarterback. He too will see a little more playing time as they get prepared for their first game of the regular season against the Indianapolis Colts at home September 10. The Chargers start their season on the road against the Denver Broncos September 11.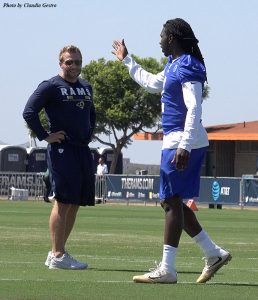 The Rams have their new receiver Sammy Watkins on the field. He's been learning the playbook and philosophy of the Rams organization since he came over from the Buffalo Bills August 11. He is the playmaker the Rams are hoping will open up Goff's passing game.
Running back Todd Gurley III has been having a great camp so far and with the new offense of McVay the hope is the Rams running game will be greatly improved over last season They also have another running back in camp that has looked good as well, Malcolm Brown, who is in his second season.
For the Chargers, their top running back is still Melvin Gordon II. Going into his third season with the team, Gordon has grown into his role as the primary back as well as a team leader. He's much more poised than he was in the previous two seasons so fans can expect to see some explosive running from Gordon. Look for him to jump start the Chargers offense when he's on the field with Rivers.
Much has been made of the Rams' defense, with the addition of Wade Phillips as the defensive coordinator. Linebacker Alec Ogletree is the defensive captain and earlier in the week Coach McVay said, "What Alec has done is continue to be one of our leaders on this team. Guys rally around him." McVay said the way Ogletree conducts himself on and off the field is what sets him apart. "We're fortunate to have a player like him."
The Chargers will need to improve their defense. So far in this preseason they have given up an average of 145 yards per game. They have a new defensive coordinator, Gus Bradley. After last week's game in which his defense gave up a 50-yard touchdown run to Saints rookie running back Alvin Kamara on the opening play of the game, Bradley has seen where his defense needs work. "We have to do some different things. The first thing you look at is alignment, and that's what happens where we're giving up some explosive plays."
Second year defensive end Joey Bosa had some positive words for his defense. "Just looking at that play, it's just one guy out of position — one guy missing a tackle. When everybody's doing their job, there's absolutely nowhere to run. And you can see that last Sunday, if you watched film after that play."
The one out of alignment was middle linebacker Nick Dzubnar. He took complete responsibility for the missed tackle, saying, "… that run hit my gap."
This Chargers defense will have its hands full today with Gurley and Brown and if the Rams passing game gets in gear it will be a long day for the Chargers defense.
The Chargers have not had a great preseason offensive. They have scored only two touchdowns and have not scored in the last 17 drives. Rivers only played one series in those first two games, so the scoreless trend will probably come to a halt.
One thing fans should not expect is more fighting. The two teams practiced together twice in this training camp and fights broke out between the teams. Coaches and players know that can cost a team a lot of yards in a game.
It may only be a preseason game, but for the fans it's still NFL football. Game time is 5 p.m.
Photos by Claudia Gestro

We are not the typical news website – nor do we wish to be. We will be offering more than news and blogs, but an opportunity for fiction writers, poets, comedians and musicians to showcase their talent and skills. Much like when the Beatles formed Apple Corps Ltd, they opened the door to all kinds of inspiring talent that never really got a shot. From that came the likes of James Taylor and others. We hope by providing a similar approach we can shine the light on some tremendous undiscovered talent and at the same time offer some familiar voices who live in Los Angeles and beyond.