Conversation with the Author N.D. Byma
I've never written a children's book myself, but I've read enough to see the difference between the ones I reach for when it's time to settle down a restless kid and the ones I selectively "lose" because …well, there just isn't much there. While my daughter may love a silly book without a message, I crave a bit of depth on the side.
With that said, I have a special place in my heart for anyone who can achieve that balance. Whether with the whimsical rhyming prowess of Shel Silverstein or the realistic recapturing of childhood via Beverly Cleary, it's always a pleasure to find yet another author who can please both audiences, young and old.
Enter N.D. Byma. With over a decade of published materials, and a minimum of one new book per year, the Oregon-based author has been not only prolific, but happily so. His work centers on many themes of life and childhood, finding an audience, he explains, in people of all ages.
The Letter, for instance, made an impact with customers browsing through a hospital gift shop, while Let's Play Ball hit a home run with the Oregon baseball team, the Hillsboro Hops, leading to a chance for Byma to throw the first pitch at a recent game.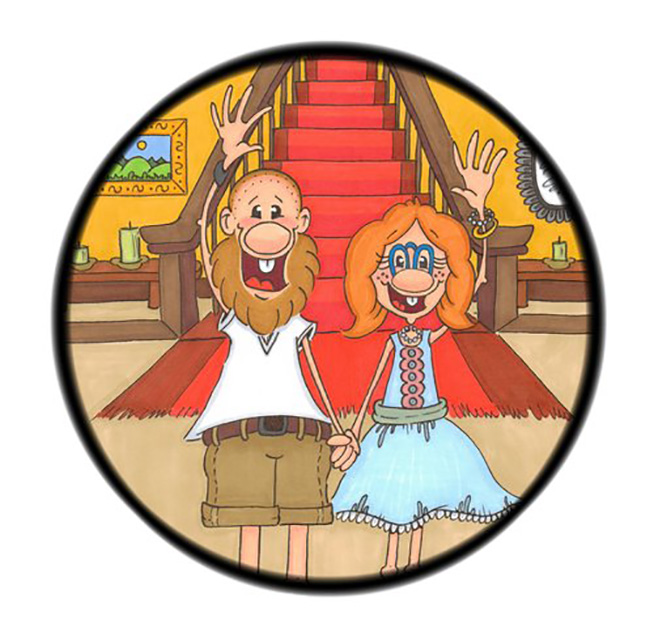 These experiences are just a few of the many he discussed during an interview.
MW: Where do you get the inspiration for your books?
NB: My biggest motivation honestly comes from just looking around me and seeing a lot of people who crave more positivity, myself included. It isn't some overly optimistic approach by any means, I just love seeing people light up when they experience kindness and I want to do what I can to share that.
I want my readers to know that it's okay to feel flawed and scared, but pushing through those feelings is where we find our greatest rewards. Doubt, differences, self-worth, goodbyes and growth through trials are inevitable in life for every single one of us, so I decided to write some stories about what it looks like to have those feelings and persevere in the end.
MW: What prompted your first book?
NB: The goal when I set out to write King Boogie was just to try, so I could say I did. I didn't have high hopes because, frankly, I had no idea what I was doing. I was terrified about putting myself out there, but once I made it through my initial doubts and saw people enjoying the book, the floodgates opened and the ideas haven't stopped since.
MW: As a Pacific Northwest author, how do your books impact your community and vice versa?
NB: I never assumed when I started writing my books that they would make much of an impact, but seeing what they've done has been one of the greatest experiences of my life. I consider it a true honor to be able to share these positive stories with my community. And, in turn, the feedback I hear about those books bringing readers joy motivates me to continue creating more and more.
MW: How do you determine what topic to write on next?
NB: Most of my book ideas come from simply taking a minute to look around at my life and the world around me. For instance, the concept for my next book came from chatting with a good friend over coffee. She was telling me about her experience with the adoption process and how there just wasn't a lot of content out there for kids who may find themselves placed in home and family situations that are new or unplanned.
Within a couple hours, I had an idea for a story that broadly addressed that topic, and the book is being illustrated as we speak.
MW: What book did you enjoy writing the most? Which did you struggle with?
NB: My favorite book to write was definitely 5 Minute Superheroes because I really let myself push my normal creative boundaries. I wanted the kids to see a fantasy story, but the adults to see the real-world peeking through every fantastical element that they are experiencing. I really hope the adult readers see my subtle nods and little love letters to a day in the life of a parent.
MW: I could definitely see the duality in that book! As a parent, it really resonated. And the hardest to write?
NB: On the flip side of that coin would have to be Molly and Fritz. After nine books, I felt pretty confident in my ability to weave a picture book or board book together, but a chapter book is an entirely different animal. I found myself experiencing constant doubt in my abilities as I told Molly and Fritz's story, but the result was one of my proudest moments as an author.
MW: What is the most surprising feedback you've received?
NB: I'm always humbled and surprised when people tell me how they use my books to help in a myriad of ways. I've been told that my books are used for readers with emotional or physical struggles as well as kids and adults who just need to be reminded that they are special and valuable just how they are.
MW: What's the intended audience and age range for most of your books?
NB: I get this question a lot, and I think people assume I'm being coy when I tell them I don't really write with a specific age range in mind. Sure, I write shorter and clearer with my board books and expand wordcount and vocabulary for books like The Letter, 5 Minute Superheroes, and Molly and Fritz.
That said though, I want my books to resonate with the adults reading them just as much as the kids. The way I see it, if you like a good positive story, I wrote a book for you.
MW: Every author has a writing process somewhat specific to them, from unique places they write to routines around when and how they do their work. What are some unique aspects of your writing process?
NB: That is a fantastic question! Honestly, my main creative space with writing is when I'm driving. I realize that sounds insane, but it's not as crazy as you'd think. When I'm driving, I often turn off the radio and just start thinking of whatever story idea I have rolling around in my head. I envision the story playing out bit by bit and keep refining the path over and over until I have a framework in my mind. From there I sit down and begin the process of sketching and writing until the book is ready to go off to illustration.
MW: What do you hope kids take away from your books?
NB: Above all else, I want kids and adults who read my books to know that they aren't alone. It's okay to struggle and doubt yourself, but that doesn't mean you aren't meant to do wonderful things with your life.
MW: A lot of your books are themed, not necessarily to the point of being fables, but they certainly contain messages about life and struggles kids might encounter. Which of your books do you wish you could have read when you were growing up?
NB: When I wrote The Letter, my inspiration was the idea of being able to write a letter to my younger self. That, essentially, is what each character in the book is doing as they discover the paper and add their words to it. They are sharing life lessons that really transcend everything that divides us as people, and those words of wisdom are what I wish I would have heard years before I did.
MW: What advice would you give to aspiring authors of all ages?
NB: Don't give up! And, when you get to the point where you have to bet on yourself, do it. I've met countless people with fantastic ideas and, time and time again, I see them talk themselves out of their dreams when it comes time to invest in themselves. Pursuing your dream is scary. Failure is scary. But, at the end of the day, you will never find your purpose standing still.
MW: That's a great answer. Sort of reminds me of The Rock That Rolled Across the Ocean. Touching more on specifics and themes, who are some of your favorite authors and why? Of any genre.
NB: C.S. Lewis is one of my very favorite authors because he can discuss topics of immense depth, but do so with an ease that makes it very natural to understand what he's saying. I also love an author that can surprise me and entertain me without seeming like they're trying too hard.
MW: Is there a book (from another author) that holds a special place in your heart?
NB: Put Me in The Zoo was one of my very favorite books as a child and, now that I have kids of my own, I have rediscovered it on a whole new level. The longing for purpose and not understanding your own gifts is a tale as old as time and this book addresses it in only a few short pages.
•••• •••• ••••• •••• ••••

Megan Wallin is a young writer with a background in the social sciences and an interest in seeking the extraordinary in the mundane. A Seattle native, she finds complaining about the constant drizzle and overabundance of Starbucks coffee therapeutic. With varied work experiences as a residential counselor, preprimary educator, musician, writing tutor and college newspaper reporter/editor, Megan is thrilled to offer a unique perspective through writing, research and open dialogue.