COVID-19 Update: "I want the right to die and spread the pandemic"
This isn't the first time someone has put together a timeline of Trump's comments about the novel coronavirus known as COVID-19. Probably won't be the last time, but it's a good idea to keep reminding voters of how this president denied, lied about and otherwise mishandled this pandemic.
Jan. 22: "We have it totally under control. It's one person coming in from China, and we have it under control. It's going to be just fine."
Jan 24: "China has been working very hard to contain the Coronavirus. The United States greatly appreciates their efforts and transparency. It will all work out well. In particular, on behalf of the American People, I want to thank President Xi!"
By January 24 the World Health Organization was certain COVID-19 was on its way to becoming a pandemic. Dr. Mike Ryan, head of the WHO's Health Emergencies Program, said, "The whole world needs to be on alert now. The whole world needs to take action and be ready for any cases that come from the epicenter or other epicenter that becomes established."
Jan. 30 (Campaign rally): "We only have five people. Hopefully, everything's going to be great. They have somewhat of a problem, but hopefully, it's all going to be great. But we're working with China, just so you know, and other countries very, very closely. So it doesn't get out of hand."
On that same day WHO Director-General Tedros Adhanom Ghebreyesus said the new virus was a "…public health emergency of international concern over the global outbreak.
On On Feb. 2 Trump told Sean Hannity, "We pretty much shut it down coming in from China." The president issued an executive order banning anyone coming in from China, except citizens and legal residents. After that "ban," over 40,000 people entered the U.S. from China.
Feb. 10 At a campaign rally Trump told the crowd, "Looks like by April, you know, in theory, when it gets a little warmer, it miraculously goes away. I hope that's true. But we're doing great in our country. China, I spoke with President Xi, and they're working very, very hard. And I think it's going to all work out fine."
Bear in mind that at this point Trump hadn't done anything to prepare for a pandemic. On Feb. 11 Tedros told a W.H.O. briefing that included world leaders to make fighting COVID-19 a priority.
Feb. 13 Trump told Geraldo Rivera, "Looks like by April, you know, in theory, when it gets a little warmer, it miraculously goes away. I hope that's true. But we're doing great in our country. China, I spoke with President Xi, and they're working very, very hard. And I think it's going to all work out fine."
On Feb. 24 he tweeted, "The Coronavirus is very much under control in the USA. We are in contact with everyone and all relevant countries. CDC & World Health have been working hard and very smart. Stock Market starting to look very good to me!"
Feb 26 News conference Trump said "When you have 15 people, and the 15 within a couple of days is going to be down to close to zero, that's a pretty good job we've done."
On Feb. 28 the W.H.O. raised the global risk assessment for the virus, from "high" to "very high."
On March 5 Tedros praised both China and President Trump, thinking the president was mobilizing the entire federal government to fight the pandemic.
On the same day, in a Fox News town hall Trump said, "It's going to all work out. Everybody has to be calm. It's all going to work out."
On March 10, in a meeting with Republican senators, Trump said, "This was unexpected. … And it hit the world. And we're prepared, and we're doing a great job with it. And it will go away. Just stay calm. It will go away"
March 11: In an Oval Office address Trump told the nation, "The vast majority of Americans, the risk is very, very low."
That same day Tedros said the W.H.O. had decided COVID-19 could be "characterized as a pandemic."
March 16: at a briefing in Geneva, Switzerland, Tedros said, "You cannot fight a fire blindfolded. And we cannot stop this pandemic if we don't know who is infected. We have a simple message for all countries: test, test, test. Test every suspected case."
That same day Trump said in a press briefing, "My administration is recommending that all Americans, including the young and healthy, work to engage in schooling from home when possible. Avoid gathering in groups of more than 10 people. Avoid discretionary travel. And avoid eating and drinking at bars, restaurants and public food courts. If everyone makes this change or these critical changes and sacrifices now, we will rally together as one nation and we will defeat the virus. And we're going to have a big celebration all together. With several weeks of focused action, we can turn the corner and turn it quickly."
On March 17 Trump said, "I felt it was a pandemic long before it was called a pandemic."
On March 20 I posted my second COVID-19 post. The U.S. was fourth on the list of countries with the most coronavirus cases. We have 19,106 cases at the time.
As of this writing (April 18), we have 737,683 cases with 38,731 deaths. There are also 64,697 recoveries.  We don't need to cover more of the president's remarks here. If you've been following my posts they are all there. Click this link to see all the coronavirus posts. The most evident characteristic of Trump and the coronavirus is his inconsistencies. There was a moment in March when I thought he was starting to take this pandemic seriously. But then he immediately went back to his usual self. Lying mainly. Then his daily press briefings became daily press rallies, with a rotating collection of reporters who pooled for the others so the social distancing restrictions could be maintained.
The networks started breaking away from his press rallies once it was clear the president wasn't talking about the pandemic and possible solutions. And really the only solutions they have are suggesting the governors close down their states and people wear masks and stay six feet apart.
There's no federal plan to coordinate a widespread testing plan, no federal distribution of badly needed equipment, like the proper masks, gowns, gloves and ventilators. There are now states that have grouped together to support one another with the testing and equipment, filling the role the federal government should be performing.
In the meantime, the MAGA crowd is out demonstrating in the streets to end the stay-at-home rules, because what they hey! The infection and death rates are not what was first predicted. Lost in their misinformed, uninformed thoughts is the reason, or reasons, the numbers are not what was first predicted: the social distancing and stay-at-home orders are working.
So, off these nitwits go to the state capitols of Michigan, Wisconsin Minnesota, and several other states, waving their American and Confederate flags … And Confederate flags? In Michigan? Ya'll didn't know there are racists in Michigan?
There they were, showing off their independence, their First Amendment right to peacefully assemble — and of course possibly passing the coronavirus amongst themselves. And then when the protestors go home they can pass it on to their friends and family too. Many people likened it to Darwin's Natural Selection in action.
I didn't realize trump supporters are avid hikers too. Protests in Encinitas with chants of "open our beach" & "open our trails".

I'm a surfer & don't understand why that has been shut down but I'm not going to risk the health of my family for this idiocy. pic.twitter.com/xKgl0vFY10

— American Dad (@CaliforniaShaka) April 19, 2020
Of course another spike, a resurgence of COVID-19 would lead to an even longer stay-at-home period and would over extend the men and women already doing extraordinary work trying to save those already afflicted and trying to survive in the hospitals.
Just what is Trump's response to the anti-stay-at-home orders? Encouraging people to get out into large crowds during a pandemic that has no cure or vaccination He did via Twitter of course "Liberate!" his tweets say, to protestors in states with Democrats for governors. With a special message to Virginia that their Second Amendment rights are under attack (they're not).
LIBERATE VIRGINIA, and save your great 2nd Amendment. It is under siege!

— Donald J. Trump (@realDonaldTrump) April 17, 2020
Trump is an asshole. There's an app on Facebook that measures one's asshole quotient. Mine is off the charts. How would Trump fare? Is he more of an asshole, or more of a little bitch?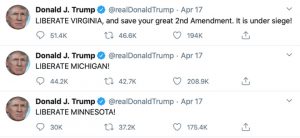 He was congratulating hotels for donating rooms to first responders and hospital workers during this crisis … but then it was reported none of the Trump properties were participating. You can decide for yourself if he's an asshole or a little bitch.
So many people are dying every day (2,000 in New York alone) the NYC coroner is digging mass graves for the victims that weren't claimed.
The governor of Florida opened up the beaches, and they have been crowded on these sunny days, even though the Sunshine State is having record numbers of coronavirus infections and death. Governor Ron DeSantis didn't even wait for things to start turning around. He just got people crowding together on the beaches because, well, the economy. He is keeping the schools closed of course. If the kids are going to get the virus let them get it at their favorite beach.
Governor Kristi Noem of South Dakota still hasn't locked down her state, because, you know, they ain't New York City. Even though Smithfield Foods has now become the largest hotbed of COVID-19. She did open up two National Guard medical facilities to help with the expected peak in coronavirus cases. One in Sioux Falls and the other in Rapid City. I've been to both back in the day, and they were nice places to visit. I'm sure they will be again some day.
Trump's only goal in all this, the only reason he shows up every day at those press rallies: get the economy working again. He doesn't care about testing or getting equipment to wear it is needed. He wants all the businesses in America operating again on May 1. Over 22 million people have filed for unemployment in the past month and that's not going to look good for him when we get to November 3.
What might look even worse is letting people go back to their jobs and just life in general without proper testing. Only 1% of the population has been tested so far. Plus, it turns out we will need to get retested because who knows if or when any of us could get infected again.
Speaking of crowds and good looks. The beaches in Ventura County have been opened and just like in Florida people have been flocking to them. My advice to California residents: avoid Ventura County.
Then there is this: Trump ally, economist and Club For Growth founder Stephen Moore, is comparing the anti-stay-at-home protests to the civil rights movement. He actually said, "We need to be the Rosa Parks'."
Moore has been an economic and political kook for several decades. His economic policies nearly destroyed the economy of Kansas and every other credible economist considers Moore to be out of touch with reality. Conservative economist and former Bush 43 Administration official Greg Mankiw said, in a memo to the Senate — after Trump nominated Moore to sit on the Fed's board of governors — "Steve is a perfectly amiable guy, but he does not have the intellectual gravitas for this important job. If you doubt it, read his latest book Trumponomics (or read my review of it.)"
The upshot is: if a kook like Stephen Moore is telling civil rights leaders they should take up the cause of the people protesting the stay-at-home orders, because, according to Moore, the protestors are demonstrating for their civil liberties, we have to at least chuckle a little. The Civil Rights Movement of the 1940s-1960s was advocating for freedom and equality, not the choice to defy public health emergency regulations.
Personally, I do not like the stay-at-home, or safer-at-home orders. I want to be at the beach, or hanging out with my friends for Friday Night Dinner. It's in caps because the weekly event is a special time for our little crowd. But my health is paramount, as is the health of my friends and other loved ones. So I stay at home and I hope you do too.
If you get a chance, read Mankiw's post about his elderly mother, who recently passed away from COVID-19.
As of this writing (Afternoon of April 19) there are 762,690 confirmed cases of the coronavirus in the U.S., with 40,548 deaths and 68,119 confirmed recoveries. As usual, experts believe all those numbers are lower than the real numbers, due to the lack of adequate testing.
Top photo is a YouTube screenshot of protestors at the Michigan State Capitol in Lansing

Tim Forkes started as a writer on a small alternative newspaper in Milwaukee called the Crazy Shepherd. Writing about entertainment, he had the opportunity to speak with many people in show business, from the very famous to the people struggling to find an audience. In 1992 Tim moved to San Diego, CA and pursued other interests, but remained a freelance writer. Upon arrival in Southern California he was struck by how the elected government officials and business were so intertwined, far more so than he had witnessed in Wisconsin. His interest in entertainment began to wane and the business of politics took its place. He had always been interested in politics, his mother had been a Democratic Party official in Milwaukee, WI, so he sat down to dinner with many of Wisconsin's greatest political names of the 20th Century: William Proxmire and Clem Zablocki chief among them. As a Marine Corps veteran, Tim has a great interest in veteran affairs, primarily as they relate to the men and women serving and their families. As far as Tim is concerned, the military-industrial complex has enough support. How the men and women who serve are treated is reprehensible, while in the military and especially once they become veterans. Tim would like to help change that.