Custom Pocket Squares from Sebastian Cruz Couture
Luxury fashion brands that want to keep customers on side should give them "the love they want" according to Sebastian Cruz Couture co-founder Cesar Cruz. Cruz says many fashion companies have failed because they haven't listened carefully to their customers, interacted with them on social media enough, and told engaging stories to bring them closer to their brands.
How the brand expanded
The company was first launched by Cesar and his wife Natasha back in 2013. Initially specializing in handmade pocket squares, it was able to expand into jackets, shoes and accessories without seeking outside investment thanks to the popularity of the squares. Having been a leading player in its field for almost a decade, the company is now able to give in-depth advice to those that also wish to make it big in the luxury fashion industry.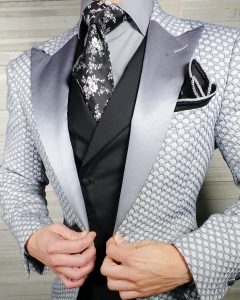 A pivotal development
The company was launched with the creation of seven distinctive pocket squares. A game-changing moment in the rise of the company was the development of a special bespoke machine, which enabled them to produce up to 25 squares an hour rather than just one every forty minutes. Over the years, the brand has received exposure across various leading media outlets and has become particularly successful in Europe as well as the US. It has almost 400k Instagram followers and has been able to achieve great success despite having no physical stores. Sebastian Cruz Couture is an online-only enterprise, which targets customers that prefer to eCommerce-based purchasing.
Online versus offline
Another reason why the team decided to keep the enterprise online only is that the costs of running brick-and-mortar stores can be prohibitive. Cesar also says the amount of work needed to keep physical stores in operation is likely to remove much of the joy from his day-to-day duties. This explains why the company focusses on using "digital real estate" to sell products and tell its story.
Handmade luxury
Other handmade products now sold by Sebastian Cruz Couture online include belts, neckties, and bow ties. The 'couture' part of the brand name is inspired by the way its products are made by hand, with 'Cruz' being the couple's surname and 'Sebastian' the name of their unborn child. Although the company once had franchises, these failed to meet their expectations. As a result, everything was brought back in-house once these contracts expired. According to Cesar, only the hardest-working franchise owners were able to generate five-figure sums each week.
Penetrating the industry
Cesar has described the fashion market as one of the most "difficult to penetrate". However, he does have valuable tips for those that are determined to succeed. Cesar encourages would-be luxury fashion brands to think carefully about what they want to sell, who they want to target, and how they want to sell their products. He warns entrepreneurs about the risks of selling "low-cost" fashion garments, saying it may be possible to make high sums initially but this is likely to be short-lived, only lasting until a newer, hungrier competitor comes along to take their market share. Cesar says luxury fashion brands tend to have loyal customers that remain with them for decades, even for a lifetime. He also advises brands to think less about low pricing and more about creating elegant products of great distinction to leave customers looking and feeling "great".
Examine competitor mistakes
In Cesar's experience, many brands have failed to achieve the success they desired because they took their customers for granted and fail to interact with them properly. He urges company owners to ensure customers are listened to and responded to whenever they have a query or feedback to leave. It's also important for brands to look closely at the mistakes made by their competitors so they can avoid making such errors themselves.
Reinvestment and presentation
Reinvestment is also essential according to Cesar. The reinvestment made by his own company following the success of the original pocket squares was key to it expanding into other products and boosting brand loyalty. It's also important to spend time sourcing the right luxury materials – he was only able to obtain the right materials for his products after paying several visits to Italian mills, who tend to be very selective about which clients they work with. Presentation is also deemed to be very important, as are emotional connections. Positive emotional connections must be established before customers even receive products, and all five senses must be stimulated. Cesar describes products as the "excuse you will create to build a relationship with the people that will buy from you. If you see it this way it's nearly impossible to fail. Why? Because you can't "fake the above."
When to seek investment
Timing is very important when it comes to raising finance, according to Cesar, who says company owners must know their ventures inside out before they talk to investors. Those that seek out investment prematurely risk giving their businesses away. Cesar again emphasizes the importance of engaging with customers, saying today's consumers have frequently been left "traumatized" after their favorite brands failed to engage with them even after they have spent thousands of dollars with them. This is why it's so important to give customers "the love they want", according to Cesar. To find out more about Sebastian Cruz Couture and its latest product offerings, you can simply head to the website.