Demon Suicide: The haunting in our psyche
"There is but one serious philosophical problem and that is suicide." — Albert Camus
I recall stepping into a funeral parlor in my old neighborhood, Locust Point, located within walking distance of historic Fort McHenry in Baltimore, Maryland. This was back in the early '80s.
I had repeated this ritual hundreds of times over the years to pay my final respects to family members and friends alike. This time, however, it was to be different.
The deceased was a suicide! I'll call him "Joe." He was a retired Baltimore City worker. I burst into tears as I approached his casket. This, too, was a first for me. Joe was a lovable, big bloke! He wouldn't hurt a fly and didn't have a mean bone in his body.
Joe was a player-coach on our sandlot softball team. On Sundays, during the football season, he was also a regular at the Baltimore Colts' games. A bus, which left from a local bar, provided the transportation. (This was when the games were played at Memorial Stadium on 33rd Street.) Joe loved to play pinochle, too.
I had seen Joe two times before he took his own life. Once while he was seated on a bench in the plaza over in Fell's Point. Another time, he was taking a walk around Fort McHenry. On both occasions, he was friendly but unusually quiet and had little to say.
Joe chose a bridge as the place to take his own life. When he jumped off of it, he had weighed his feet down so he wouldn't come back up to the surface.
As the fates would have it, Joe's father, also a city worker, was also a suicide. He shot himself to death. I have to wonder what effect that tragedy had on Joe's impressionable psyche? He was only a teenager when it happened.
(Flashback: on December 6, 1928, Clarence Hemingway, the father of the novelist, Ernest Hemingway, shot himself in the head at his home in Oak Park, Illinois. He had been depressed over his health and money problems. On the morning of July 2, 1961, his son, Ernest, by then a heavy drinker suffering from both depression and alcoholism, took his own life, too, with a shotgun blast to the head at his home in Ketchum, Idaho. This pattern of suicides running in families, sadly, is not that unusual.)
Getting back to the topic of Suicide. It has gotten a lot of attention recently as the result of celebrities taking their own lives.
First, there was the fashion designer Kate Spade, of New York City; and then the popular celebrity chef  — Anthony Bourdain. The latter, age 61, hung himself in a hotel in Kaysersberg, France, on June 8th. (It's called "Le Chambard," and its rated with five-stars.) Spade took her own life, via a hanging, too, on June 5th, in her luxurious Park Avenue Manhattan-based apartment.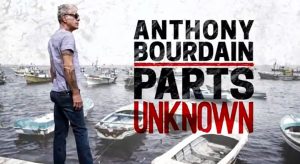 Spade, age 55, was married and left behind a teenage daughter. Her husband, Andy, is now saying that she suffered for years from "depression and anxiety." Spade reportedly left a suicide note for her daughter, telling her "This is not your fault." Kate was known to the public as a vibrant person and a very keen, much-respected businesswoman. Her death on June 5th was a total shock to the public and to many of her business associates.
Spade was separated from her husband Andy at the time of her death. How big a factor that was in her suicide is a matter of speculation. Her husband in a zany kind of reaction wore a "mouse mask" after leaving his apartment one morning after her body was found. He also reacted in a "testy"manner to reporters' questions. Where was the dignity in all of that?
Bourdain had recently acquired a new girlfriend, Asia Argento, an actress, about twenty years younger than himself. She was in Italy when he died. Supposedly, they had just become a "hot item" and he was happier than he had been in years with his new cozy relationship.
However, just before Bourdain's suicide, photos showed up in the international media showing Argento, while walking through the streets of Rome, kissing and embracing a young French reporter — Hugo Clement. Did Bourdain see those photos before his suicide and did they influence his decision to take his own life? We may never know.
Like so many suicides, Bourdain's and Spade's will forever remain a mystery as to why they decided to take their own lives. At press time, the Kate Spade Foundation has pledged $1 million to "suicide prevention groups."
Pundit Anne Kingston, writing for Maclean'smagazine, (08.17.14), said that we need "to pay more attention to depression and its potential consequences" with respect to the prevention of suicides. She focused her comments on the suicide of the comedian/actor, Robin Williams. Kingston wrote about the array of feelings, "including anger," left behind for the comedian's family and friends to deal with because of his death. Williams died on August 11, 2014, at age 63.
A good book on Williams's life and suicide (he also hung himself) has recently been released titled Robin. The author is David Itzkoff. He covers it all, including the "dark corners" of Williams' life and work. I recommend it.
Then, there are the disturbing numbers of veteran of our wars, 22 a day, who commit suicide in the U.S. It's fair to say the Department of Veterans Affairs has been overwhelmed by this ongoing crisis. A new report from the VA found veterans are "two times more likely to die by suicide than non-veterans." https://www.newsy.com/stories/va-veterans-twice-as-likely-to-die-by-suicide-than-non-vets/ More needs to be done — now!
Finally, the "demon suicide," for use of a better term, doesn't rest. It can effect the rich or poor, celebrated or unknown. Your status makes no difference to this voracious predator. It has become a plague of our times. What can it teach us about depression and what's really valuable? Somehow, someway, it must be stopped!

Bill Hughes is a native of Baltimore. He's an attorney, author, professional actor and hobbyist photographer. In his salad days, he worked on the docks as a longshoreman. Bill also played on three championship soccer teams: sandlot with Jules Morstein; high school at Calvert Hall; and college at the University of Baltimore.