Dodgers hold Fan Fest to start 2016 season
Spring Training is just a few weeks away, and to get Dodgers fans ready the team held their annual Fan Fest Saturday (January 30, 2016) at Dodgers Stadium.
Many of the players were on hand, including Clayton Kershaw, Adrian Gonzalez, Justin Turner, and Yasiel Puig, to name just four. Plus old timers like Fernando Valenzuela and of course announcer Vin Scully. Some spoke on stage, with new manager Dave Roberts.
Reporters could get quotes, sound bites and paragraphs of comment from the players and manager, as our reporter Claudia Gestro did.
All of the players took time to meet fans and sign autographs, because this was for the fans.
Below is Claudia's video report from Dodgers Fan Fest 2016.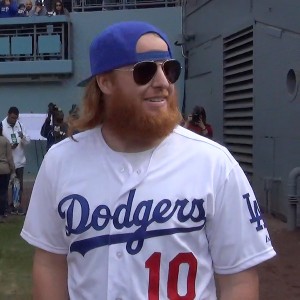 All photos by Claudia Gestro.

We are not the typical news website – nor do we wish to be. We will be offering more than news and blogs, but an opportunity for fiction writers, poets, comedians and musicians to showcase their talent and skills. Much like when the Beatles formed Apple Corps Ltd, they opened the door to all kinds of inspiring talent that never really got a shot. From that came the likes of James Taylor and others. We hope by providing a similar approach we can shine the light on some tremendous undiscovered talent and at the same time offer some familiar voices who live in Los Angeles and beyond.