Dodgers welcome Mookie Betts and David Price to Dodger Stadium
As Dodgers fans know, Mookie Betts and David Price are now at Camelback Ranch with the Dodgers. Spring Training has started and we should have a reporter in Arizona soon and we can expect exclusive interviews and reports. The Dodgers in turn sent three good (to great) young players to the Boston Red Sox: Alex Verdugo, Jeter Downs and Connor Wong.
In a side trade that was supposed to be a part of the Betts deal, pitcher Kenta Maeda went to the Minnesota Twins in exchange for Brusdar Gaterol.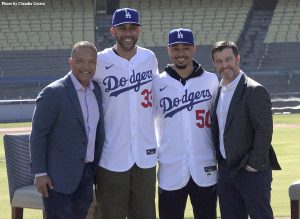 Fans would like to know just how well one of the top elite position players is fitting in with an already strong lineup. And we want to know how one of the best starters in the game fits into the rotation.
In 2019 Betts's batting average was a respectable .295 and his career BA is .301. Last season he swatted in 29 home runs and during the Red Sox's World Series season he had 32. In right field Mookie has a lifetime .997 fielding average.
David Price has a lifetime ERA of 3.31, but last season it went up to 4.28. Price has five pitches: sinker, change, fastball, cutter and (rarely) the curve. He was the Game 2 starter in the 2018 World Series and had 1.92 ERA throughout the series. He's 34 years old and has 12 seasons in the major leagues. He brings a lot to the Dodgers' clubhouse.
Betts is 27 and has six major league seasons behind him and brings his experience and talent to the clubhouse as well. A clubhouse that is filled with winners that went to the World Series twice and won the National League West Division title seven straight times.
Before the trade the Dodgers were the odds on favorites in the National League. With Mookie Betts and David Price, there is no telling how dominant they will be.
Below is Claudia Gestro's report from the team's press conference introducing the two players.
Photos by Claudia Gestro

We are not the typical news website – nor do we wish to be. We will be offering more than news and blogs, but an opportunity for fiction writers, poets, comedians and musicians to showcase their talent and skills. Much like when the Beatles formed Apple Corps Ltd, they opened the door to all kinds of inspiring talent that never really got a shot. From that came the likes of James Taylor and others. We hope by providing a similar approach we can shine the light on some tremendous undiscovered talent and at the same time offer some familiar voices who live in Los Angeles and beyond.