Dodgers will have at least 4 in the All-Star Game
Major League Baseball announced four Dodgers have been selected for the National League All-Star Team and a fifth was on the bubble as a "Final Vote" candidate. Infielder/outfielder Cody Bellinger, right-handed pitcher Kenley Jansen, left-handed pitcher Clayton Kershaw and shortstop Corey Seager were named to the National League All-Star team. All four were selected via player balloting. Bellinger will be making his first All-Star appearance, Jansen and Seager each making their second and Kershaw will be making his seventh.
The Dodgers' outstanding third baseman Justin Turner was selected as a Final Vote candidate and if selected Turner would be in his first Midsummer Classic. To make the roster Turner needs the fans — Dodgers fans — to vote, either at Dodgers.com or MLB.com/vote.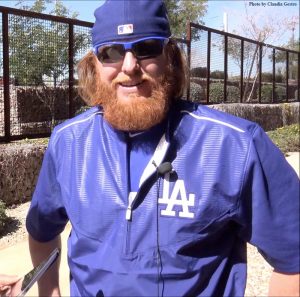 Turner is the strongest candidate for that roster spot, just on his merits. In 58 games he leads the major leagues in batting average with .388 (minimum 200 at-bats), an On Base Percentage of .473, seven homeruns, 16 doubles, 31 RBI, 26 multi-hit games and a 1.038 OPS.
His .388 batting average is the fourth best at the All-Star break since 1969, behind Larry Walker (.398, 1997), Tony Gwynn (.394, 1997) and Andres Galarraga (.391, 1993).
To vote for Justin Turner fans can go online to Dodgers.com or MLB.com/vote, or they can vote via mobile app or text mobile ballot and by SMS text voting. Text "N5" to 89269 (USA) or 101010 (Canada) to vote for Turner. Voting by text message is limited to 35 per phone number. In addition, during the last six hours of voting (7 a.m. PT to end of the Final Vote) on Thursday, July 6, tweets with #VoteJT will also count. The Dodgers have partnered with the Kansas City Royals as fans are encouraged to vote for Royals third baseman Mike Moustakas for the American League Final Vote, when they vote for Turner.
This will be the third time in the last four years the Dodgers have had four or more players in the All-Star game and if Turner makes the team it will be just the third time in 12 years the Dodgers had five or more players in the Midsummer Classic.
Bellinger is the youngest position player to be selected for the All-Star Game, at 21 years and 354 days old. Corey Seager was 22 and 69 days old when he made the All-Star roster in 2016. Bellinger is also the NL Rookie of the month, leading the Dodgers in homeruns (24) slugging percentage (.633)
Jansen, 29, will make his second consecutive All-Star appearance. Currently he leads all relievers with an ERA of 0.79 and ranks among National League relievers in WHIP (0.53, 1st), strike-to-walk ratio (53.00, 1st, 53 SO/1 BB), wins (4, T-2nd), strikeouts (53, 2nd), saves (18, T-3rd) and strike per nine innings (14.03, 4th) in 32 appearances this year.
Jansen is in his eighth major league season and is the Dodgers' all-time leader in saves (207) and strikeouts by a reliever (685). The Dodgers signed him as an international free agent on Nov. 17, 2004.
For Clayton Kershaw, this will be his seventh consecutive All-Star selection, the first to do it since Steve Garvey did it from 1974 to 1981. Garvey actually made eight consecutive appearances.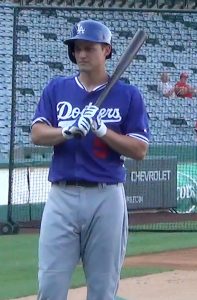 There is a good chance Kershaw will start for the National League. He is tied for most wins in the major leagues with 12 — with only 2 losses — He has the third best ERA at 2.32, 135 strikeouts and an SO to BB ratio of 6.75. The season he isn't the best in the majors, but generally in the top five in all categories.
He is a three-time Cy Young Award winner and he was the league MVP in 2014. And he can hit the ball. Kershaw could actually help the N.L. at the plate. He has six hits and two RBI. In his interview with Claudia Gestro, Bellinger said this about Kershaw: "If he was a hitter every day he could compete in the big leagues."
Corey Seager is a natural. At 23-years old if he stays healthy there will be many more All-Star appearances in his future. His batting average this season is .305. He has 13 homeruns and 40 RBI, his on-base percentage is .401, slugging percentage is .513 and Seager is the reigning National League Rookie of the Year.
Our reporter Claudia Gestro has interviewed Corey Seager a number of times, the fist time when he had been in the major leagues just a week. She has also interviewed Justin Turner and Cody Bellinger.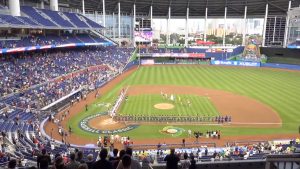 At this time the Dodgers have the best record in the National League and the second best over all with 55-29 (.655). The Houston Astros (AL) lead the league with a record of 56-27 (.675) and the selection of four, possibly five players to the Midsummer Classic is a reflection of their place in the standings.
Just be sure to vote for JT to become the fifth Dodger to step on the field in the 2017 all-Star Game, which takes place July 11 at Marlins Park in Miami, FL. Our reporter Claudia Gestro will be covering the games and other All-Star events all four days.
Photos by Claudia Gestro
Top photo (L-R) Clayton Kershaw, Corey Seager, Kenley Jansen and Cody Bellinger.

We are not the typical news website – nor do we wish to be. We will be offering more than news and blogs, but an opportunity for fiction writers, poets, comedians and musicians to showcase their talent and skills. Much like when the Beatles formed Apple Corps Ltd, they opened the door to all kinds of inspiring talent that never really got a shot. From that came the likes of James Taylor and others. We hope by providing a similar approach we can shine the light on some tremendous undiscovered talent and at the same time offer some familiar voices who live in Los Angeles and beyond.