Everyone is Ready for Super Bowl LVI
It doesn't happen every year — a Super Bowl coming to your town. In fact, where I grew up, Milwaukee, WI, we were absolutely guaranteed to never host one. Hell, we will never see one at Lambeau Field in Green Bay, home of the Packers. So, it is a big deal when a Super Bowl comes to Los Angeles, SoFi Stadium in Inglewood, to be precise.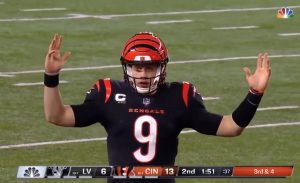 Super Bowl LVI is here, almost, pitting the upstart Cincinnati Bengals against the aging and experienced Los Angeles Rams. Okay, some Rams fans will bristle at the adjective "aging," but look who's on the team, who is leading the offense. Age equals maturity, which equals cool under pressure. That's one of the reasons the Rams made the trade last year for quarterback Matthew Stafford.
Since moving to Los Angeles from St. Louis, G.M. Les Snead and the Rams have made quite a few big moves — trades — to put together a team — two teams — to get to a Super Bowl and now possibly win it. Starting with all the draft picks to get the first pick of the 2016 draft that brought Jared Goff to Los Angeles. Who can forget that ill-fated season? With a record of 4-12 not many want to remember it.
The next season brought a new head coach, the youngest in the history of the NFL, 30-year-old Sean McVay (now 36). They won the division that year with a record of 11-5.  They lost in the first round of the playoffs, but the next season, 2018, they went to the Super Bowl … only to lose to the New England Patriots, 13-3. Also on the Rams' coaching staff that season: current Bengals head coach Zac Taylor. That could be the key match up in today's game.
Since the 2016 season the Rams have picked up players, discarded some and picked up even more, culminating in this season's team that includes late season pick ups linebacker Von Miller and wide receiver Odell Beckham, Jr This is a team with a great offense to go with that great defense and pretty good special teams.
Our reporter Claudia Gestro asked G.M. Snead about all the trades and if he was satisfied with it all. He said, "We have one more game to go, we know the opportunity we have and we take it one game at a time and we will re-assess the season when it is over." Snead added, "But in terms of when you are building a team for a specific year, or even one for a little bit longer vision, you really build it to be able to be a contender and at that point in time try to engineer where you are playing your best football when it counts, and go from there."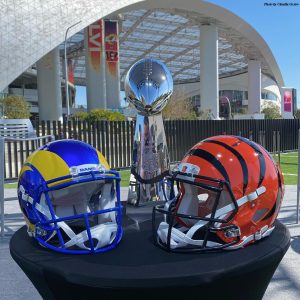 Sean McVay and his coaching staff had the team locked into a game plan a week ago, with some tweaking and tightening up to do this week. He told Gestro, "We are pretty much locked in Claudia. We tried to get the majority [of the game plan] in last week and then there were a couple situational things we tightened up. Even today there were a couple good things that came up in practice where we will tweak and alter, but for the most part it is finalized. We are not going to be adding anything. It is about tightening and trimming, making sure the players feel good and then being ready to adjust and adapt if necessary."
Of course the Bengals are locked in as well. We will see them try to pressure Rams QB Matthew Stafford because, as we have seen, Stafford can make some crucial mistakes. On the other hand Stafford has chewed up blitzes and with his collection of receivers, running backs and tight ends he has a lot of quality targets to choose from.
The Bengals use a quick pass offense, which can negate the pass rush of the Rams. If Cincinnati can do that consistently they have a very good chance of winning the game. But still, it's Aaron Donald, Leonard Floyd, Greg Gaines and Von Miller rushing the passer and stuffing the run.
It's a lot to expect of any offense, keeping that pass rush at bay on every play. It's a lot to expect of a quarterback to beat the Rams' secondary every time Burrow throws a deep bomb down field into tight windows. A secondary that now includes Eric Weddle. And Burrow has some great targets in Ja'Marr Chase, Joe Mixon and Tee Higgins.
It's a lot to expect of the Cincinnati defense, attacking an offensive line that has played so tightly together for several years. Cooper Kupp and Matthew Stafford have worked very well together all season, which is why Kupp was named the Offensive Player of the Year at Thursday's NFL Honors show. Many think he should have been the NFL MVP, but that honor went to Green Bay Packers QB Aaron Rodgers — for the fourth time. And congratulations to Rams OT Andrew Whitworth for being named the 2021 Walter Payton Man of the Year.
My prediction is; the team that plays the cleanest game will win and that team will be the Rams.

Tim Forkes started as a writer on a small alternative newspaper in Milwaukee called the Crazy Shepherd. Writing about entertainment, he had the opportunity to speak with many people in show business, from the very famous to the people struggling to find an audience. In 1992 Tim moved to San Diego, CA and pursued other interests, but remained a freelance writer. Upon arrival in Southern California he was struck by how the elected government officials and business were so intertwined, far more so than he had witnessed in Wisconsin. His interest in entertainment began to wane and the business of politics took its place. He had always been interested in politics, his mother had been a Democratic Party official in Milwaukee, WI, so he sat down to dinner with many of Wisconsin's greatest political names of the 20th Century: William Proxmire and Clem Zablocki chief among them. As a Marine Corps veteran, Tim has a great interest in veteran affairs, primarily as they relate to the men and women serving and their families. As far as Tim is concerned, the military-industrial complex has enough support. How the men and women who serve are treated is reprehensible, while in the military and especially once they become veterans. Tim would like to help change that.