'Field of Dreams'? No Thank You
Top photo of Dodger Stadium by Claudia Gestro
We could label this a sports story, opinion piece. And we can assume I'm in the minority opinion regarding the movie and the ball game played to commemorate the movie, Field of Dreams.
In all honesty I never read the book, Shoeless Joe, on which the movie was based so I have no idea how that book tracks with the film. From what I read on Wikipedia the character of Terence Mann in the movie was actually J.D. Salinger in the book. The producers had to change the name because Salinger threatened to sue if his name was used in any other medium if the book was adapted. That's all I know about the book. Already I don't like it.
So, in the book and movie 1919 White Sox outfielder Shoeless Joe Jackson wants a chance at redemption after allegedly taking part in a scheme to throw the 1919 World Series to the Cincinnati Reds at the paid behest of Arnold Rothstein, noted gambler and bootlegger.
In the process of giving Shoeless Joe redemption, the main protagonist Ray Kinsella gets a shot at redemption with his father. This is the sweet and sappy part of the movie. The two Kinsellas had a falling out before the elder Kinsella passed away so the younger Kinsella fantasizes about patching up their damaged relationship. They play catch at the end. Awww!
So, to get all this done Ray Kinsella plows down a big chunk of his cornfields to build a regulation size baseball field because an ethereal voice whispers in his ear, "If you build it, they will come."
Then he finds the writer Terence Mann (not to be confused with L.A. Clippers guard Terance Mann) who, in the book, is J.D. Salinger, in Boston and drags the poor recluse to a Boston Red Sox game.
Then they whisk off to Minnesota to find the ghost of a dead doctor who once played baseball but gave it all up to be a successful country physician.
Then they all head back to Iowa so Shoeless Joe and his fellow Black Sox can get together for a game of redemption. "See? We're not so bad."
Yeah, well, you shouldn't have thrown the 1919 World Series. Sure, the White Sox owner at the time, Charles Comiskey, was an asshole (and he still got a ballpark named after him), but the owners had the players by the short hairs anyway, treating them like nothing more than indentured servants.
It wasn't until the great James "Catfish" Hunter became baseball's first "big money free agent" that players began to have control over their careers.
At least some control. Case in point: Trevor Bauer. He's screwed.
So, there is this book, Shoeless Joe and movie, Field of Dreams, that want to have a nice happy ending for the 1919 White Sox. I cry foul, but what they hey, it's only fiction and many people love sappy movies. It was nominated for a Best Picture Oscar.
My favorite baseball movie is Money Ball (also based on a book) followed by Major League. Kevin Costner wasn't in either of them. I don't like Field of Dreams and Bull Durham is just a so-so movie about the minor leagues, love and sex. But other people, some of them considered experts in either baseball or film, consider both to be great, classic even, in the same realm with The Godfather or Casablanca. Costner wasn't in any of them either.
Just an aside: I happen to like a number of Costner's movies, like Waterworld, Open Range, 3000 Miles to Graceland, The Highway Men, A Perfect World and a few others I'm sure, but his baseball movies just aren't my style.
Another good baseball movie, one of my favorites, is Eight Men Out, by John Sayles. It does portray Shoeless Joe as an illiterate lackey who didn't know what was going on, but being illiterate doesn't mean someone is stupid. Were Shoeless Joe and Buck Weaver innocent? Well, if they knew about the fix but didn't report it, they were guilty.
Do they deserve to be banned for life from baseball? I don't know, but I do strongly feel that if disgraced Reds player and manager Pete Rose is ever reinstated then members of the White Sox eight should be as well, especially Shoeless Joe.
So they have this fantasy book and movie about the 1919 White Sox redeeming themselves. Fine. Some people consider it great entertainment. Who am I to argue? But now Major League Baseball has built a field, in an Iowa cornfield, to commemorate a movie about eight guys that fixed a World Series. I object.
MLB (and Fox Sports) is trying (and succeeding) to gain some popularity from the nostalgic feelings people are having for the film, Field of Dreams. It came out 32 years ago. Well, was there anyone in those meetings when this special game was considered and approved who stood up and said, "Wait, that movie was about tainted players." I'm hoping there was at least one person that objected.
Like all the other pro sports leagues MLB has lost its soul, sold to the highest bidder for television ratings  So a "minor" detail like throwing a World Series shouldn't get in the way of a major payday that could in fact draw more viewers to the game. Well, now that I think about it baseball, the business, never really had a soul to lose.
Now, I like baseball. In fact, I love baseball. Old Milwaukee Braves left-handed pitcher Warren Spahn is my favorite player of all time and the Milwaukee Brewers are my favorite team. I hope they win it all this season, although the San Francisco Giants are looking very good. Then of course over in the American League the Tampa Bay Rays are killing it.
Every player our sports reporter Claudia Gestro talks to is in it to win it, regardless of what team they are on and where they sit in the standings. So I love watching stand out players like Christian Yelich, Lorenzo Cain, Kolton Wong, Mookie Betts, Trae Turner, Cody Bellinger, Fernando Tatis, Jr. and others do their thing.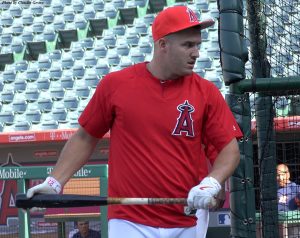 I also like watching shut down pitchers like Joe Musgrove, Corbin Burnes, Clayton Kershaw, Walker Buehler and Julio Urías pitch great. Urías is probably the Dodgers' best starter this season. It's a damn shame he didn't make the All-Star roster this year.
On the flip side, the league, MLB, and the team owners, have no soul. Look at how they allow late season trades, like the one that brought starter Max Scherzer and infielder Trae Turner to the Dodgers. Los Angeles gave the Washington Nationals a bunch of very good prospects to get Scherzer and Turner. But baseball has been doing that for decades. It's part of the game, a legal form of fixing the season and postseason. True, the teams still have to play great — well the Dodgers have to play great for the rest of the season if they want to catch the Giants — so I'm not dismayed about the late season trading. Remember Brewers fans, how the Brew Crew got Don Sutton from the Houston Astros late in the season? He carried the Brewers into the 1982 World Series.  So, "Play ball," I say.
But to have a special game in an Iowa cornfield that will commemorate a movie about crooked players that want to redeem themselves is a bit much. The White Sox Eight — the Black Sox — don't deserve the adulation, even if it is fictional.
If Major League Baseball is putting their stamp of approval on this book and film by playing this game, then maybe it's time to lift the lifetime bans on the eight. It is damn hypocritical to play this fantasy game and still consider the White Sox Eight out of the game. The league is using their memory to make money and attract more viewers to the game. Be consistent.
Millions of people will watch the game tonight between the White Sox and New York Yankees, two very good American League teams we most likely will see in October. Chicago leads the American League Central at this time and the Yankees are just six games behind Tampa Bay and two games behind Boston.
Claudia Gestro has some great photos of current and recently retired players, as well as great photos of several stadiums so we will populate this story with them because as far as we know, they are not getting paid to throw any games.
Forget the Field of Dreams. Let's celebrate the players and teams that are filling our summer with America's past time. I'm not so secretly hoping the Los Angeles Angels of Anaheim make it into the postseason this year. Do it for Mike Trout.
•••• •••• ••••• •••• ••••
UPDATE: The game has started and the White Sox are winning, 7-3 going into the fourth inning.

Tim Forkes started as a writer on a small alternative newspaper in Milwaukee called the Crazy Shepherd. Writing about entertainment, he had the opportunity to speak with many people in show business, from the very famous to the people struggling to find an audience. In 1992 Tim moved to San Diego, CA and pursued other interests, but remained a freelance writer. Upon arrival in Southern California he was struck by how the elected government officials and business were so intertwined, far more so than he had witnessed in Wisconsin. His interest in entertainment began to wane and the business of politics took its place. He had always been interested in politics, his mother had been a Democratic Party official in Milwaukee, WI, so he sat down to dinner with many of Wisconsin's greatest political names of the 20th Century: William Proxmire and Clem Zablocki chief among them. As a Marine Corps veteran, Tim has a great interest in veteran affairs, primarily as they relate to the men and women serving and their families. As far as Tim is concerned, the military-industrial complex has enough support. How the men and women who serve are treated is reprehensible, while in the military and especially once they become veterans. Tim would like to help change that.