FlowerBomb TV Uses her ICU Experience To Inspire her Artwork  
Today, it is not unusual for people to have more than one career. There are plenty of people living in the LA area who started off doing something else before they transitioned into their current careers. That is exactly what happened with FlowerBomb TV. FlowerBomb TV, who goes by the name Dara G, used to work as a nurse in the NICU before she transitioned into her current career. Now, FlowerBomb TV is known as one of the top up and coming artists in the world.
Even though FlowerBomb TV is one of the top young artists today, she hasn't always wanted to be an artist. When she was younger, all she wanted to do was help people. In order to fulfill this passion, she decided to go to nursing school. When she finished nursing school, she knew that she wanted to work with babies.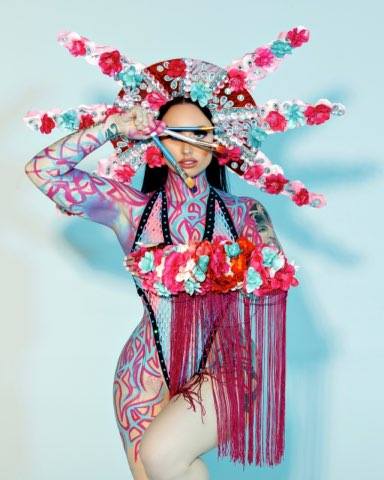 She understood that parents needed the most help if their children landed in the NICU. the NICU is a place for babies who are either born too early or born with chronic medical problems. There, Dara G worked for years, helping countless families navigate some of the biggest challenges imaginable.
In the NICU, she faced the highest of the highs and the lowest of the lows. There is nothing like seeing happy parents get to take their children home from the NICU; however, not every child gets to leave the NICU. In order to cope with this challenging experience, she decided to express herself through her artwork. Eventually, she realized that she was pretty good at it, as she has developed a massive following on Instagram.
Eventually, FlowerBomb TV decided that he had had enough of the NICU life and decided to dedicate herself to her art full-time. Her art has been described as a mix of modern and pop artwork. Her work is always evident through her use of flowers (thus FlowerBomb TV) and her use of Swarovski crystals. Already, her style has made her famous in the art world. Just as she worked hard as a NICU nurse, she is working hard at her art as well.
Today, FlowerBomb TV has dedicated herself totally to her artwork. Even though she is still relatively new to the art world, she knows that she has a tremendous amount of talent and she intends to use it to inspire others. Just as her work as a NICU nurse lives and breathes through her art every day, she hopes that her art is going to inspire others to pursue art as a career. It will be exciting to see what the future holds for FlowerBomb TV. For her, the sky is the limit.