Heavenly Cruise: Day 3 Ensenada, Mexico 
After a full and very fun day on Catalina Island it was time to get back aboard the beautiful Carnival Cruise ship Inspiration and begin our journey south crossing the U.S. Mexican border, but well off shore before working our way ever so serenely to the port of Ensenada.
For those who have never cruised before there are several really good reasons why cruise ships take plenty of time and stay well off shore between ports. Once 22.2 kilometers off shore you are in international waters and that means no sales tax for items sold aboard the ship. It also means they can open the casino for even more excitement and fun. But as if that isn't enough it is just plain wonderful cruising quietly along literally on the high seas. It is serene and beautiful with no significant noises such as from automobiles and airplanes overhead. True in the early evening there will be music coming from the stage on the pool deck, but those are fun sounds drawing fellow passengers together just to have a really good time.
And let us not forget one of the major joys of a Carnival cruise — abundant — awesome and mostly free food. This night the family and I would enjoy a fantastic meal at the Mardi Gras Dining Room. There were endless appetizers and a wide and wonderful selection of main dishes and even some delicious desert options. All at no charge unless you wanted to open the bottle of wine they place on every table. But even if you do enjoy the wine the cost is well below what a comparable meal would be at a first class restaurant on shore.
After our fabulous dinner the two daughters and our granddaughter ran off to enjoy some more Carnival fun dancing, singing and just generally having a great time living life to the max. Mom and dad headed back to our cabin, but not until we took a couple laps on the running deck to work off some of that great food.
You see the Inspiration has it all. Abundant and delicious food and also several exercise options so you won't need a fork lift to take you off of the ship when you get home. They have a running track and on deck 12 a magnificent gym with among many options a long row of treadmills, which when you are on one, you have a view of the ocean across the bow of the ship.  \What can be more fun than running on a treadmill trying to catch up with the sea in front of you? Okay, my weirdness but it is far more fun that your typical land locked gym.
As the sun began to rise the next morning so did we and when we did we could see out our cabin window the City of Ensenada. Mexico was clearly identified with a massive flag welcoming all aboard. It was time for one more great day of exploration. But first there was just one more thing we needed to do.
This trip was to celebrate our 35th wedding anniversary and at 8 a.m. before heading out for another day of fun and adventure we would renew our wedding vows. Helping us do that was a dear friend and neighbor who my family did not know would be on this cruise. Her name is Shirley and she showed up on time and ready to perform.
Nenita and I again pledged our eternal love to each other and then Shirley performed her mission, I was allowed to kiss the bride — Oh yeah and then with a little bit of appropriate music provided by daughter Kimberly it was done. Now it was time to explore in and around Ensenada.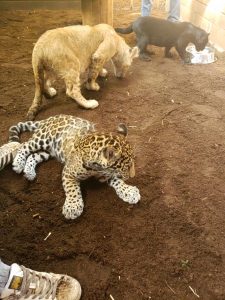 The number and diversity of shore excursions available in Ensenada is overwhelming. There is the Segway Boardwalk Ride and Riviera Museum experience where you are first taught how to correctly operate a Segway and then you go touring without walking. There is the Colors of Ensenada tour where you can unlock the artist within you.
Then there is the Ensenada Beer and Tequila Tour which you may only vaguely remember. Then there is the Blow Hole Tour (La Bufadora) where you can watch as ocean water shoots 100 feet up in the air. There are only three of these in the whole world. There is also the Zoo at the Valley — Hidden Treasure tour where you can actually pet tigers and panthers and other such wild beasts.
My granddaughter went there and had an unforgettable experience. And yes they do keep the full grown large cats locked up. There are many more options including a visit to one or more vineyards. All provide unforgettable experiences and all can be booked right aboard your Carnival cruise ship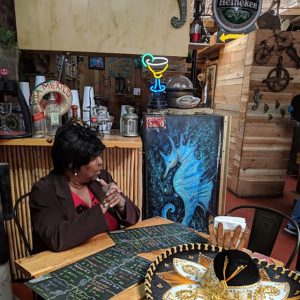 We sent the ladies off touring, but Shirley wanted to share with me a place she had discovered on her last visit to Ensenada. It is called Bullo's Place and they do serve the best fish tacos in the world, bar none. But first we did some shopping. I wanted to get something very special for my wife to further celebrate our 35thwedding anniversary. And there it was. A most beautiful sterling silver bracelet with a large heart sharped jade stone.
With that mission accomplished we then went to Bullo's and Shirley was absolutely right. Their fish tacos are the best ever and I even had a margarita that was also sensational. Should you find yourself on a Carnival Cruise in Ensanada you will really want to visit Bullo's Place located on Main Street at the tourist bus stop.
Back aboard the Inspiration I went straight to the gym to work off those fabulous fish tacos and margarita. Not long after my beautiful bride, two daughters and granddaughter came aboard and shared their adventures of the day. Then it really hit me. A four day cruise to Catalina and Ensenada is not big deal right? I mean Catalina is only 26 miles off of the California coast and it is part of the State of California. From our home in Burbank you can drive to Ensenada in about four and a half hours.
All true but then you miss out on all of those amazing benefits offered up by every Carnival Cruise. The pools, the gym, the many shore excursion options, the endless supply of awesome food, the fun shops with many items available nowhere else and the huge variety of onboard entertainment.  So there is just so much more fun included on a Carnival Cruise that just are not available any other way. Almost as if to prove this point the entire next day, which happened to be Halloween, would be spent at sea. More on that adventure soon.
••• •••• ••••• •••• ••••
For a great read visit here.
Photos by Ron Irwin, except for top photo of the Mexico flag over Ensenada
by Beau Hudspeth – Digi-Gen Design Studios-Wikipedia

Ron Irwin was born in Chicago, Illinois a long time ago. He served in the Marine Corps in Vietnam, became a trial lawyer, TV and radio host, CEO of a public company and once held an Emmy. He never won an Emmy he just held one. Ron has written and published twelve books. His most important book to date is "Live, Die, Live Again" in which Ron tells of his early life and his unexpected and very temporary death in 2012. That experience dramatically refocused his life and within the pages of that book Ron reveals how he achieved a much healthier life, ridding himself of Diabetes, Cancer and Heart Failure. Now Ron enjoys writing about many things including health topics, travel [he has circled the globe several times], adventure, culinary experiences and the world of performing art. Ron's motto is "Live better, live longer and live stronger because it feels great and annoys others." Contact the author.