Hillary Clinton is a far better choice than Donald Trump
We have known for some time who the two major party candidates would be in the November elections. For the Republicans it is Donald Trump with his running mate Mike Pence. And Thursday Night Hillary Rodham Clinton made it official for the Democrats when she formally accepted her party's nomination for president. Her running mate of course being Virginia Governor Tim Kaine.
The two tickets couldn't be any more different.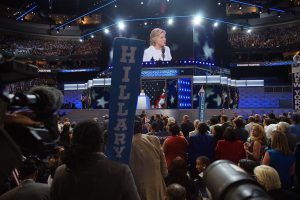 Trump the bully, the braggart who claimed he knows more about the system and that he alone can fix it. Clinton, who actually does know more about the system and says it's a "we" job to reform campaign finance, to have the economic recovery benefit more people, to make it affordable for people to attend public colleges and universities — and one new wrinkle: community colleges — Hillary Clinton is, as most people on all ends of the spectrum agree, is the most qualified person to ever run for the office of President.
At the Democratic National Convention on Thursday, the final day, there was a Republican who spoke in favor of Hillary Clinton over Donald Trump. One of Ronald Reagan's speechwriters, Doug Elmets, explained why, after 40 years of voting Republican in presidential elections, he was supporting Hillary Clinton. He started with a message to Trump: "I came here tonight to say I knew Ronald Reagan, I worked for Ronald Reagan. Donald Trump, you are no Ronald Reagan."
Elmets reminded everyone that Reagan famously said, "Tear down this wall," while Trump was promising to build the wall."
Elmets listed a variety of reasons he was voting for a Democrat for the first time in his life, not the least of which is the 2016 Republican platform, the scariest on record. Elmets told us it was, "…laced with anti-immigrant, anti-gay, anti-women positions that do not represent the views of most Americans."
A very prominent independent, former New York City Mayor Michael Bloomberg — who is at least ten times richer than Trump — spoke on Wednesday calling Trump a "Dangerous demagogue."
The list of non-Democrats endorsing Hillary Clinton over Donald Trump for the same sentiments as Elmets and Bloomberg keeps growing: Richard Armitage, Henry Paulson, Brent Scowcroft, former South Dakota Senator Larry Pressler, Mark Salter, former advisor to Senator John McCain. He said, "Whatever Hillary Clinton's faults, she's not ignorant, or hateful or a nut. She acts like an adult and understands the responsibilities of an American president. That might not be a ringing endorsement, but in 2016, the year of Trumps campaign, it's more than enough."
The list could go on.
Thursday Night at the convention was all about the presidential candidate herself. The speakers came in to tell the assembled — and those of us watching C-SPAN — what Hillary Clinton had done for them, either personally or through her efforts as First Lady and the Junior Senator from New York.
Lauren Manning was a partner at Cantor Fitzgerald on the morning of September 11, 2001. The day changed her life forever. She lost 658 of her co-workers on that day and she received burns over 80 percent of her body. In her remarks she spoke about how Clinton helped survivors and first responders through legislation and how Clinton would come to visit her in the hospital.
Mainnng said, "She walked into my hospital room and took my bandaged hand in her own. Our connection wasn't between a senator and her constituent. Our connection was person to person. She visited, called, and checked in for years, because she cared. When I needed her, she was there. When our first responders needed her, she was there.
"Now our country needs her. I trusted her when my life was on the line, and she came through. Not for the cameras, not because anyone was watching, but because that's who she is. Kind. Caring. Loyal.
"This is the Hillary Clinton I want you to know. She was there for me. That's why I'm with Her."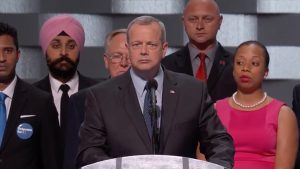 Retired Marine Corps four-star general John Allen spoke to the convention, flanked be veterans of all ages. "My fellow Americans, I stand with you tonight as a retired four-star general of the United States Marine Corps, and I am joined by my fellow generals and admirals, and with these magnificent young veterans of Iraq and Afghanistan.
"They went there and they risked their lives because they love this country."
He endorsed Clinton as only a general could. "My fellow Americans, I tell you without any hesitation or reservation that Hillary Clinton will be exactly – exactly – the kind of commander-in-chief America needs.
"I know this because I served with her. I know this as the former Special Presidential Envoy to the Global Coalition to Counter ISIS. With her as our Commander-in-Chief, America will continue to lead in this volatile world."
In his remarks General Allen had stinging rebukes of Donald Trump. "But I also know that with her as our Commander-in-Chief, our international relations will not be reduced to a business transaction. I also know our armed forces will not become an instrument of torture, and they will not be ordered to engage in murder or carry out other illegal activities."
Trump, had a reply for General Allen — in a tweet, of course. "General John Allen, who I never met but spoke against me last night, failed badly in his fight against ISIS. His record = BAD #NeverHillary"
Oh yeah, Trump said he knows more than the generals … don't laugh — vote.
The strongest endorsement of Hillary Clinton — and the most effective rebuke of Donald Trump came from Khizr Khan, whose son, Army Captain Humayun Khan, died in Iraq in 2004. After speaking about his son, who posthumously received the Bronze Star and Purple Heart for his actions, Khan turned his remarks to Trump.
In December of last year Trump had called for a complete ban on Muslims entering this country, the first candidate in the modern age calling for a religious test for citizens. And he claimed he saw Muslims in New Jersey dancing in celebration of the 9/11 attacks, which has been proven to be a … falsehood … by a number of news and fact-checking organizations.
Khan said to Trump, "You have sacrificed nothing and no one." He then pulled a copy of the U.S. Constitution out of his pocket and waved it at the camera. "Let me ask you: Have you even read the United States Constitution? I will gladly lend you my copy."
Everyone agrees it was the most powerful moment of the convention.
Well, not everyone. Trump spoke with George Stephanopoulus of ABC news and immediately began to slander Khan. "Who wrote that [speech]? Did Hillary's scriptwriters write that?" And then Trump did the ghastliest thing imaginable and compared his creating of "tens of thousands of jobs" and his "success" to the sacrifice of the Khan Family. Really Donald? Is there no bottom too low for you to go? And he suggested Khan's wife was not allowed to speak because she's Muslim and Muslim women are not allowed to speak in public … tell that to all the Muslim women who speak in public, like Malala Yousafzai who goes around the world giving speeches wearing a hijab.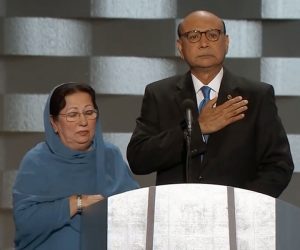 Ghazala Khan, Khizr Khan's wife, said she didn't speak at the convention because she was too emotional. She did speak on MSNBC Friday and yes, she got emotional.
The night belonged to Hillary Clinton though. She was introduced by her daughter Chelsea, who was visibly moved by the experience. Introducing the first woman to be nominated for the presidency by one of the two major political parties has that effect on a daughter.
There was a film about the life of Hillary Clinton, from her time growing up in a Republican family, to college, meeting Bill Clinton and all her accomplishments since.
The Crowd erupted when Chelsea introduced her mother who walked out to the front of the stage. Hillary Clinton gave the best speech of her life. She thanked everyone in her life, starting with Chelsea who has two children now Bill, with a slight reference to their "hard times that tested us."
She thanked Bernie Sanders and his supporters, saying, "I want to thank Bernie Sanders. Bernie, your campaign inspired millions of Americans, particularly the young people who threw their hearts and souls into our primary. You've put economic and social justice issues front and center, where they belong.
"And to all of your supporters here and around the country: I want you to know, I've heard you.
"Your cause is our cause. Our country needs your ideas, energy, and passion. That's the only way we can turn our progressive platform into real change for America."
She invoked the Founders and our nation's motto: "E Pluribus Unum. Out of many we are one."
That is when she launched into her attack on the orange-haired — and dangerous — buffoon she is running against in this election. She said, "…don't let anyone tell you that our country is weak. We're not. Don't let anyone tell you we don't have what it takes. We do. And most of all, don't believe anyone who says: 'I alone can fix it.' "
A direct swipe at Trump who said in a debate nobody knows the system better than me," possibly a reference to all the campaign contributions he's made over the years to Democrats and Republicans alike. In his acceptance speech Crooked Donald said, "I alone can fix it. I will restore law and order." As if he's going to wave a magic wand on Inauguration Day and everything will be fixed.
Although other Republican presidential candidates have painted a dark and pessimistic vision of America (Nixon, Reagan Bush 43), Trump is the only one who has claimed he alone can fix everything.
She called our military a "national treasure," after Trump shit on it by calling it a "disaster." When he claimed to know more about ISIS than the generals. Is there no end to this guy's delusions?
But Clinton made her most powerful — and most quoted — argument against Trump when she said, "A man you can bait with a tweet is not a man we can trust with nuclear weapons."
She went after the NRA, the gun lobby, saying, "I'm not here to repeal the Second Amendment. I'm not here to take away your guns. I just don't want you to be shot by someone who shouldn't have a gun in the first place."
It was the greatest speech of Hillary Clinton's life.
The official theme of the Democratic National Convention was "Stronger Together." The unofficial theme was, "America is already great, stop insulting America, its citizens and his military and law enforcement."
This election is like no other. It pits a dangerous charlatan who would divide us as a nation as well as separate us from our allies and thinks America sucks, against a candidate who actually has a plan to make things better — not to mention the temperament to deal with the dangerous world we live in.
And then there is the coziness Trump has with Vladimir Putin and Russia. Just to highlight how dangerous he is, Trump invited the Russians to hack into Clinton's emails to aid his campaign. He encouraged another country to commit espionage.
What's really scary is that now, being the nominee of his party, Trump receives intelligence briefings. What if he starts blabbing extemporaneously as he is wont to do, and discloses classified information?
The man is dangerous.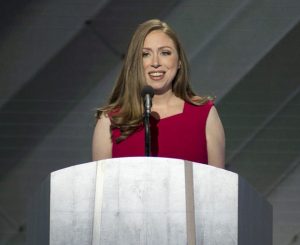 One thing about the Democratic National Convention: it had actual stars performing and giving speeches. Carole King, Paul Simon, Lenny Kravitz, Demi Lovato, Katy Perry and Alicia Keys all sang at the convention. Eva Longoria, Lena Dunham, America Ferrera, Chloe Grace Moretz, Mary Steenburgen, Ted Danson, Sigourney Weaver, Angela Bassett, Tony Goldwyn, Sarah Silverman and Elizabeth Banks all spoke at the convention and Bradley Cooper was spotted in the audience.
Who did the Republicans have? Oh yeah, the Duck Dynasty guy, Antonio Sabàto, Jr. and Scott Baio. Thankfully, none of them spoke to an empty chair.
To the Bernie Bros on Facebook who still think there's no difference between Trump and Clinton: get back into the real world.
Below is a video by Douglas Christian who asked conspiracy nut Alex Jones a question about Hillary Clinton.
•••• •••• ••••• •••• ••••
UPDATE: AUGUST 1, 2016: And the vile, shameful attacks on Khizr Khan, his wife and his hero son grows. A website called "Young Conservatives" decided to besmirch the name and memory of Army Captain Humayun Khan by linking him to Muslims who have killed American soldiers, in particular Nidel Hassan, the Fort Hood killer. And they ask, "Is there a problem with Muslims in the military? The man was posthumously awarded the Bronze Star for saving the lives of his men — like Trump, the creator(s) of "Young Conservatives" have no moral compass, nor a shred of decency. They are vile pigs.
Another is Chris Mark, a Navy and Marine Corps veteran. Besides misrepresenting what took place at the Democratic National Convention — liberal and conservative commentators agree it was a far more patriotic convention than the RNC — mark smeared Khizr Khan in an "open letter" by suggesting the man sacrificed nothing when his son, Capt. Khan, was killed in Iraq. Really? That makes me wonder if Chris Mark is a veteran at all. Any veteran, at least the hundreds I know or have met, will tell you Gold Star families sacrifice when they lose their son or daughter in war. Here's my open question to Chris Mark: You don't believe losing a family member to war is a sacrifice? You're a vile pig.
In the comments under his "open letter" Mark pushes back at dissenters who ask why he didn't deride Patricia Smith for speaking at the Republican National Convention. She is the mother of Sean Smith who was killed during the attacks on the American Consulate in Benghazi, Libya. Mark was quite direct when he claimed the two situations were different because Sean Smith died while Hillary Clinton was Secretary of State. Humayun Khan died while George W. Bush was president and Colin Powell was Secretary of State and Donald Rumsfeld was Secretary of Defense. That makes all the difference: one's Republican and the other Democrat.
Mark's "Open Letter" is just a heavily partisan attack on the Democratic Party and its candidate, under the guise of smearing a Gold Star Family for calling out Donald Trump's un-American and racist comments.
And then there's Allen West, the retired Army officer who, by any estimation, is too nutty for even the Republican Party. You'd think they would love to have an African-American veteran speak at their convention, but they didn't. He was a one-term Congressman from Florida and even his former constituents thought he was too nutty for them because he lost his re-election bid to Army veteran Patrick Murphy.
West didn't suggest the Khan Family hasn't sacrificed, but he did decided to diminish their and their son's sacrifice by comparing Capt. Khan's service to Muslim soldiers who have killed other soldiers. In what can only be described as childish tit-for-tat pettiness, West makes the assertion that their son's sacrifice — and their own — is somehow nullified by Muslims soldiers who have killed other soldiers.
Just for the record: Allen West was forced to retire from the Army after he discharged his weapon near the head of an Iraqi prisoner of war. West got off lightly. What he did is considered cruel psychological torture and therefore a war crime. At the time General Ray Odierno (Then a Major General) chose to fine West $5,000 and force him to retire. Odiero could have rejected the settlement and forced West to be court-martialed. Had he been convicted in the court-martial he could have gone to prison for up to 11 years. Well, I'm sure that's not the only mistake Gen. Odierno has made during his career.
Allen West is another vile pig. He actually suggests he and Capt. Khan have a lot in common. Other than wearing the same uniform, there is no similarity.
And then there is this: The Veterans of Foreign Wars has denounced Trump for ridiculing a Gold Star Mother. "There are certain sacrosanct subjects that no amount of wordsmithing can repair once crossed. Giving one's life to nation is the greatest sacrifice, followed closely by all Gold Star families, who have a right to make their voices heard."
All photos from YouTube videos unless otherwise noted. Top photo by Douglas Christian.

Tim Forkes started as a writer on a small alternative newspaper in Milwaukee called the Crazy Shepherd. Writing about entertainment, he had the opportunity to speak with many people in show business, from the very famous to the people struggling to find an audience. In 1992 Tim moved to San Diego, CA and pursued other interests, but remained a freelance writer. Upon arrival in Southern California he was struck by how the elected government officials and business were so intertwined, far more so than he had witnessed in Wisconsin. His interest in entertainment began to wane and the business of politics took its place. He had always been interested in politics, his mother had been a Democratic Party official in Milwaukee, WI, so he sat down to dinner with many of Wisconsin's greatest political names of the 20th Century: William Proxmire and Clem Zablocki chief among them. As a Marine Corps veteran, Tim has a great interest in veteran affairs, primarily as they relate to the men and women serving and their families. As far as Tim is concerned, the military-industrial complex has enough support. How the men and women who serve are treated is reprehensible, while in the military and especially once they become veterans. Tim would like to help change that.