Hitler rises to power: The making of a Nazi
Germany was defeated in WWI (1914-18). By mid-1919, it economy was in total shambles. It also suffered from a debilitating case of hyperinflation. Poverty, disease and starvation were widespread. Political factions from the extreme Left and Far Right fought openly, and violently, in the streets for supremacy in the badly-battered land. It was an ongoing Civil War!
Then, as the country lay prostrate, the Versailles Treaty, a so-called "peace treaty," with punitive terms, was imposed on it by the victorious Allied powers. Germany's then its badly-weakened national government, k/a the "Weimar Republic," proceeded to ratify its draconian terms.
Meanwhile, Kurt Eisner, a German Jew, organized a coalition of Leftist groups-Communist included- which overthrew the monarchy in Bavaria, in November, 1918. His reign, however, was short-lived. Eisner was assassinated by a German nationalist on February 21, 1919. The man who murdered him, Count Von Arco-Valley, an ardent Right Winger, spent only three years in prison and was then paroled. He was treated more "like a hero" by the public.
All of the above laid the groundwork for the emergence of Adolf Hitler, in the City of Munich, in the southern province of Bavaria, to become a want-to-be "Messiah" for Germany. One observer put it this way: Hitler, a WWI veteran, born in Austria, went from a zero status – "to a self-defined hero!"
Enter author, Thomas Weber, and his latest book, Becoming Hitler: the Making of a Nazi. Weber is a professor of History and International Affairs at the University of Aberdeen, Scotland.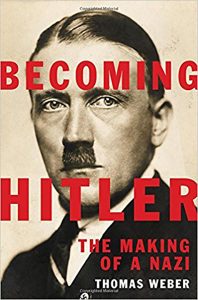 Weber skillfully traced Hitler's transformation between 1918 and the failed coup, a/k/a "a putsch" in 1923, and later imprisonment, to a point where he came to see himself as Germany's savior. He rose dramatically, the author continued, from an "awkward loner, with a feckless persona to a National Socialist leader with extremist political and anti-Semitic convictions."
The author is convinced that historians never "really knew how Hitler became a Nazi" and therefore they weren't "drawing the right lessons from the story of his metamorphosis for our own times."
Weber dispelled the notion that Hitler had become "radicalized" while growing up in Austria and hanging out in Vienna." He added that line was simply part of Hitler's own "self-serving lies." Weber also shot down the belief that Hitler became a Nazi because of his "experiences in the First World War."
The author also underscored that there was no evidence to support that Hitler's hatred of Jews had begun during this period. He could find nothing in the record to show "any tension" had existed during the war between Hitler and Jewish soldiers of his regiment.
In 1919, at age 30, he was still in the service. Hitler accepted a job for the Army as a "propagandist," to spy on local political groups. Before that he was elected to a post within his own army unit. He showed qualities of a "leader in the making" by (gasp) informing on his "own regimental peers." This was, the author insisted, the beginning of Hitler's self-realization of his own talents.
Captain Karl Mayr was the head of the "Reichswehr's" propaganda unit. He also taught classes about the propaganda. Hitler was one of his favorite pupils. He was assigned by Mayr to spy on a group, the "DAP," the German Workers' Party. The DAP was founded by a Munich playwright and poet, Dietrich Eckart, who was also a fierce anti-Semite and ran his own Rightwing newspaper.
While attending a meeting of the DAP at a tavern/restaurant, the Leibrzimmer, in Munich, Hitler seized the opportunity to share his views with the audience "with a rousing speech" on the issues of the days. The local DAP chairman, Anton Drexler, was duly impressed, as was Eckart. Before long, Hitler left the Army and joined the DAP, on September 26, 1919. He then became "the propagandist" for the DAP, which would soon morph into the Nazi Party, NSDAP. Hitler had found his home!
Thanks to continued "schooling" from his mentor, Eckart, Hitler perfected his message to the masses. Rebuilding Germany, voiding the Versailles Treaty and blaming "Jewish finance capitalism" for all of the country's economic woes, were some of the themes he regularly articulated. By the early 1920s, it wasn't unusual for him to speak before an audience of "between 1,200 and 2,500 people."
In the meantime, the Nazi Party was growing into a national power. Some of the early joiners would become by the mid-1930s, members of its inner circle. In that list were: Rudolf Hess, Heinrich Himmler, Hermann Goering, Emil Maurice, Ernest Alfred Rosenberg, Ernst Rohm, Gregor Strasser, Otto Strasser and Joseph Goebbels. They were all rabid anti-Semites. They regularly echoed another of Hitler's false charges that Germany had lost the war only because traitors at home, Marxists and Jews, had "stabbed it in the back!"
To learn more about these top Nazis, check out Netflix's program, "Hitler's Circle of Evil," at: https://www.netflix.com/title/80138915. It's the story of his demented henchmen and a regime "where all the power derives from one man." It ends with Germany's resounding-defeat in WWII in 1945.
Hitler's beer hall putsch (coup) against the national government, in 1923, was an unmitigated disaster. It landed him in Landsberg Prison for a year. While in confinement, Hitler continued his political education, wrote his political ideology, Mein Kampf, (My Struggle), which later became a best seller.
Hitler promised on his release from Landsberg prison that he would seek power "only through the democratic process."  The author Weber concluded his book by writing that the making of the radical demagogue, a strongman, like Adolf Hitler, is a "cautionary tale of what happens when extreme economic volatility … and national decline come together," and the masses, out of desperation, "seek new, novel leadership."
Top photo: Adolf Hitler holding a speech, about 1925.
(Photo by Imagno/Getty Images) [Hitler haelt eine Rede. Photographie. Um 1925.]

Bill Hughes is a native of Baltimore. He's an attorney, author, professional actor and hobbyist photographer. In his salad days, he worked on the docks as a longshoreman. Bill also played on three championship soccer teams: sandlot with Jules Morstein; high school at Calvert Hall; and college at the University of Baltimore.