The Hive creator Nathan Cartwright
Above photo by Alex Houlton 
The Hive Gallery just celebrated their Ninth anniversary with a show that featured over 100 artists … and cake. I interviewed founder Nathan Cartwright.
Cat Doss: How did you get into doing art?
Nathan Cartwright: Well I was born an art making peapod. I think my parents knew I was gonna' be an artist when one day as a wee bitty one in my crib, I took my "number 2" and drew all over the walls with it. That was just the start. I literally drew all the time, every day. I was and always have been obsessed and in love with drawing and creating expressions of inner worlds. I was given the metaphoric sword (artistic talent) by the Gods to slay dragons (to enter new unseen territory and share it with my fellow man).
Art is light, light is consciousness and it is my duty to share, inspire, and enlighten (make internally conscious) my fellow humans
CD: How did you become the owner of The Hive?
NC: I created the Hive in 2005. Before the Hive I was part of a space called Hangar 1018, which was a 6,000 sq. foot warehouse, art and performance space on the western edge of Boyle Heights. It was for a few years an epicenter of underground art, music and performance and a few of us lived there and worked in very uncomfortable conditions.
The Hangar shutdown for a bit and during that time the founder of the Artwalk, Bert Green, told me about the space on Spring Street (later to become the Hive). I decided that I needed to take the opportunity and started my gallery and studios. Knowing and remembering how we buzzed about at The Hangar, I envisioned the same experience at my new spot. the name, The Hive Gallery fell right into place.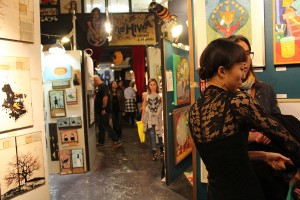 CD: Can you tell me a little more about the history of The Hive?
NC: From 2005, the Hive Gallery and Studios has grown organically. I am an artist running a business, rather than a businessman running an art spot. Artists are good with going with the flow, and that's how things have moved over the years.
I have always been careful not to overstep my bounds financially and am a realist in my business dealings. The Hive was always half gallery and half studios. We have downstairs studios and upstairs studios.
In the beginning, all the little honeycombs were working artist studios. A big growth has been that the downstairs spots have gradually become exhibition/selling studios. Most artists on the ground level of the gallery don't work in the space, but sell direct to patrons. The Hive has grown in leaps and bounds as a community, now works in Japan, and taken on all kinds of new projects over the years, mainly animation and publication projects such as yearly Hive Tarot Decks and an upcoming book.
CD: You recently celebrated your nine-year anniversary at the Hive. Nine years is a long time! Were you excited?
NC: Very excited, but honestly it flew by, as has every year. I'm always running around handling sales and salutations like a bee with his head cut off. The cake was yummy and the visitors were sweet. I could ask for nothing less. Although, I pleasantly awaited time with friends later in the evening down the street at Peace Yoga.
CD: How did Wilkinson the Butler come into your employ?
NC: I met Wilkinson at Copro Gallery at a sculpture show I was in called "Conjoined," curated by artist Chet Zar. We hit it off and I said the Hive and the Kingbee were in desperate need of a butler! He has been great at the shows passing out goodies such as cake and at Ellen Schinderman's Show "Stitch Fetish" he passed out … umm … "perfolactics."
CD: Tell me more about your work and what inspires you.
NC: To put it as simply as possible: My art is a personal mythology that aims to subconsciously inspire people towards the life urge.
The life urge is dependent on self-seeking and independent action creativity, adventure, internal exploration. The life urge is a life of magic. We often find ourselves in the hustle and bustle and forget that these moments we have are very, very special. Our minds often seem designed to wall up and head for shelter, in our social, cultural mindsets, when there's a world of possibility out there, every day! I sculpt and paint worlds that are fun to look at, yet filled with symbolism and depth.
Great movies, novels, and music are similar, like Star Wars. It's fun to look at, but there are deeper, more subtle communications going on within. One symbol I use is a little happy face man ("The Man") symbolizing the soulless, humdrum worker. He is usually trying to cause trouble for magic and colorful creatures.
Other times, bigger deities are sublimating "The Man," devouring him whole. But sometimes he is awakened, taking off his mask, shedding his skin to new life filled with awareness and awe.
CD: Tell me some of your artistic influences.
NC: I am very influenced by film, I'm a complete film nerd. I was influenced as a child greatly by Japanese animation and American horror films. I was also influence by art books my parents had in their basement — my favorites as a child were Bosch and Brueghel. As an adult, I am very influenced by psychology (Jung), Mythology (Campbell) and Alchemical symbolism.
CD: If you could tell young artists one thing, what would it be?
NC: If you love creating art, stick with it: you will never go wrong with love. Be patient, flexible and open to learn and critique yourself and others.
Great artists are able to take a few hits, you gotta be tough like a Kung Fu Warrior. The Test of Fire makes him better at what he does, in the same way critical thinking about your work and perseverance will make you the best artist you can be.
CD: Is there anything else you'd like to add?
NC: The Hive is an active community with a number of private and public activities that we'd love for people to take part in:
First Saturdays: HIVE OPENINGS, this is our biggest night with most artists and patrons present for the evening. If you really wanna' get to know the Hive, this is the night to come out ($5 donation- RSVP at http://show.hivegallery.com )
Second Thursday: Downtown Artwalk — we all know the Artwalk, it's awesome, exciting and a free night for the public.
Second Friday: Sculpt-nerd Night- Come sculpt with your favorite artists, including me, The Kingbee! (FREE, RSVP at http://sculpt.hivegallery.com )
Third Thursday: Kino Fried Conspiracy — an experimental film night curated by Marcel Dejure (FREE, you must RSVP at http://kino.hivegallery.com )
Last Sunday: Hive Drawing Bee — provided and instructed by artist/professor Teod Tomlinson (FREE, you must RSVP at http://bee.hivegallery.com )
Also stay tuned for The Hive Book, A Field Guide to the Denizens of Hiveland, coming soon!!!
All photos by Cat Doss, unless otherwise noted.

Cat Doss is an artist/writer/filmmaker/performer living in the Los Angeles area. She was born in Huntington, West Virginia. A classically trained painter and a winner of multiple awards in various disciplines, Cat refuses to confine herself to one medium preferring to experiment with her work and investigate the workings behind the creative process. Her art can currently be found at Facebook.com/someassemblyrequired