'Inherited Memories' remind us of what can happen
On May 18, from 6-9 p.m. there will be an opening reception for the joint exhibition, "Inherited Memories." Three artists — Shula Singer Arbel, Dwora Fried and Malka Nedivi — present their work that expresses the memories of their mothers who were Holocaust survivors.
Curator Peter Frank said, "More to the point the mothers of these three women went through the ordeal, profoundly impacting their daughters and the art they make. The work of Arbel, Fried, and Nedivi, however, manifests more than a simple acknowledgement of the tribulations their mothers underwent before giving birth to them: it embodies sensations experienced one way by the elder women themselves and another by their offspring. It is in this experiential slippage that the art finds its eloquence; and it is in the three artists' diverse stylistic and discursive approaches that the exhibition finds its resonance."
It is the rise of white nationalism and anti-Semitism, which is filled with Holocaust deniers, that spurred these three artists to display their work, together, an act that can be a show of not only unity, but a reminder from those who are just one generation removed from the greatest of horrors from the 20thCentury.
Many people have fathers or grandfathers that fought the Nazis in World War II, but many fewer have parents that survived the death camps constructed by the Hitler regime to achieve their "Final Solution" — the elimination of all Jews from Europe. The murder of six million Jews stunted Jewish cultural, religious and generational growth for generations.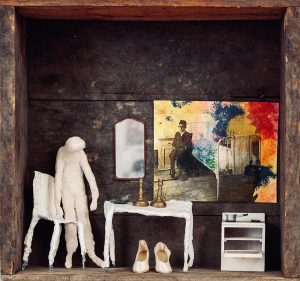 In the United States white nationalists have been spurred on by the words and deeds of like-minded politicians, so much so that bigots felt emboldened enough to march through Charlottesville, Virginia chanting, "Jews will not replace us." And "Blood and soil." The march resulted in the murder of one counter protestor. President Trump said, "… you also had people that were very fine people, on both sides." Some of those bigoted, anti-Semitic white nationalists were fine people?
This show is an answer to those sentiments, those rising tides of hate, that have become the leading cause of terrorism in the United States.
The exhibition will be at the Castelli Gallery 5428 Washington Blvd,  Los Angeles, CA 90016, beginning May 18 with the reception. On may 26 there will also be an artists' talk, moderated by Peter Frank.
About the artists (from their press release):
Shula Singer Arbel
Shula Singer Arbel was born in Israel and moved to Los Angeles at the age of three.  She received an MFA degree from UCLA in Film Production and worked for many years in the film industry as an editor, writer, and researcher. Arbel was the first recipient of the Barbra Streisand Screenwriting Award. She wrote and directed short films, showing in the independent film circuit in the United States and Europe. After leaving film, she returned to her original love: painting.  She is now a full-time artist and a member of the Los Angeles Art Association, Women Painters West, and the Jewish Artists Initiative. Shula received the Best of Show Award in the 2010 Gold Medal Exhibition at Valley Institute of Visual Arts (VIVA).
Dwora Fried
Dwora Fried is an assemblage artist creating mixed media sculptural spaces in wooden boxes. Her small rooms evoke what it was like to grow up as an outsider in postwar Vienna: being Jewish, lesbian and a child of Holocaust survivors, she learned to see everything through the prism of loss, danger and secrecy. Dwora studied art at Avni School of Fine Arts in Tel Aviv, Israel. She has had solo shows in London, England, Venice, Italy at the Jewish Museum, Vienna, Austria (her art is in the permanent collection of Austria's MUSA Museum ) and Los Angeles, California. She has exhibited in Chicago's Elmhurst Art Museum, Grafiska Sällskapet in Stockholm, Sweden, San Francisco's Arc Gallery and Orange County Center for the arts. Her work was shown at Launch LA/Korean Cultural Center, Irvine Fine Arts and the newly opened MASH gallery in Downtown LA. Her life size interactive installations were part of her solo show at the Los Angeles Art Association and a political group show at Fullerton College Art.
Malka Nedivi
Malka Nedivi is an artist living and working in Los Angeles. She was born in Rehovot, Israel in 1952, an only child to parents who survived the Holocaust and emigrated from Poland. Studying Theater and literature at the Hebrew University in Jerusalem, she directed plays and taught theater. Recently Malka had a successful solo show at the National Council of Jewish Women, had a solo exhibition at BOA Art Gallery in Los Angeles, and was featured in the LA Art Show at the Los Angeles Convention Center. Malka was also chosen as one of the top ten Southern California Contemporary Artists from Israel at the Los Angeles Municipal Art Gallery. Malka has had write-ups in the Beverly Press, Jewish Journal, Diversions LA, Filling the Negative Space, Tribe Journal, Trebuchet Magazine and she is the subject of a feature in the Huffington Post.

We are not the typical news website – nor do we wish to be. We will be offering more than news and blogs, but an opportunity for fiction writers, poets, comedians and musicians to showcase their talent and skills. Much like when the Beatles formed Apple Corps Ltd, they opened the door to all kinds of inspiring talent that never really got a shot. From that came the likes of James Taylor and others. We hope by providing a similar approach we can shine the light on some tremendous undiscovered talent and at the same time offer some familiar voices who live in Los Angeles and beyond.