Joc Pederson to appear at Dog Park
The Los Angeles Dodgers announced that on Thursday their star outfielder Joc Pederson will appear at the Pet Family Photo Day, at Silverlake Dog Park, 1863 Silver Lake Blvd., Los Angeles, 90026 . Pederson will be there beginning at 2 p.m. The event gets started at 11 a.m. so family's and their pets can get there to have their photos taken with their pets and some surprises provided by the Dodgers.
It's part of the team's Dodgers Love L.A. Community Tour presented by Bank of America. Other visits around Los Angeles are planned. On Friday several members of the Dodgers, including Kenta Maeda, Corey Seager, Dave Roberts, Yasmani Grandal, Andrew Toles, Tommy Lasorda and others will be at the Dream Center, 2301 Bellevue Ave, Los Angeles, CA 90026, between 8:30 a.m. and 1 p.m. At 3 p.m. fans can join the Dodgers at the Westfield Topanga Shopping Center, Level 1, The Canyon, 6600 Topanga Canyon Blvd, Canoga Park, 91303. They can look forward to Seager, Trayce Thompson, Rob Segedin, Scott Van Slyke, Ross Stripling and others.
Also on Friday fans can beet some Dodgers at the  Crenshaw High School clinic, 5010 11th Avenue, Los Angeles, CA 90043, from 8:30 a.m.-11 a.m.
The Dodgers also plan to have lunch with families of fallen soldiers at the Battleship Iowa Museum, 250 S. Harbor Blvd., Los Angeles, 90731, between noon-2 p.m.
Kenta Maeda will be at the Japanese American National Museum, 100 N. Central Ave., Los Angeles, 90012, from noon-2 p.m.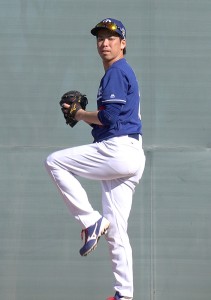 From 3 p.m.-5:30 p.m. Dodgers will appear at the Blessings in a Backpack event at the Los Angeles Boys & Girls Club, 2635 Pasadena Ave., Los Angeles, 90031.
If you're a Dodgers fan, here are some opportunities to meet some of your favorite Dodgers outside of Dodgers Stadium.
Photos by Claudia Gestro – Top photo: Joc Pederson at the 2015 MLB All-Star Game Home Run Derby

We are not the typical news website – nor do we wish to be. We will be offering more than news and blogs, but an opportunity for fiction writers, poets, comedians and musicians to showcase their talent and skills. Much like when the Beatles formed Apple Corps Ltd, they opened the door to all kinds of inspiring talent that never really got a shot. From that came the likes of James Taylor and others. We hope by providing a similar approach we can shine the light on some tremendous undiscovered talent and at the same time offer some familiar voices who live in Los Angeles and beyond.