John Dean warns SCOTUS pick could expand presidential powers
WASHINGTON – The attorney who served as White House counsel to then-President Richard Nixon told a Senate panel Friday that President Donald Trump's Supreme Court pick, Judge Brett Kavanaugh, if confirmed, would expand the limits of executive power.
"If Judge Kavanaugh is confirmed, I submit we will have the most pro-presidential powers Supreme Court in the modern era," John W. Dean III said in prepared remarks to the Senate Judiciary Committee.
He added: "I am old enough to remember when conservative orthodoxy fought the expansion of presidential and executive powers."
Dean testified in person as well.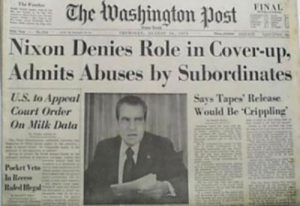 Dean served as White House Counsel from July 9, 1970 to April 30, 1973. He was fired at the height of the Watergate scandal.
Dean told the Senate Watergate Committee in June 1973 that Nixon was involved in the cover-up of the break-in at the Democratic National Committee (DNC) headquarters that took place a year earlier. Dean's testimony set in motion the events that led to Nixon's resignation in August 1974.
Dean, 79, is now an author and political commentator. He is often critical of Trump's leadership style.
Dean's testimony comes on the fourth and final day of the Kavanaugh hearings.
At issue is a 2009 Minnesota Law Review article in which Kavanaugh wrote that sitting presidents should not be subject to criminal proceedings or investigations.
Democrats allege Trump nominated Kavanaugh to help insulate himself from Special Counsel Robert S. Mueller III's investigation into potential collusion between members of the Trump campaign and Russian officials should a case ever come before the high court.
Kavanaugh repeatedly dismissed suggestions that he would insulate Trump from potential legal culpability.
Kavanaugh cited his concurrence with the 1973 Supreme Court decision United States v. Nixon as an example of his views on the limits of executive power.
Kavanaugh called the case "one of the greatest moments in judicial history." In the case, the high court unanimously ruled that Nixon had to turn over tapes he recorded of conversations with aides.
This article is republished with permission from Talk Media News 

Bryan has a Bachelor's Degree in Political Science and a life-long passion for politics at all levels. He has interned in the Maryland General Assembly and has volunteered for several congressional campaigns. Given this particular background, he has a unique insight into the dynamics of political analysis. When he is not writing, Bryan spends his time reading about history and frequenting Chinese restaurants.