Kings are getting ready for the season
On Wednesday and Thursday I was able to spend some time at the L.A. Kings training facility in El Segundo. Last season was a big disappointment for the team and their fans, but if you look at their overall performance last season, the Kings played pretty well, better than their record shows.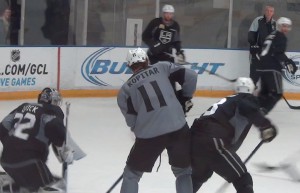 Some key issues: not enough goals from the top shooters, like Anze Kopitar; and goalie Jonathan Quick was very good, except in the shootouts. If the Kings can avoid going to the shootouts that will add some wins to the record.
While at the training facility I had one-on-one interviews with Kyle Clifford and Marián Gáborík and was able to ask some questions of head coach Darryl Sutter.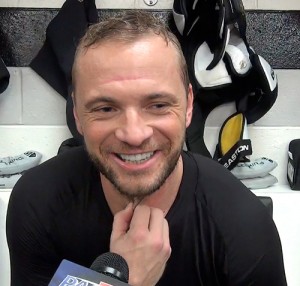 Below is my video from El Segundo.
(All photos by Claudia Gestro)

Claudia is of Peruvian and Italian descent, having been born in a small town, in the North of Peru, South America. She was raised by her grandmother from an early age, living in poverty until Claudia's mother brought her to America. She landed in Miami, FL and started her new life, playing high school basketball and eventually becoming a United States citizen. Claudia completed her education at Florida International University with a BA in Broadcast Journalism and became a model to supplement her income. Since graduating from FIU Claudia has worked with many of the Spanish Language broadcasting companies, including Telemundo, Univision and most recently Spanish Language channels on SiriusXM satellite radio and PasTV Deportes in Venezuela.She encourages you to follow her on Twitter and Facebook. Her content appears here under a shared content agreement with her Spanish television clients.