Love in a Bipolar World: What I secretly crave
"To succeed in life you need two things: ignorance and confidence." – Mark Twain
Sometimes my values are missing, yet I have compassion for everyone, well almost everyone. My morals stink of s#!t, and my confidence is raging! Lately I have been asking questions to myself; am I a real man?  How do I climb out of this? Is my love polluted? Where do I fit in in all this?
Recovery:  I was baptized into religion (not by choice.) I have been "born again," hands on prayer, all that; but soon after, my demons have always enticed me back to the vile. This time I am relying on my spirituality (instead of religion) and my Celexa to guide me into recovery and hopefully find my part in the universe. I don't want to be an asshole anymore, to anyone, including me.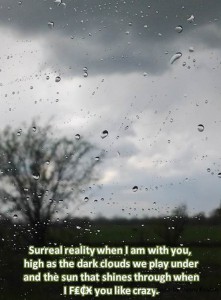 BeLIEve: After a while I stopped believing in the religious fairy tales, when all I had seen was a contradiction, which at times I echoed that same contradiction. I am not criticizing any creed. Even though I no longer trust in religion, I still believe the foundation of most faiths; teaching of love, "you reap what you sow", "do onto others", etc., is universal law.
Plus, church-power has saved me in the past. In the 1990's I was in front of a Tarrant County judge, facing two years and walked out that day a free man. I contributed my miracle to a small Bible I had in the pocket of my inmate uniform. I have always found courtrooms to be intimidating, (I have played the defendant many times, both in real life and TV, any government building makes me sweat.) Funny how I have met the most devout people in county jails awaiting trail, I should know, I used to be one of them. Desperation makes faith a lot more clear.
Doubt: I am on a constant search for descriptions that lie in between my thoughts of gratification and doubt. I find solace in my secluded ideas. There are times when the fear is overwhelming. It takes all I have to gather the strength to pull myself out by changing the channel in my head. I am emotionally vulnerable at times, yet I can totally bomb on stage and walk away completely shrugging off humiliation, with the help of Jack Daniels. Sometimes I feel disgusted with myself, other times I think, "I'm tha' s#!t!" with delusional evidence to back me up.
Satisfaction:  When they ask, "do you ever feel like hurting yourself or others?" I gotta say no, otherwise it's lockdown at the ICU in the "Loony Bin" for me! I have experienced all kinds of Loony Bins. I was locked up in a psych ward in Texas when I was 18 years old. A couple of times they had to tie me  down to a mattress on the floor in a padded pink room after they injected me with something (to this day I still don't know what it was) and I floated off to La La Land, 24 years later.
Now I play the Loony Bin Comedy Club chain in America's heartland; Little Rock, Oklahoma City, Tulsa and Wichita. When I was the opening act for Tommy Chong and he said, "Good job, Danny," with a smile on his face …When the Tommy Chong (from the funniest movies I watched as a kid, Cheech & Chong) said my name, it was a huge validation!
As far as my bipolar love goes; I just want both of us smiling, still in love, instead of trying to be the winner. I tried saying things to her I didn't mean so I could walk away mad and feeling falsely triumphant. Self-seeking pride is love's worst enemy.
I want to tell her I love her as I board the bus leaving Texas to my next gig in Arizona, and then back home to California.
Crave: I never want the good times to end, even at the cost of enduring some bad times to get there. I will appreciate where I am in the moment, but wish I could hide in the comfort of her place where I can sleep in security. I want my kids to love me again … regardless of me.
Still my questions linger unanswered. Maybe some of the inquiries don't have a solution in this lifetime or an answer that I am ready to understand. Possibly seeking and learning the authentic value that underlines the question could be the satisfaction I am looking for. What am I really looking for? Now this bigger question influences me.
Danny Keaton
Standup Comedian – Writer – Lover – Bastard
Follow me on Twitter:  www.twitter.com/DannyKeaton
Facebook:  www.facebook.com/DannyKeatonComic
•••• •••• ••••• •••• ••••
Disclaimer: This blog is not a help guide. I am NOT a doctor, nurse, therapist or a counselor. I am just your average-abnormal person who lives with bipolar 2.
Thank you for reading my blog.
There are people out there wanting to help you. I wish you all the best on your journey to recovery, and get ready for the ride of your life!
For more information call NDMDA Depression Hotline Support Group at (800) 826-3632, U.S. Suicide Hotline at (800) 784-2433, or contact your nearest county hospital's mental health unit.

Danny Keaton is a national touring comedian who lives in Los Angeles. He is also a writer, lover and a bastard with Bipolar disorder. Danny is your average person with a mental illness seeking redemption and a non-religious spiritual salvation through love and self-acceptance. Many times he is not aware when highs and lows kick in; to him it is part of his distorted reality. Check out Danny's website at www.DannyKeatonComedy.com or follow him on www.Twitter.com/DannyKeaton