Mets take Game Three in World Series
Game Three of the 2015 World Series took place at Citi Field in Queens, New York, home of the New York Mets.
This is not how they wanted to come back to their home field, down two games in this best of seven series. One thing the Mets know: it's hard to come back against a team like the Kansas City Royals. Kansas City had great pitching in their first two games, especially Wednesday night when Johnny Cueto held New York to one run and two hits through nine innings.
But in Game Three the Mets put their big, young rookie Noah Syndergaard on the mound, the youngest pitcher in the series. He has been one of their best pitchers all season long, finishing with a 3.24 ERA and a 9-7 record.
The Royals sent Yordano Ventura to the mound to start Game Three. He proved his postseason mettle in last year's World Series and during the postseason this year. The New York bats have to find a way to beat Ventura if they wanted to give Syndergaard a chance to get a win.
The night began with New York hero Billy Joel singing the National Anthem, which fired up the crowd and the Mets.
Noah Syndergaard took the mound first and the Royals, masters of the small ball game, put a run on the board. But then in the bottom of the first, with Yordano Ventura on the mound for Kansas City, Curtis Granderson got on with an infield single and David Wright followed with his big 2-run homer.
Kansas City took the lead again in the top of the second, scoring two more runs, the second one due to a passed ball by Mets catcher Travis D'Arnuad. After that Kansas City would not get another run across the plate — it was all Mets.
In the bottom of the third pitcher Noah Syndergaard helped his cause by getting on base with a single. Granderson followed with the second Mets homer of the night, scoring two runs.
It was in the fourth, after the Mets scored their fifth run off a Michael Conforto single that scored Lucas Duda, that Royals manager Ned Yost pulled his starter out of the game.
New York had another big inning in the sixth when Juan Uirbe, making his first appearance in the postseason, singled to center, scoring Juan Lagares.
Another Royals pitching change, Kelvin Herrera for Kendrys Morales, but then with the bases loaded David Wright singled, scoring Wilmer Flores and Uribe. Yoenis Cespedes would then hit a sacrifice fly that scored Granderson. When the game was over the score was 9-3.
It was a tough night for the Royals, but they still lead the series 2 to 1. For the Mets it was a nice homecoming after the first two games in Kansas City.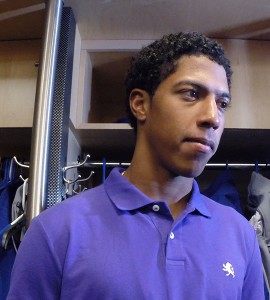 One nice story to come from this game: Raúl A. Mondesí, who had been called up from AA ball in September, had never played a minute in the major leagues until Ned Yost put him in to pinch hit to start the fifth. Syndergaard struck him out on four pitches, but Mondesí is the only player in MLB history to make his major league debut in the World Series.
If you recognize his name, his father is Raúl Mondesí , the All-Star outfield who played for the Los Angeles Dodgers and six other teams before retiring and going back to the Dominican Republic. The elder Mondesí  never made it to a World Series. After the game the 20-year old rookie said he dad told him, "You have a chance to play in the World Series. I didn't have a chance so be ready."
Game Four gets under way Saturday night, Halloween, with Chris Young starting for the Royals and Steven Matz for the Mets.
(L.A. Post-Examiner Staff contributed to this article.)
(All photos by Claudia Gestro)

Claudia is of Peruvian and Italian descent, having been born in a small town, in the North of Peru, South America. She was raised by her grandmother from an early age, living in poverty until Claudia's mother brought her to America. She landed in Miami, FL and started her new life, playing high school basketball and eventually becoming a United States citizen. Claudia completed her education at Florida International University with a BA in Broadcast Journalism and became a model to supplement her income. Since graduating from FIU Claudia has worked with many of the Spanish Language broadcasting companies, including Telemundo, Univision and most recently Spanish Language channels on SiriusXM satellite radio and PasTV Deportes in Venezuela.She encourages you to follow her on Twitter and Facebook. Her content appears here under a shared content agreement with her Spanish television clients.