I interviewed LGBTQ socio-political cartoonist Molly Alice Hoy. We talked about her comic, her upcoming wedding, and the current state of affairs for artists and creative's in the LGBTQ community. Here's what she had to say:
Cat Doss: How did you get into illustration/socio-political cartooning?
Molly Alice Hoy: I assure you, it was not intentional! I started an art blog in March of 2013 as a way to get myself back in the habit of drawing consistently. But instead of creating masterpieces, I instead found myself drawing dumb little cartoons about my issues with anxiety, body image, and being in the closet to my family. It was never my aim to make a political statement (politics stress me out!) but as a queer person, my identity routinely gets politicized in the current culture, so that naturally comes out when I'm writing about my own experience. Mostly, I just draw comics as a way to make myself laugh at situations that might not otherwise be that funny.
CD: Where has your work been published?
MAH: I've been featured in the Huffington Post for a comic I did about body image. It was meant to be a throwaway comic to get me through a bad body image day, but it ended up going viral and making the rounds on social media. I'm not complaining!
I've also had a comic featured in a Buzzfeed roundup of queer-themed comics (HERE). It was a thrill to be featured alongside some of my favorite queer cartoonists! I got a lot of attention for that particular comic. I will forever treasure Wil Wheaton's reblog.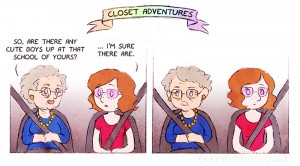 CD: What inspires your work?
MAH: Pretty much all of my comics are based on real-life experiences and actual conversations I've had.
CD: How did you get into art?
MAH: Like most artists, I've been drawing since my chubby little hands could fit around a crayon. As early as elementary school, I was drawing doodles and comics on my notes and worksheets when I was supposed to be paying attention in class. It was always very intuitive to me and never something I consciously chose to get into.
CD: Who are some of your artistic influences?
MAH: I grew up reading Calvin and Hobbes, and I think that shaped my sense of humor for the rest of my life. I also loved Sailor Moon as a child, and I think the biggest lesson I took away from that show was that it was okay to write about my experience as a girl for other girls.
Nowadays, Alison Bechdel, Erika Moen, A. Stiffler and K. Copeland, and Melanie Gillman are queer cartoonists that I really admire. Their work has a highly autobiographical bent, which really resonates with me. And they're hilarious.
CD: Can you tell us a little bit about your own background?
MAH: I was raised in a very conservative Baptist family in east Tennessee. My hometown of Knoxville was recently named the most "Bible-minded" city in the US, if that gives you any idea about what it was like growing up there. During my formative years, no one suspected there was anything less-than-hetero about me, myself included. If anything, my parents and teachers praised me for bypassing the typical "boy crazy" phase.
I had always loved drawing and considered several art schools when looking at colleges, but instead I decided to attend a small Christian liberal arts university. I thought it was God calling me to a life of holiness, but in retrospect I see that I was really just afraid of being in a secular environment for the first time after 12 years of private Christian education. I had a very tenuous grip on my faith and was afraid of interacting with anyone who might call it into question. For all the grief it caused me, the one good thing about attending that particular school was that it introduced me to the woman who would become my fiancée And, if all goes as planned, my wife!
CD: What was it like being a creative LGBTQ person who had to hide your identity?
MAH: Meeting and falling in love with my fiancée was a confusing time for me because I had never felt this way about anyone before. I found myself in the exceedingly uncomfortable position of loving someone with all my heart while simultaneously believing that our love was a wretchedly sinful thing and something that, according to my religion, I literally deserved to die for. Not so great for my mental and emotional health, although I didn't fully realize the toll it had taken on me until I finally got out of that situation.
I actually stopped drawing altogether for about three years while I was in college. I had been doing a weekly comic strip for the school paper, but I quit once I realized that nothing about my life struck me as funny anymore. I became extremely depressed and developed an anxiety condition, both of which caused my grades to plummet. I was also questioning my faith and starting down the path towards agnosticism and, ultimately, atheism, which was especially difficult to come to terms with in such a religiously charged environment.
Everyone could tell something was wrong with me, but it wasn't safe to tell the truth about what the problem really was. If our relationship had come to light, my fiancée and I would have literally been expelled without a second thought.
Fortunately (and somewhat miraculously) we made it to graduation without being found out. As it turns out, all the hardships we went through just strengthened our bond and our commitment to each other. Now we're kind of in a period of rediscovery as we learn how to be in a relationship without the mind-numbing, soul-crushing stress of being in the closet. I'm actually getting to enjoy being in love.
CD: What is your opinion on the current sociopolitical landscape for LGBT artists and creatives? What are some challenges they face?
MAH: I'm very optimistic about the future for LGBTQ artists, both in a creative capacity and a sociopolitical capacity. The internet has opened up a whole new venue for artists whose work wouldn't otherwise be able to snag distribution through a traditional publisher. It's allowed LGBTQ creators to share their views and experiences with a larger and more diverse audience, and gives a voice to marginalized groups who don't have much representation in mainstream media.
Of course we still have a long way to go in our fight against homophobia, transphobia, biphobia, etc., but I think the internet has allowed us to make a pretty big dent in a comparatively short amount of time. Overall, I'm very encouraged by what I've seen.
CD: What's life like for you and your fiancée now? When's the big day?
MAH: Things are going well for us at the moment! We've had a much easier time of it since graduating college and moving out to LA. We're also lucky to have a network of friends and extended family members who have been very supportive of us, though our respective parents are still warming up to the idea (to put it VERY mildly). We're planning a small, intimate wedding for this October.
CD: The legality of same-sex marriage in California has been a rocky road only recently having been reinstated in 2013. What do you think about the fact that there are still states where the bans are still in effect?
MAH: As distressing and frustrating as it is to see people proudly advocating policies of hatred and discrimination, especially in the name of God, the fact that so many of these marriage bans are being appealed and struck down is very encouraging to me. It's important to remember, however, that achieving legal marriage equality isn't the be-all-end-all of ending discrimination against members of the LGBTQ community. It's just the first step.
CD: Can you give any advice for young LGBTQ artists out there who might be in a place where they have to hide or downplay the fact that they're LGBTQ?
MAH: My advice would be twofold. First, it's important to realize that there's no shame in self-preservation. When, how, and to whom you choose to come out is nobody's decision but yours. However, it's crucial to remove yourself from an unhealthy situation as soon as possible. Living in that constant state of fear, vigilance, and dishonesty can have long-term emotional and psychological repercussions.
If you do find yourself trapped in a situation where your identity becomes a liability, at the very least, find someone you can talk to about your experience. Having a trusted friend or a welcoming online community can make all the difference in saving your sanity.
CD: Anything else you'd like to add?
MAH: I should probably apologize for my long-windedness!
CD: Where can we see more of your work?
MAH: My Tumblr!