Navigating with "A Map of Virtue"
There is a new team in town, an experimental theatre company called "Barker Room Rep" and they are strutting their stuff with Erin Courtney's award winning play A Map of Virtue at the Atwater Village Theatre.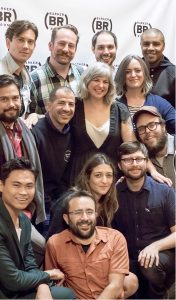 It begins with a man and a women standing on stage, each addressing the audience and my very first thought was "Oh no!" But their words resonated and I got hooked. It seems they had — or perhaps developed — a common bond with a bird or actually a small statue of a bird. That bond keep them attached in some perhaps spiritual way over time.  But the woman was inspired by the bird to become a painter and a rather successful painter at that. One day the man sees a painting of the bird, a large very well done painting but its existence enrages him for it is after all his bird and so he does something wild and criminal.
Further down this ever more bizarre road the man with the bird, the woman painter and her husband find themselves in a small shed in a very remote area far from town. There they are tormented by another woman and a man in a bird costume. Will they die there, or will they escape? What will come next in their lives? It is all on the table and for all of its weirdness or perhaps because of it the show grows ever more captivating and compelling.
My experience has been that often when a playwright strives for uniqueness through quirkiness the attempt fails and the show is a mess.  That is absolutely not true the case in A Map of Virtues which is deeply entertaining and riveting throughout as it moves from one virtue to another and back again. The ride is fun and moving thus proving that simply being different is not the same as being bad.
Heck when a Puerto Rican playwright decided to make a play about the Founding Fathers of America who were in his mind black coupled with some great music and choreography his show has done very well. And yeah sure A Map of Virtue certainly lacks the musical element and will never exceed the massive success of Hamilton, but it is nevertheless extremely worthwhile and deserves your attention.
A Map of Virtue is playing at the Atwater Village Theatre, 3269 Casitas Avenue, Los Angeles, California 90039 now through November 18th 2017. Show times are Wednesdays through Saturdays at 8:00 with a Saturday matinee November 18th and a Sunday matinee November 12th both at 4:00 p.m.  Reservations and ticketing are available online HERE.
•••• •••• ••••• •••• ••••
For even more art take a peek at: ronirwin.net

Ron Irwin was born in Chicago, Illinois a long time ago. He served in the Marine Corps in Vietnam, became a trial lawyer, TV and radio host, CEO of a public company and once held an Emmy. He never won an Emmy he just held one. Ron has written and published twelve books. His most important book to date is "Live, Die, Live Again" in which Ron tells of his early life and his unexpected and very temporary death in 2012. That experience dramatically refocused his life and within the pages of that book Ron reveals how he achieved a much healthier life, ridding himself of Diabetes, Cancer and Heart Failure. Now Ron enjoys writing about many things including health topics, travel [he has circled the globe several times], adventure, culinary experiences and the world of performing art. Ron's motto is "Live better, live longer and live stronger because it feels great and annoys others." Contact the author.