NFL from AFC to NFC and through the weeds
In case you were not aware of it, the NFL is back in full swing and will dominate sports talk until it takes a one-month hiatus next June. I think it is pretty nice of the league to give the rest of the sporting world a shot at the American market by taking off a month. It is a good lesson for others who crave the limelight, not that I can't think of anyone other than our president. Anyway, back to the subject at hand, the NFL. It's here so deal with it.
While I have not yet been diagnosed with CTE, you might think I am crazy when I share a few thoughts with you. If there is one thing I know it's that I don't know nearly as much as I would like you to believe. With that in mind, enjoy what I know about the NFL.
The AFC
I will be shocked if the Patriots do not win at least eleven games this year, but do not expect them to win more than thirteen. They should beat all of their Eastern Division opponents twice, which right there gives them six wins. Now, who thinks the Pats will lose more than half of their remaining ten games? The rest of their division might be lucky to total eleven wins.
The rest of the AFC looks to be about the same as last year. The west will be a tight race between four pretty evenly matched teams. The south will be a race toward mediocrity while the north will be a race to see if Pittsburgh's team of the elderly can fend off the youth movements of the rest of the division.
In the end, New England will be in the playoffs and you can roll the dice to see if anyone else has improved enough to unseat them from making another trip to the Super Bowl.
The NFC
This conference is stacked. The Eagles look like a great team, but their opponents in the East have all made huge strides. Unlike New England, Philadelphia will be fortunate to win four of their six divisional games. This will mean their remaining games will carry a great deal more weight and with their schedule, they just have to hope they are peaking when the playoffs begin if they get in. Dallas and New York will also be seeking playoff berths and are more than capable of doing so.
The South will be a blood bath between three very talented teams: Atlanta, New Orleans, and Carolina. NFL playoff windows do not remain open all that long and each of these three are primed to make the most of their current talent. If any of these teams secure home field advantage, they will be primed for a Super Bowl run.
Then there is the North where it is not unrealistic to also see Green Bay and Minnesota making deep playoff runs. Both may have a few question marks, but by the end of September, we should know whether or not these two squads are the real deal.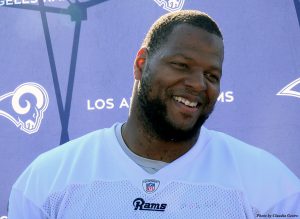 Finally, the West has its share of talent, none more than the Rams. Will they be able to maintain their success from last year now that everyone is expecting it or will the rest of the league have caught on to what they do and bring them back down to earth? The San Francisco 49ers are not conceding the division to the Rams and believe they have all the pieces in place to return to their glory days. Just think, Los Angeles vs. San Francisco is once again a dream matchup. Seattle and Arizona have the talent to be pesky, but I do not see them in the playoffs.
When the season ends, the NFC will see three or four very good teams not make the playoffs while the AFC may be filled with mediocrity.
Cowboys and the Flag: So we are to believe Jerry Jones will cut anyone on his team who does not stand during the playing of the national anthem. Maybe their team is all on board with his thinking, however, you can bet there will be scores of players from other teams who will choose not to just to make a point.
The NFL has screwed up this mess with the flag and now are back to square one. There are other solutions. One is to play the anthem after both teams go back into the locker room after their pregame warm up. The other is to scrap it all together since there is no law saying it has to be played. As for television coverage, why not just cut to a commercial while it is played and do away with the dreaded TV timeout during the middle of a game?
Dez's Reality Sucks:
Poor Dez Bryant. He not only got cut as expected by the Cowboys, he has yet to catch on with another team. He reportedly turned down an offer from the Niners because he felt he was worth more than their offer. Turns out he was wrong. His real talent is not catching passes, it is spouting off about how he was thrown under the bus by some of his former teammates. Dez, no one cares if you are a major jerk when you have the talent to back it up. You no longer do which at the time of this writing leaves you with a shot to play for Cleveland or joining Johnny Manziel in Canada.
The Gruden Affect:
Much has been made of Jon Gruden returning to coach the Oakland/Las Vegas Raiders. Keep in mind, after winning a Super Bowl in Tampa, his teams were nothing more than average and he struggled to develop a decent quarterback. Gruden is the kind of guy whose act wears thin so I am not expecting any long term success from a coach who has been away from the league and its players for almost a decade.
His bank account might thank him for returning to coaching, but I am one fan who thinks he will just turn into some side show that fails to produce as many wins as melt downs caught on film. In many ways, he will be the Donald Trump of the NFL and do whatever it takes to remain in the public eye. I'll take a subdued Bill Belichick or Mike McCarthy over Jon Gruden and his train wreck.
The Blackballed:
In the past, I have written about Colin Kaepernick and his not being on an NFL team. He may or may not be a quality starting quarterback, but he is better than anyone sitting on the bench. Carolina, Tampa Bay, and Seattle are all teams who could use him. Pittsburgh, Cleveland, and Jacksonville are others who would benefit from him. Any time a player who plays the most important position in sports and who has his type of talent is unemployed for as long as he has been, there is a reason. In Kaepernick's case, teams do not want to face any media or political back lash.
Kaepernick's 49er teammate, Eric Reid, is also unemployed and like Colin, has been one of the faces of flag protests. He is a first rate safety who puts the team first to the point of filling in at linebacker when injuries decimated the linebacking crew.
To think, we live in a day and age where if you are a talented black male and you have strong feelings about a controversial issue, you do not dare express them unless you want to kiss your career good bye. Yet, if you are a white male who hates people of color, you have a supporter in the White House who wants to give your voice more credit.
Can't we just go back to arguing over whether or not the officials screwed our favorite team out of a win?
•••• •••• ••••• •••• ••••
Editor's Note: Below are video reports of some members of the L.A. Rams, by Claudia Gestro
Photos by Claudia Gestro
Top photo: L.A. Rams in Training Camp 2018

Jim is a life long resident of California and retired school teacher with 30 years in public education. Jim earned his BA in History from CSU Chico in 1981 and his MA in Education from Azusa Pacific University in 1994. He is also the author of Teaching The Teacher: Lessons Learned From Teaching. Jim considers himself an equal opportunity pain in the ass to any political party, group, or individual who looks to profit off of hypocrisy. When he is not pointing out the conflicting words and actions of our leaders, the NFL commissioner, or humans in general, he can be found riding his bike for hours on end while pondering his next article. Jim recently moved to Camarillo, CA after being convinced to join the witness protection program.