NFL musings: Off-season action for Extra Points
Kickoff: Today marks the beginning of my NFL off season coverage as well as a snappy new article name to refer to, Extra Points. I will let you decide if it is good or ends up clanking off the upright.
The amazing thing about the NFL is there really is no let up. Other than a brief period of about two weeks prior to the start of training camps, there is always something to write about. I think this is primarily because along with the popularity of the actual games, the league has such a short season in terms of games played.
The NFL's regular season of 16 games leaves fans wanting more where as baseball, basketball, and hockey get eaten alive by the sheer quantity of regular season games and the length of their post season. One loss in those leagues means nothing. It takes ten straight losses in baseball and five in both hockey and basketball to equal 1 loss in the NFL. In other words, fans can justify panicking after their favorite NFL team drops two or three in a row. No one notices when it happens in other sports.
First Down: I want to talk about the news coming out claiming NBC canned Bob Costas from covering Super Bow LII because of his outspokenness on the league's failure to do much to make the game safer. Costas was one of the few voices who was relentless in pointing out the depth the league went toward hiding head injuries and the continuing danger involved in playing the game. He refused to buy into the NFL's line they were making the game safer while other marquee announcers either skirted the issue or spewed out Roger Goodell's message.
The end result, NBC canned their best, and most beloved, announcer to keep the owners and league happy. Who wants to tune into a game if someone is going to honestly report just how damaging the game is? How will the game grow if fans are turned off by the truth?
Costas clearly was not going to toe the company line, much like when Howard Cosell quit talking about how great the sport of boxing was. Unfortunately, for Costas, the NFL is not interested in anyone telling it like it is.
I am not surprised the league pressured NBC. I won't be surprised to here Roger Goodell deny ever pressuring NBC. He is paid to lie in order to sell the game. I just wish Costas did not wait a year to come forward with this information. Doing so now will not make much of a difference given there are no NFL games until September.
This is why I think the best thing for all parties involved in the game is to just come clean. The league needs to own up to the violent aspect of the game. Players need to sign off knowing they know they are destroying their brains, as well as the rest of their bodies, so as to avoid future lawsuits. Owners and the NFLPA need to find a way where both pay into long term health care plans for all players and then be done with it. If all parties are happy with the destructive nature of the game, it then falls on the fans to decide whether or not to watch it and from what I can tell, the fans do not care what happens long term to players enough to stop following the game.
Second Down: The NFL not only does not care about head trauma, they don't care about the trauma players cause citizens when off the field. Case in point, Kareem Hunt.
The former Kansas City Chief running back lost his job this season when video came out of him shoving a 19-year-old female to the ground and then kicking her. The Chiefs, in the midst of their best season in a long while, released him. However, it was generally assumed league-wide Kareem Hunt was too good of a talent with too much left to offer other teams to remain unemployed.
Monday, Hunt signed a one year deal with the Cleveland Browns. Hunt will make an already up and coming Browns team far more dangerous on the field next year, if he gets to play. I am betting he will. The Browns do not sign him unless they have a good feeling Hunt will be available for more than half of a season. My guess, the league counts the time he missed last year as part of his "sentence" and he is back to work by early October.
Perhaps if this were a one time incident and it did not involve a female, some could argue Hunt has learned from his mistake. However, he was also involved in two other incidents involving violence, one where he got into a fight at an Ohio restaurant, the other involved a fight at a Kansas City nightclub.
That a league is so image conscious they would go to the trouble to have Bob Costas fired while allowing a young man with Hunt's past another chance to play is proof the league has no regard for player safety, women, or off field behavior. They're happy when a team can step in and get local police to down grade a violent incident. They are okay with victims being bought off to drop charges. They make a point to hand out their suspensions during the previously mentioned two week dead period when the sports world is consumed with the NBA Finals and upcoming MLB All Star game.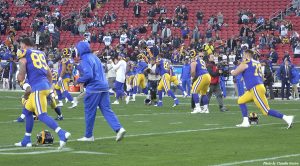 The fact fans get angrier over a blown call by officials than they do a 19-year-old woman getting kicked after she is knock to the ground by a 200-plus pound football player tells us a lot about what we value, and who we fail to value, in our society.
Third Down (AAF): No, those are not my mid term grades. It is the newest professional football league (Alliance of American Football) and if their initial weekend of games holds up, they may be a success. That's a big IF.
The AAF managed to out draw the NBA for TV ratings which means zip. As I mentioned in my opening, who cares about most NBA regular season games? Hard core fans will follow their favorite team and tune into to see them on national TV. However, no one else will.
If the AAF, or any other spring league, out draw the NBA post season games, then you have a success. However, once the innovation of the league is no longer new, the ratings will dip. Seriously, do you ever recall your high school Jay Vee football team selling out a home game?
The AAF does have one nice thing going for it from a football standpoint. At least the games are in the United States and not Europe. This will make scouting players easier. However, do not expect to see much more than an occasional player invited to tryout in the NFL and make a roster. There is a reason these guys are unemployed in the NFL and it actually has to do with talent and not off field behavior.
Fourth Down: Two quick player notes. First, Carolina Panthers safety Eric Reid was signed to a three year extension. He was previously blacklisted by the league for his support of Colin Kaepernick. It is a smart move by the Panthers considering Reid's talent. However, he can probably expect weekly drug testing like he had last year despite the NFL claim it was just a coincidence. The league office would love to have an excuse to keep him off the field.
Second, Heisman Trophy winner Kyler Murray announced he is all in on a football career. This is great news for the NFL and bad news if you are an Oakland A's fan like me. Murray was considered a sure thing in baseball and thought to be leaning that way until this past season. Now that he shined at Oklahoma and small quarterbacks are considered worth drafting, he wants to chase his NFL dream.
At 5'9" and 180 pounds, he better hope he can out run the likes of Vonn Miller or that NFL dream may become a nightmare.
I will be surprised if Murray is a first day draft pick. How will he feel if he is drafted in the third or fourth round? Sports dreams have a way of changing when the decimal point on your pay check is not in the column you were hoping for.
Overtime: I find it funny how Las Vegas is already releasing odds on who wins the Super Bowl next year. There are so many things to consider besides how teams finished this year when predicting next year. What decisions teams make in regards to their salary cap, free agency, the draft, contract extensions, and hold outs will go a long way to tell us where teams are heading into next year.
You can bet, at least one team, will look like a hot pick only to suffer what the Forty Niners suffered when they lost both their starting quarterback and running back to knee injuries early on.
Like most years, the Super Bowl champ next year will be the team that arrives to the playoffs on a roll. The Rams and Chiefs were the scariest teams at the start of the season, but it was New England that was firing on all cylinders come playoff time.
Song Dedication: I am not dedicating this week's song to anyone in the NFL or with anything to do with football. I am dedicating it to the person who performs the song I have selected, Lindsey Buckingham. He has been my favorite musical artist for 45 years and the first non athlete I ever recall wishing I could be. To hear the news of his emergency heart surgery last week may have resulted in permanent damage to his vocal chords, is a reminder of how our favorite classic rock stars are beginning to be lost.
Here's hoping he gets better. Enjoy.
Top photo of Mercedes-Benz Stadium in Atlanta, GA,
site of Super Bowl LIII by Claudia Gestro

Jim is a life long resident of California and retired school teacher with 30 years in public education. Jim earned his BA in History from CSU Chico in 1981 and his MA in Education from Azusa Pacific University in 1994. He is also the author of Teaching The Teacher: Lessons Learned From Teaching. Jim considers himself an equal opportunity pain in the ass to any political party, group, or individual who looks to profit off of hypocrisy. When he is not pointing out the conflicting words and actions of our leaders, the NFL commissioner, or humans in general, he can be found riding his bike for hours on end while pondering his next article. Jim recently moved to Camarillo, CA after being convinced to join the witness protection program.