NFL Week 16: Calling Andrew Anderson!
As the regular season winds down, the playoff picture becomes a little more clear. Football is often described as the ultimate team game, although I am not so sure that is the case when the league has made playing defense next to impossible and look for ways to make the game safer by considering doing away with kickoffs.
What gets lost sometimes is the individual aspect.  Unless you are a fantasy football fan (I am not and I question the sanity of those who get into it), we also overlook the individual aspect beyond players who play a skill position (not a fan of that term).
With this in mind, let's begin this week by examining the Pro Bowl results.
First Down: Maybe football is the ultimate team game, but the Pro Bowl is the ultimate waste of time. As a game, it is one step above grown men playing flag football and drinking beer between plays. Coaches hate the game simply because they fear seeing one of their better players getting injured. Players have an unwritten code to never take any play too seriously. If you get hit, go down. If possible, run toward the sideline and get pushed out. Most of all, encourage the coaching staff to sub you out.
The game is just another way to make money for the league and nothing more. If they really wanted a safer game, the league would end this joke or do the opposite. They would incorporate everything about it into the regular season. No blitzing! No practicing! Lots of arm tackling. Basically, hike the ball and throw it up for grabs like we did at school in 4thgrade.
This year, six rookies were selected to the Pro Bowl, which signals a change in the future of the league and who will lead it.
Seven Chargers made the game, the most of any team. Four Rams were selected. Oh, and just to make sure his feelings did not get tweaked too much, Aaron Rogers was selected despite having one of his worst seasons.
Tom Brady was selected for the 78thtime while Andrew Luck was left off. Not to worry. You can bet neither Brady or Rogers will play. They will be excused from the game like a kid with a note letting him out of PE. In fact, players want to be selected to the game, but then be excused from it because they do not want to be bothered playing. Remember, most saw their season end a month earlier and are up to their neck in their off season training/rehab, fighting charges for drunk and disorderly behavior, or have so much brain damage they have forgotten they play football for a living.
The players who really care the most about the game are the ones who were "snubbed" by the voters, which just so happens to be their fellow players. They piss and moan over their snub primarily because for most, if they are selected, they earn a fat bonus from their team. Some players need that money to pay for their legal fees, off season personal trainers, or their child support. There becomes a sense of entitlement to being selected and players don't like it when they get left off the team.
By the time those selected find a way to get out of class and be replaced by alternates who go on to call themselves Pro Bowlers — not to be confused with Professional Bowlers who are guys the NFL might consider adding to the game in some form — half the league ends up making the Pro Bowl game.
In the end, the game is really about the announcers. They need a way to transition to whatever their seconds jobs are. For them, the end of the football season hits them like a junkie trying to quit cold turkey. Have you ever tried calling a football game wearing shorts and an Aloha shirt? Maybe fans should be given methadone instead of this farce of a game.
Second Down: Josh Gordon is unemployed again. He just could not make it through a season without his demons resurfacing. I feel bad for the person, but certainly not for the team who employed him, the New England Patriots.
Gordon is a great example of how teams will keep investing in players with enormous talent and equally huge problems. When healthy and focused, Gordon is one of the most dangerous players to an opposing defense. The Patriots gave up little to get him in a trade and were desperate enough to replace the talent they lost in the off season, hoping they could provide the structure and environment he needed to succeed.
Josh Gordon needs round the clock care and monitoring just to remain alive and mentally healthy. What he needs, an NFL team cannot provide and should no longer try doing.
The sad thing is, the nation is filled with thousands, perhaps millions, of Josh Gordons who do not possess the physical talent he has and who, as a result, fall through the cracks of society. Will Josh Gordon ever get well enough to play professional football again? Not likely. Can he get well enough to contribute to society? Perhaps, but he needs a lot of help first. Is he more likely to end up another casualty in our failed war on mental illness and drug addiction? Yes, unless he can find a way to not only deal with his demons, but to also distance himself from his enablers.
Let's not forget, for every Josh Gordon in the NFL, there are probably ten or more other players just like him struggling with their illness who get cut by teams because they lack his level of talent. What do you think becomes of them?
Third Down: Eric Reid has been a staunch supporter of his friend and former teammate, Colin Kaepernick. Reid was released last year by the San Francisco 49ers in an expected move. As a pretty good safety, Reid failed to find employment even though there were numerous teams in need of help at his position this past off season. Eventually, he landed with the Carolina Panthers a month into the season.
Since signing with the Panthers, Reid has been drug tested seven times, with the first being expected as part of signing a new contract. In 11 weeks, he has had to take seven drug tests despite never having anything near a questionable sample.
Reid has made his displeasure over this public by posting his drug testing notification letters on social media. He indicates he is being singled out by the league for his continued support of Kaepernick. The league claims otherwise.
Who is telling the truth? I have to believe Reid, especially after reading the statistical probability of an NFL player being tested this number of times in less than three months (most players get tested a couple times in a year). It has been reported you have a better chance of tossing a coin and it landing on heads nine times in a row than you do being an NFL player being drug tested as often as Reid has been.
The odds of being tested seven times in eleven weeks checks in at .196 percent. I believe the NFL on this matter about as much as I believe they are making the game safer. All the league is accomplishing doing this is eliminating one more player they catch using drugs every time Reid is tested. Then again, I believe the NFL wants to catch cheats about as much as they want to make the game safer.
Fourth Down: I was surprised to see how much attention was given to the topic of whether or not Ben Roethlisberger is deserving of a first ballot induction into the Hall of Fame when he retires. All of this was over a comment made by a player who probably will not end up in the Hall and who I have already forgotten who it is (someone from the Saints not worth my time googling).
Soon, major sports sites were debating Ben's hall credentials like a bunch of old farts trying to decide whether or not a high school grad deserves admittance to their pricey college. Here is where our love for data and all of its worthlessness came into play.
Comparing Big Ben's stats to other quarterbacks of his generation made him look as if he was a notch above ordinary.  As a quarterback, there is nothing ordinary about him and yes, while he may be a jerk when not playing football, he is a first ballot Hall of Fame quarterback.
Listing Roethlisberger as less deserving of the hall than Philip Rivers is laughable. The most important stat to examine a quarterback by is wins and Ben has won plenty. Super Bowls, playoff games, divisional and conference crowns, and regular season victories have been plenty and that is the primary job of a quarterback. Roethlisbergerwas never labeled a game manager (Eli Manning) and often has beena constant force in leading the Pittsburgh Steelers throughout his career.
His nimble feet, tree trunk frame, and courage under pressure are what makes him better than most of his peers. For those who placed Phillip Rivers ahead of Ben, ask yourself where are all the championships the Chargers have under his leadership? I'd much rather have Ben Roethlisberger as my quarterback than any guy viewed as the best quarterback to never win a Super Bowl as my leader.
Overtime:The week began with a pair of Saturday games so let's start there with this week's results.
Tennessee 25 Washington 16:There's only so much a team can expect when it is forced to start their fourth string quarterback. Lucky for Tennessee they got to face this version of the Redskins because the Titans are not as good as their record indicates. Still, if they win this weekend, they are in the playoffs.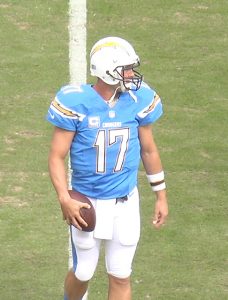 Baltimore 22 LA Chargers 10:These two teams could face each other again in the opening round of the playoffs. Baltimore's defense was unrelenting and if the Chargers do not figure it out, their postseason may be short-lived. As for the postseason, oddly enough, both of these teams could end up as division winners giving the Chargers a first round bye.
Indianapolis 28 NY Giants 27:The Colts seem to be a cat with nine lives. As long as they can keep winning, they may live to play a playoff game or two, but they haven't any more lives left. For them, their post has started. Next week, they have a in a Win and In game against the Titans. The winner of that game makes the playoffs.
Philadelphia 32 Houston 30:The Texans have not clinched their division yet and the Eagles refuse to give up on their season. Nick Foles scrapes himself off the turf to lead a game winning drive. This weekend will be interesting for both teams. With the loss, Houston falls to the third seed going into the final week. If Philly wins next week and the Bears beat the Vikings, they will get to defend their title.
Jacksonville 17 Miami 7:How the Dolphins won as many games as they have this year is one of life's great mysteries. Another is what the hell went wrong in Jacksonville this season?
Green Bay 44 NY Jets 38 -in OT:If only this game were the second week of the season and not the second from the end. Neither team is going anywhere this year and both have a lot of work ahead of them if they are going to be taken seriously next year.
Cleveland 26 Cincinnati 18:I have a feeling Hue Jackson can become the head coach in Cincy next year as rumored and as long as he remains in that position will never beat the Browns as long as Baker Mayfield is their quarterback. Payback is indeed a bitch.
Dallas 27 Tampa Bay 20: The Cowboys have been blessed with a schedule that allowed them an opponent with no reason to play. I wonder how they will react when they wake up and realize they have to play a very good team in the first round of the playoffs? At least they can call themselves the NFC East champs.
Minnesota 27 Detroit 9:The Vikings are already in playoff mode since they know they cannot afford to lose again. Fortunately for them, they played the Lions who are already in vacation mode since they know they have no business playing football.
New England 24 Buffalo 12:Did the Josh Gordon drama help serve as a unifying force for the troubled Patriots? It's more likely they were just fortunate to play a Buffalo squad they have owned for almost two decades. Still, the victory moves the Pats back into the two seed in the AFC.
Atlanta 24 Carolina 10:Do you remember when this game looked like a huge one in determining who might win the NFC South? Neither does Atlanta or Carolina. They are just playing out the season and hoping for no more injuries.
LA Rams 31 Arizona 9: How bad are the Arizona Cardinals? Right now, they are ranked behind the state's other two pro football teams, the Arizona Wildcats and the Arizona State Sun Devils. For the Rams, they had the next best thing to a bye week for this time of year.
New Orleans 31 Pittsburgh 28: This was a devastating loss for the Steelers who not only fell into second place behind the Ravens, but as things stand now, they would not make the playoffs. That tie back in week one with Cleveland could end up ruining their season. As for New Orleans, they secured home field advantage and can start resting up for a long playoff run.
Chicago 14 San Francisco 9: The Bears need another win next week along with a Rams loss to gain a first round bye and a home field playoff game. San Francisco just needs this season to end and quit with late game fights. They had their chance to fight earlier this year. Now, they are punch drunk.
Seattle 38 Kansas City 31: Seattle kept their playoff hopes alive with a must win over the Chiefs who have now lost two in a row. The Chiefs got a taste of playoff atmosphere on the road and found it does not taste so good. They better hope they win next week or the Chargers lose. Otherwise, they can forget about home cooking in the post season.
Denver at Oakland: The Raiders got a win at home, on Monday Night Football against the Broncos, 27-14. Both teams start their vacations next week.
Song Dedication:This week's song is dedicated to what will likely be a twice a year ass kicking of the Cincinnati Bengals by their cross state rival Cleveland Browns. In case Hue Jackson is unaware, he has a major thorn in his side named Baker Mayfield and it won't be going away anytime soon. Enjoy the Eurythmics.
Top photo is a YouTube screenshot of top-ranked professional bowler Andrew Anderson

Jim is a life long resident of California and retired school teacher with 30 years in public education. Jim earned his BA in History from CSU Chico in 1981 and his MA in Education from Azusa Pacific University in 1994. He is also the author of Teaching The Teacher: Lessons Learned From Teaching. Jim considers himself an equal opportunity pain in the ass to any political party, group, or individual who looks to profit off of hypocrisy. When he is not pointing out the conflicting words and actions of our leaders, the NFL commissioner, or humans in general, he can be found riding his bike for hours on end while pondering his next article. Jim recently moved to Camarillo, CA after being convinced to join the witness protection program.