NFL Week 5: Who Dat with the record?
The fifth week of the season began quietly with New England trouncing the Colts. I have more thoughts on the Colts below. For New England, they showed what many expected: a team that is beginning to take care of business and show signs of going on a roll. That's what excellence gets you.
When Sunday rolled around, there was enough excitement to remind us why the NFL holds such a tight grip on our sporting interests. Here is just some of what happened.
It's Good: Carolina beat the New York Giants with a game winning field goal from 63 yards. You can close the book on the Giants' season as they have that horrific gift of knowing how to lose a game. Until they gift it to another team, don't count on them winning too many more this year. Carolina is just the opposite and seems to know how to hang around long enough to pull out victories.
Cleveland is for Real: At the moment, with last weekend's win, Cleveland is playing .500 ball. With a break or two here and there, they could easily be 4-1. Don't look now, but there is about to be a new threat in the AFC North.
Twenty-seven Unanswered: It's a good thing the Bengals were playing Miami. After getting crushed by New England last weekend, the Dolphins realized they are still pretenders and have no shot of playing consistent winning football. Up 17 points against Cincinnati, Miami showed their true colors and gave up 27 straight points to the first place Bengals. Speaking of colors, get use to teams wearing brown and orange winning again, folks.
A Good Case of the Runs: In case you missed it, Isaiah Crowell was absolutely sick on Sunday. After scoring on a 77 yard run, he also managed to break free for runs of 54 and 36 yards. The last person to run like that was named Forrest Gump.
Kansas City Can't Be Stopped: Okay, this might not seem fair to say, but the only thing that looks to be able to stop this Chiefs team is their head coach, Andy Reid. When the Chiefs make it to the playoffs with home field advantage, all Andy has to remember is to keep coaching them like it is the regular season. He has a tendency to forget this.
The Burning of Atlanta Continues: The Falcons have been riddled by injuries, especially at the safety position. Perhaps they would have been wise to sign Eric Reid and trade for Earl Thomas. Had they, their season would be looking very good. Instead, you can stick a fork in this bunch and start wondering who is going to coach them next year.
Can Someone Play Quarterback For Us? Without bad luck, John Elway wouldn't have any luck in finding a quarterback to lead this team. Of course, by the time the off season rolls around, you can bet Denver will be asking about the services of Andrew Luck should he become available. Matt Ryan might also be available as will probably Blake Bortles and each of the teams they play for now will also be inquiring about the Colts asking price for Mr. Luck.
Can Someone Kick the Damn Ball? I am willing to give Mason Crosby a mulligan for his performance this past weekend. How many times does a kicker miss four field goals and an extra point in a game and not end up being kicked to the street?
The Packers can't blame just their kicker for their loss to the Lions. Believe it or not, it was a team effort. The fact Crosby missed more field goals than some kickers do in an entire season is something to laugh at. However, the overall performance of Green Bay is not.
Both the Packers and Vikings find themselves in a battle with the Lions and the Bears for supremacy in the NFC North. At this point of the season, it is not entirely unrealistic to see both preseason powerhouses missing out on the post season to the two divisional upstarts making their lives miserable.
Texas is in Play: It's not just Ted Cruz fighting to hang on to his power in the state of Texas. So are the Cowboys now that they lost to state rivals Houston. The loss has to sting for Dallas. not just for losing bragging rights to the state, but it was also a chance for them to move ahead of struggling Philadelphia in the NFC East.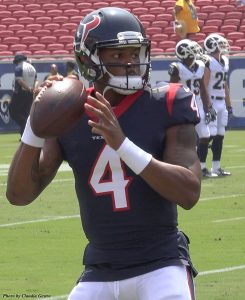 As for the really important matter, who has the best uniforms? I have not only been a huge hater of Dallas, and most other things that involve Texas, I have never liked their uniforms. I do, however, like the ones worn by Houston,
What's A Sack? : No one, including players and officials, seem to know what a sack is any more. What we all know is quarterbacks are off limits. The game I fell in love with has long since died so it is not surprising the NFL has called cracking down on the sack as part of a move to make the game safer. You do not make the game safer when you force players to think about whether or not the hit they are about to deliver is going to result in a flag.
As my old PE Teacher and 8thgrade football coach used to say, "Don't think, just react."  NFL coaches want players who know how to react to any situation on the playing field. How do they get them to do this? Pretty much through boring repetition called practice. No one sacks a quarterback in practice any more so instead, players get to watch film sent to them from the league office that shows what is and is not a legal hit.
If they were playing today, do you think Deacon Jones, Dick Butkus, or any of the other greats of the game would bother to watch the film the league sent them? They'd take the penalty, pay the fine, and if necessary, do the time if they had a shot at blowing up a quarterback and then tell the world what they did was the fault of the offensive line's failure to protect their little princess.
There once was an unwritten code: you never took out another player's knee, otherwise, everything else was just part of the game. I miss the old game.
How To Fix Indy: Assuming the Colts do not get Andrew Luck killed and he shows enough of his former self that makes him one of the best quarterbacks in the NFL, if I ran that franchise, I would trade him before next year's draft. I would listen to any team interested in parting with a slew of draft picks before sending him to any of a number of teams who see themselves as a quarterback away from a Super Bowl.
Why? The Colts are not just bad, but nearing Cleveland kind of bad. They need to stop the bleeding before they make us forget just how bad the Browns once were. Indianapolis has more holes than a golf course and unless they merge their team with another one (maybe Oakland), Indy will be in for a long couple of years.
Their one luxury is they have a darn good, some say the best, backup quarterback in the league in Jacoby Bissett.He would make more than a serviceable quarterback while the Colts do a total rebuild. A smart GM would take the first and second round draft picks offered him for Luck and turn them into as many as half a dozen or more picks by trading down allowing the team to load their roster with much needed depth at several positions. It should allow the team to find a new quarterback to lead the team toward a great run in two or three years' time.
They did this with Peyton Manning and should consider strongly doing it again. Otherwise, pro football in the state of Indiana will be nothing more than something to fill time while the state waits for NCAA hoops to start up.
Who's at Home? It no longer matters where the Chargers call home, at least when they play the Raiders. Oakland fans love to buy up tickets to their annual game on the road against the Chargers, which just goes to show everyone the league made a mistake. The Raiders should have been the second team the league selected for the L.A. market and the Chargers should have been left with deciding whether or not to finance their own stadium in San Diego, build a new one in conjunction with San Diego State, or pack their bags to a market hungry for an NFL franchise like Vegas or San Antonio.
Oh, and if anyone cares, the Chargers overcame the Raiders home field advantage and won.
Someone Has To Win Bowl: At the start of the season, Arizona versus San Francisco looked like one of those games where the winner would still be in the hunt for one of the NFC's wildcard spots. However, after four weeks, the teams entered their first meeting of the season with one win and seven losses, one team starting a second year quarterback, and the other going with a rookie.
By kickoff, fans were looking at two teams playing a game where the winner actually loses because the loser of the game holds the upper hand for the higher draft position in next year's draft. Considering how both teams need an influx of talent, you can see why this game was of interest only to the most hard core NFL fan or the guy who was happy to be gifted two tickets from a frustrated season ticket holder.
As a 49er fan, I have turned my attention to next year. My favorite college teams are nowhere close to being a factor in the NCAA title chase, so until the post season, there is no team in the NFL that I am particularly interested in following in terms of wins and losses.
This either makes me well suited to being a neutral observer of the rest of the NFL season or a guy who should turn his attention to writing articles about knitting.  I am not sure which of the two I am best suited for, but since knitting involves me buying more stuff I do not need and because I am not so sure the world is ready for the adult underwear with built in pee pad holder I would create in shiny colors, I will stick to the NFL for now.
By the way, the Cardinals won in case you are interested.
Song Dedication: Clay Matthews and all the other guys in the NFL who are paid to sack quarterbacks are on the receiving end of this week's song dedication. Let's face it, this song was all about getting someone in the sack, which is also in the process of being phased out of our culture.
••• •••• ••••• •••• ••••
UPDATE: Who Dat? Monday Night Football was all about Drew Brees, the veteran QB for the New Orleans Saints. Of course, he needed his offensive line and those high-flying receivers, to make it all happen, but Drew Brees has succeeded in this league for nearly 18 seasons. Drafted out of Purdue in 2001 he has had some incredible seasons and eye-popping games.
At just six feet tall and 209 pounds, he was (is) considered too small to be a successful NFL QB. The San Diego Chargers (now L.A. Chargers) traded him for Philip Rivers. Never tell someone who is determined he or she is too [insert judgement] to succeed.
Also, this is the team that , in 2005, gave the residents of the Hurricane Katrina torn area around NOLA a reason to stand up and cheer. Now we all know what "Who Dat?" means: "Who dat? Who dat? Who dat say dey gonna beat dem Saints?"
The Washington Redskins couldn't answer the call on Monday night.
Before the game Brees had two retired QB's ahead of him on the passing yardage list: Brett Favre (71,838) and Peyton Manning (71,940. Brees broke the record with a 62-yard TD pass to  Tre'Quan Smith and finished the game with 363 yards passing with three TD passes, for a 499 career total.
Saints head coach Sean Peyton kept Brees in the game long after he should have, hoping Brees would get into the 500 club. He didn't. Next game. After the celebration moment mandated by the NFL, Brees hugged his coach and said, "Let's go win this game."
New Orleans crushed Washington, 43-19 and Drew Brees now holds the career passing record with 72,103 yards. He will of course keep adding to his record …
Next Monday Night Football will feature the Niners visiting Lambeau Field in Green Bay, WI to face the Packers.
Top photo is a YouTube screenshot of Drew Brees after he broke the passing record

Jim is a life long resident of California and retired school teacher with 30 years in public education. Jim earned his BA in History from CSU Chico in 1981 and his MA in Education from Azusa Pacific University in 1994. He is also the author of Teaching The Teacher: Lessons Learned From Teaching. Jim considers himself an equal opportunity pain in the ass to any political party, group, or individual who looks to profit off of hypocrisy. When he is not pointing out the conflicting words and actions of our leaders, the NFL commissioner, or humans in general, he can be found riding his bike for hours on end while pondering his next article. Jim recently moved to Camarillo, CA after being convinced to join the witness protection program.