NFL Week 7: A rollicking locker room and London's calling
I hope you managed to wake up from the Thursday night joke the NFL played on us with their laughable game between the Broncos and Cardinals to watch Sunday's games. If you were smart, you flipped over to the MLB playoffs or season opener for the Lakers Thursday evening. All I can say is that game is proof the league cares only about profits. Why else was that game allowed to be shown?
Fortunately for you, I do not write for profits. Here are my honest thoughts on the NFL this week. If you enjoy them, feel free to send me a check or your ATM pin number.
The Story of the Week is Los Angeles: The NFL has a problem in Los Angeles but is not quite ready to admit it. The city has always been accused of having a fair weather fan base whenever it comes to its sports teams. When they are playing well, their games are the hottest ticket in town and turn into a place for the stars to be seen. USC has no problem filling up the massive Colosseum when they are in the thick of the national title race, but this year, they are lucky to fill half of their library thanks to another lackluster team.
Laker tickets were easy to get last year, but then, who wanted to watch a glorified college team play against real teams and lose? Unless Rondo keeps spitting at opponents, it won't be long before LBJ and company are an afterthought.  Their L.A. rival, the Clippers, were a hotter ticket just a couple of years ago when they were one of the better teams in the league. Today, they have a roster that includes … come to think of it, do they have a roster?
The Dodgers seem to be the only team that consistently draws a great fan base and now that they are regulars in the post season, their tickets are much tougher to come by.
This brings us to the NFL. Since moving to Los Angeles, both the Rams and the Chargers have brought with them quality football teams. Today, the Rams are alone in first place in their division and considered one of the top two or three teams in the league. Theirs is a hot ticket and fans can't wait for completion of their new stadium. It will be a bright spot for the city and the league.
Unfortunately, the Chargers have yet to be embraced and are having trouble filling a temporary stadium that holds a mere 27,000 fans, less than half the size of the average NFL stadium. Worse, their tickets often end up in the hands of locals who are fans of their opponents. The Chargers essentially play 16 road games because they rarely have home field advantage.
The Chargers are a very good team and a real threat to anyone they play. They have a great quarterback, some top notch defensive players, and a great coaching staff. Unfortunately, they are not embraced by Angelinos because they are still seen as that team from San Diego.
The NFL assumed the Chargers fan base would not mind making the drive to L.A. when they bolted from San Diego. I guess they never heard of L.A. traffic when they signed off on their decision. Their fans rejected the move and took it as a betrayal to their decades of loyalty. Unlike the Raiders who left Oakland for L.A., Charger fans have stayed home.
What happens when they move in as tenants of the new Rams stadium and they continue to have a half-filled stadium? Is the league willing to wait and see if this happens? Will they give away tickets just to lift the local TV blackout or will they step in and rethink their decision to allow them to move from San Diego?
By now, it is obvious the NFL should have said no to San Diego and yes to Oakland when both submitted a request to move to L.A. The Raiders have a built in fan base that would embrace even the horrible bunch that currently wears the silver and black. The league would have enjoyed a nice financial windfall, so much so, they could have helped solve the Chargers problem of a new state of the art stadium.
I wonder if Roger Goodell and the owners are kicking themselves? They could have been involved in a nice trifecta and joined the city of San Diego and the regents of San Diego State University and built a new stadium that would have housed both the Chargers and the San Diego State Aztecs. Instead, they have another problem they created.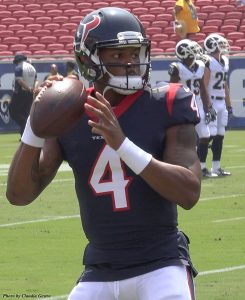 Flip Flop in AFC South: At the start of the year, Jacksonville looked like they were the top team in the AFC while everyone was wondering how long before Houston fired their head coach after losing their first three. Now it is Houston who is riding a four game winning streak and the Jaguars who are a mess. Blake Bortles has shown last year was the exception and not the rule and at the rate the team is going, it won't be long before their next coach will be drafting their quarterback of the future. Maybe they should trade for Eli or sign some guy named Colin while their season is somewhat salvageable.
Editor's note:Blake Bortles was benched for former USC QB Cody Kessler. He did marginally better than Bortles. After the game they lost against the Houston Texans fights broke out in the locker room, which was confirmed when the locker room door were opened to the media while the fights were still going on. Jacksonville is a mess.
Flying South for the Winter : At 3 and 4, the Eagles seem to be preparing themselves for a longer and more relaxing winter this year. To date, they have managed to beat the teams most everyone else beats and lose to the teams who pose the biggest threat to their Super Bowl defense. Worse, they have now fallen into that class of teams that seem to find ways to snatch defeat from a sure victory by blowing a 17 point fourth quarter lead and losing to the Carolina Panthers. The Eagles only saving grace is they play in the NFC East which at this point shows no signs of any quality playoff teams.
New England Finds A Way: Unlike the Eagles, the Patriots are used to shorter off seasons and show no sign of a letdown. Traveling to Chicago after last week's big win over the Chiefs, no one would have blamed New England for a letdown against a tough Bears team. Instead, the offense got a huge effort from everyone even though they were missing someone named Gronk and the defense did just enough to keep Chicago from pulling off a last second miracle.
No Let Down Either: The Chiefs made sure there was no let down on their part by making sure they demolished the Bengals. Well coached teams put behind a stinging loss like the Chiefs had the previous week and move on with the task at hand. They have a lot of football still to play this year while Cincinnati is just fortunate they are playing in a division no one seems to show signs of pulling away from.
No Let Up:Maybe on paper the Rams vs the Niners looked good a few months back. However, even for a lifelong 49er fan like me, I wasn't buying this week's game. This was another reminder how bad San Francisco is and not much more than a glorified scrimmage for L.A. Up 22 zip, Sean McVay did the smart thing and pulled all his players so as not to risk injury and still managed to score 17 points using just his cheerleaders and equipment managers.
Who Cares?Indianapolis played Buffalo in a game that never should have been played because neither team is much better than the average college team. At least Oakland had the decency to have the week off.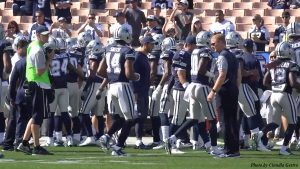 America's Joke: The Dallas Cowboys are a joke. Worse, they are a bad joke. They will remain one as long as Jerry Jones is guided by marketing and not winning. He needs a new coach, but why bother when Jones will just select another guy willing to do as told rather than tell the owner to stay out of his way, you know, like Jimmy Johnson or Bill Parcells.
Because Jones insists on having his finger prints all over his team, he ends up with players who do not respect the coaching staff or fear for their jobs. Jones has created a team that is a terrific reflection of our current leadership, a lot of boasting with nothing positive to show for it.
No Longer a Sure Thing:  Justin Tucker finally missed his first ever extra point of his career. Unfortunately for him, it came with the game on the line and resulted in his Ravens dropping a game to the Saints by a point.
Charging Along: Nothing like getting up early to watch two teams with jet lag play a game in London, but if you did, you were treated to a close one for a change. The Chargers managed to win again and at 5 and 2 are telling division rival Kansas City they are not going away any time soon. This is a pretty complete Charger squad. If it can remain healthy, they match up well with just about anyone.
They may not have the flash of teams like the Rams or Chiefs or the experience of one like the Patriots, but they are as well coached as any team in the league. Any team that plays them knows they have to raise their game and minimize mistakes or Los Angeles will make you pay for your short comings. Unfortunately for Tennessee, they had to travel all the way to London to find this out.
Song Dedication: It seems inevitable there will be an NFL franchise in London in the next few years. There is talk of the Jacksonville Jaguars relocating there all together or possibly playing half their home games in London and the other half in Florida. With this past weekend's game pitting the Chargers and Titans against one another, it only seems appropriate to turn to The Clash for this week's song.
•••• •••• ••••• •••• ••••
Editor's Note: The Monday Night Football matchup was one of those games when the announcers were finding things to talk about because the play on the field was less than inspiring. It was a close game though. The Atlanta Falcons narrowly defeated the New York Giants.
The Giants could have won …
Top photo of the Los Angeles Rams is by Claudia Gestro

Jim is a life long resident of California and retired school teacher with 30 years in public education. Jim earned his BA in History from CSU Chico in 1981 and his MA in Education from Azusa Pacific University in 1994. He is also the author of Teaching The Teacher: Lessons Learned From Teaching. Jim considers himself an equal opportunity pain in the ass to any political party, group, or individual who looks to profit off of hypocrisy. When he is not pointing out the conflicting words and actions of our leaders, the NFL commissioner, or humans in general, he can be found riding his bike for hours on end while pondering his next article. Jim recently moved to Camarillo, CA after being convinced to join the witness protection program.