NFL Week 9: The ratings continue to tumble
We are now two months into the season that has seen ratings decline at an alarming rate. The NFL blames it on the election, but starting next week, they will have trouble saying it is the fault of the early start to the 2020 campaign.
Yes, this is a regular season of doom and gloom as the NFL quickly evolves into a league of mediocrity. How bad is the league? Cleveland has yet to win a game and yet they are mathematically in the playoff hunt thanks to what has become the hapless AFC North. A team incapable of winning the Ohio State high school championship could theoretically end up playing in the post season in January.
At any rate, a recap of the week is in order so here's to the new America, where anything can happen except for meaningful pro football in November.
Atlanta 43 – Tampa Bay 28
Matt Ryan continues to garner talk of the league MVP award while leading his team past the Buccaneers. Tampa Bay is just not ready to challenge for a playoff spot yet, but a year from now, these two teams could well be one of the league's better rivalries. As for now, just be glad you didn't draft Johnny Manziel as your quarterback or the Bus might be called the Browns.
Baltimore 21 – Pittsburgh 14
Big Ben played more like a cuckoo clock and the end result was the Steelers, who just a month ago looked to run away with the division, now find themselves back in a three-way race for the division title. Baltimore, who looked more like Orioles than Ravens a month ago are now breathing new life after their much needed win stopped their bleeding. And don't look now, but Cincinnati is also lurking in the shadows just a half game behind these two rivals. Could eight wins be enough to win this division? Lets hope not.
Detroit 22 – Minnesota 16
Turn out the lights … Detroit is suddenly on the prowl and back to being a factor in the NFC North with their overtime win over the sinking Vikings. Norv Turner was smart to jump over board and swim back to shore because Minnesota just can't score enough points to win. They may still be in first place, but with three straight losses and a one-dimensional offense, this team might struggle to win three more games. Even if they do, will nine wins be enough to win the division? This is the NFC North. At this rate, nine wins might get home field advantage.
New York Giants 28 – Philadelphia Eagles 23
Another team whose ship is sinking is the Eagles and with a rookie quarterback, it does not look like this will be a playoff year for Philadelphia. On the other hand, the Giants are now 5-3 and showing signs of the teams they were when Eli Manning led them to two Super Bowl victories.
This could be another year where they finish the second half strong and upset the Patriots for their third Super Bowl title. Then again, they may not even make the playoffs. It's that kind of year.
Miami Dolphins 27 – New York Jets 23
If you had bet me the Dolphins would win three straight games this year, I would have lost my shirt with that action. However, with their victory over the New York Jets, they are now at .500 and thinking playoffs. This can only mean one thing, next week they begin an eight game losing streak and begin debating about who their next quarterback and coach should be.
Dallas 35 – Cleveland 10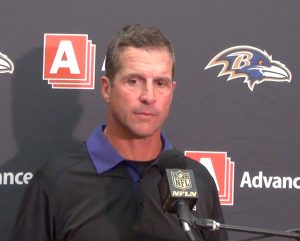 What's better than a bye week in the NFL? A game against Cleveland. After the Erving and Irving fiasco on the game's fifth play, or was it the Irving and Erving fiasco, this game turned out to be one more excuse for a bunch of people to gather together and get drunk.
Cleveland is so bad that their own fans beat up each other for wearing Browns jerseys in the bathroom. The only Brown you will find in the Hall of Fame is James Brown and he's down the street in the Rock and Roll Hall of Fame.
As for Dallas, they took care of business — which is easy to do when your opponent has no business playing in the NFL.
Kansas City 19 – Jacksonville 14
The Chiefs proved you do not need your starting quarterback and running back to beat the sad sap Jaguars. With the win, the Chiefs are looking like a playoff team while the Jaguars are looking like they are just 53 players away from being a professional football team.
The AFC West has been the best in the NFL this year. Any team that wins this division is going to be a threat to the Patriots in the post season. And don't count out the Chiefs even if they are a wild card team. The AFC West is the one division that actually plays quality football on a week-to-week basis.
New Orleans 41 – San Francisco 23
So, what did you do on your bye week? In the case of the 49ers, it should be what didn't they do? They didn't trade their entire defense as evident by another 40-plus point performance. Instead, they took the classic wait and see approach as in, "Let's wait and see how many yards Drew Brees throws before we decide what we want to do?"
And to think, this was on the same day Edward DeBartalo celebrated his 70th birthday. Remember when he was young and brash and the Niners were good? Apparently they have the young and brash part in place, but they are nowhere near being good.
Carolina 13 – Los Angeles 10
How good are the Lamb Chops? Well, after not scoring for three quarters, they decided they could play a little offense and still beat the Carolina Panthers. They were wrong. In fact, a few more gems like this and they will be wrong for Los Angeles.
As for Carolina, at least Cam Newton managed to keep his head despite getting sacked five times. As for these teams' futures, neither one is going anywhere any time soon when they can only combine to score as many points as the 49ers scored this week.
San Diego 43 – Tennessee 35
Coulda, woulda, shoulda will be the mantra for this year's Chargers. At 4 and 5, they have to rue their early season chokes which had they just taken care of business would see this team with just two losses. Maybe Mike McCoy gets another shot next year, maybe they go in a new direction, like north to Los Angeles. We'll know when voters decide on their stadium referendum Tuesday. At 4- 5, the Titans can still be thinking the playoffs — which again is another reason the NFL has sunk to the depths of average while college football soars.
Indianapolis 31 – Green Bay 26
Another average team looking at a division title are the Colts. Yes, this is not an error, but at 4 wins and 5 losses, they could pounce on the opposition and actually win seven games which could be enough to win the AFC South.
Green Bay blew another chance to beat a team they should walk all over, but instead, they sit at .500 which has them in third place behind Minnesota and Detroit. No this is not a typo, Green Bay is average and heading closer to vacation than they are the playoffs. Welcome to the new NFL.
Oakland 30 – Denver 20
No, you are not a mile high. The Raiders just ran all over Denver and are now looking like the only team that can legitimately challenge New England in the AFC. They are young, hungry, and unafraid so whether they play at home in their dump or on the road, these Raiders are a team to be reckoned with. Meanwhile, what does Denver do if they can't stop the run or chew up the clock on offense, two things Oakland excelled at? If you missed the 70's, don't worry, Oakland is back and they appear to be so for a while. Of course, we may be calling them Las Vegas soon enough.
Monday Night Prediction
Buffalo vs Seattle
This is the Marshawn Lynch Bowl, or in other words, the two teams that put up with him over his career. Seattle owes it to Buffalo to just let them win. After all, they gave Marshawn to Seattle and look what that did? Plus, a Buffalo win makes Bills fans forget for another week winter will soon have them stuck inside their homes behind doors that are frozen shut for another week and dreaming of the playoffs while a Seahawk loss will allow pundits to write another "What's Wrong With …" article. That said, it is November and this is the time of year Pete Carroll begins to get his gang to start taking life in the NFL more seriously. Toss in this is Monday Night Football and I see the Seahawks making a mockery of the Bills.
Seattle 36, Buffalo 14
Clinton vs Trump
Okay, this is not a football game, but it is political football so it requires some break down. On offense, Trump wins hands down. Simply put, he is the most offensive person in the nation. However, there is a saying, "Defense wins championships," and no one is more defensive than Clinton. She has more ways of disguising her coverage than she has deleted emails. She is not afraid to blitz an opponent with countless attacks while relying on her star filled roster of surrogates to reach across to all demographics. Trump did well to win the primaries and should feel good about it, but since this is a football analysis, and since his message is to make this nation strong again, and since the NFL is merely average at best, I am picking Hillary to keep America Mediocre … again.
••• •••• ••••• •••• ••••
Editor's Note: Hillary Clinton did not keep America mediocre again, but then Donald Trump as president-elect has edged the world markets into the beginning of another recession. If America is as great as Democrats and some pundits claim, then we and the world will survive President Donald Trump.
As for the Buffalo Bills and Seattle Seahawks, Jim's prediction wasn't that far off the mark. The final score was 31-25, Seahawks. The best part of the matchup: the war of words between the two coaches, Pete Carroll and Rex Ryan. We can all agree both of them coach their own teams.
Then there was Seattle cornerback Richard Sherman's questionable hit on Buffalo kicker Dan Carpenter. First off: why is Richard Sherman playing on special Teams? Second: Sherman was called for off sides on the play and third, Sherman proved he is ever the gentleman, albeit a slightly sarcastic one. In a tweet Carpenter's wife Kaela suggested Sherman be castrated after the hit. Sherman's reply … well here's the twitter exchange:
@KaelaCarpenter ????? Thank you! Have a great day

— Richard Sherman (@RSherman_25) November 8, 2016
Photos by Claudia Gestro
Top photo: Seattle Seahawks Cornerback Richard Sherman

Jim is a life long resident of California and retired school teacher with 30 years in public education. Jim earned his BA in History from CSU Chico in 1981 and his MA in Education from Azusa Pacific University in 1994. He is also the author of Teaching The Teacher: Lessons Learned From Teaching. Jim considers himself an equal opportunity pain in the ass to any political party, group, or individual who looks to profit off of hypocrisy. When he is not pointing out the conflicting words and actions of our leaders, the NFL commissioner, or humans in general, he can be found riding his bike for hours on end while pondering his next article. Jim recently moved to Camarillo, CA after being convinced to join the witness protection program.