Patrick Kilpatrick: The anti-Hollywood, Hollywood guy
Some many years ago now a young man began his working life as a writer but not merely as a hopeful writer but a writer for such well known top echelon magazines as Time, Life, Fortuneand People. But Patrick Kilpatrick was and remains a driven man so soon he expanded his work to include writing a play and the next thing you know he began assistant directing plays on Broadway and directing off Broadway plays . Then as often happens his thoughts shifted westward and he came to Hollywood.
While in Hollywood, where he still lives today, Patrick Kilpatrick soon found himself working on camera with people such as Arnold Schwarzenegger, Bruce Willis, Tom Cruise, Jean-Claude Van Damme and other A-list stars. So far he has accumulated 151 acting credits along with several credits as Producer, Director and Writer. He formed his own production company and wrote his first book Dying For Livingin which he reveals the true inside story about Hollywood which Kilpatrick describes as a culture of theft.
During a recent radio interview Kilpatrick related a story of how one time he was cast in a starring role and as he began going over the script he came to realize that it was a script he had written nine years earlier but for which he had never been paid. Yet there he was about to star in a movie he had created but had not received one penny.
The good news is that he got "off book" meaning he knew his lines very very quickly. The bad news, the very bad news is that his creative work had been stolen, be it deliberately or inadvertently. Either way something that was very much the property of Patrick Kilpatrick had been taken from him without his knowledge or consent or simply put, stolen.
From his book Dying For Living Patrick Kilpatrick speaks to his motivation for moving to Hollywood as follows: "Where else would an energetic sex addict psychopath slither? It's Hollywood or Washington — TINSEL TOWN chicks superficial and less brainy, the weather finer,less humid— and gluttonous swag won't send you to Federal prison."
Every man and women is a product of their youth and so it is with Kilpatrick who has included a great deal about his younger days, including this:
"My boyhood was as rarified as it was eruptive … a turbo literate, well-fed war zone replete with paradoxical violence and recurring nightmares … Arcadian landscapes, whippings with Hoover vacuum cleaner chords … mop handle beatings with skull stitches.
"A few years ago, after starring in the film Parasomnia, as an eloquent serial killing mesmerist, I shaved my head and the shaped scars remained a half century later."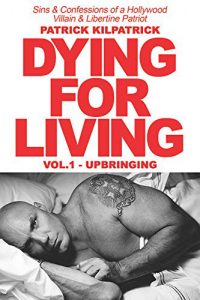 Patrick Kilpatrick has made numerous appearances on camera as an action film villain. Over the years he has fought with or against such stellar actor as Yu-Fat Chow, Arnold Schwarzenegger, James Caan, Bruce Willis, Steven Segal, Sean Connery, Mark Harmon and Tom Selleck to name but a few. There are several references and details throughout his book which is spellbinding in many ways.
Of Patrick Kilpatrick James Woods has said: "One of only two people from whom I learned something about acting. We are all lucky Patrick Kilpatrick has chosen the share."
Ron Perlman commented, "One of the greatest actors of any generation."  And long-time star of the hit TV show Criminal Minds and more importantly proprietor of the fabulous restaurant Taste Chicago, Joe Mantegna said of Kilpatrick's book "You may love it, you may hate it, but you will never forget it." 
I was extremely blessed to have shared some time with Patrick Kilpatrick on my weekly radio show, The Dr. Ron Show on Universal Broadcasting Network. I discovered a very rare man in the world many call Hollywood. He may play many characters, but Kilpatrick is a very real, sincere, fascinating and credible human being. I whole heartedly recommend his book Dying For Living and also note that Patrick Kilpatrick had pledged a portion of each book sale to aid wounded American military men and women who need help. In the end you get an excellent read and you also do a very good deed. It just doesn't get any better than that.
•••• •••• ••••• •••• ••••
Order your copy here.
Top photo is a YouTube screenshot pf Patrick Kilpatrick in the film "Death Warrant"

Ron Irwin was born in Chicago, Illinois a long time ago. He served in the Marine Corps in Vietnam, became a trial lawyer, TV and radio host, CEO of a public company and once held an Emmy. He never won an Emmy he just held one. Ron has written and published twelve books. His most important book to date is "Live, Die, Live Again" in which Ron tells of his early life and his unexpected and very temporary death in 2012. That experience dramatically refocused his life and within the pages of that book Ron reveals how he achieved a much healthier life, ridding himself of Diabetes, Cancer and Heart Failure. Now Ron enjoys writing about many things including health topics, travel [he has circled the globe several times], adventure, culinary experiences and the world of performing art. Ron's motto is "Live better, live longer and live stronger because it feels great and annoys others." Contact the author.