Rambling thoughts from the middle of the night
Yet another middle of the night spent wide awake with my mind filled with random thoughts. Here are just a few.
Impeachment Polls: Even FOX News shows polling numbers that do not look good for the president. Despite all of this, Donny only has to worry about the Senate numbers and Supreme Court make-up, both of which favor him on impeachment.
Syria: I am not surprised the GOP is up in arms over Trump's decision to pull out of Syria. They love a good war. The problem is, our nation no longer knows how to fight a good war and look at wars merely in terms of dollars and sense. How else do you explain why we are still fighting in some of the most God forsaken places on the planet while accomplishing nothing in the process?
Power: Rolling blackouts across the state are, in my opinion, nothing more than powerful utility companies waging their version of terrorism on us. They have failed for decades to adequately maintain power lines and poles in the name of profits. Now that the cat is out of the bag, they would rather cut us off of power than do what they should have done all along and fix the problem. Once this passes, know that it will be the customer who pays the price for updating poles while utility companies reap higher profits.
Who Fights Progress: Who hates the idea of citizens being able to supply themselves with their own wind and solar power the most? If you said utility companies, you are right. Add up the yearly cost of your utility bills and see what they come to. Then ask how much money you would have to afford health care or college tuition for your kids if you were allowed to provide your own power, free of utility companies? Who would you prefer to see go in debt, utility companies or yourself? Our leaders protect the best interests of So Cal Edison more than they do the people who deserve a break.
Clayton Kershaw: Growing up in the Bay Area taught me to hate all L.A. based sports teams. This does not keep me from admiring Clayton Kershaw. He has not hidden from his postseason failures and is an outstanding role model to kids who want to look up to athletes. That said, even Kershaw knows his postseason record of failures is what will keep him from being mentioned with some of the all-time great pitchers.
The Wall: Anyone beside me get a kick out of all the videos posted of people easily scaling the wall Trump wants built? Any time an eight-year-old can make the president look like the fool he is, is worth a look.  Then again, any eight-year-old out there can make him look like one when he constantly acts like a three-year-old brat.
Adults and Halloween: If only adults put as much time, effort, and creativity into their work as they do their Halloween outfits, we might actually see adults being productive rather than trying to just trying to appear so.
Dogs in Bed: My wife and I are one of those couples that have allowed our five little dogs to sleep with us in bed. Here is the problem. When one needs to be let out, they have no problem letting us know it. However, if I have to get up in the middle of the night, they make it clear, I have given up my spot in bed and might as well sleep in my recliner.
Dumb Move on my Part:  I got my annual flu shot the other day. Like always, I just tell them to poke me in whatever shoulder is closest to the person giving me the injection. Unfortunately, this year I made the mistake of having them give it in my recently surgically repaired shoulder. Two hours later, I felt like I was shot by a gun.
Even I Know This Was Wrong: Twenty or thirty years ago, a TV station could get away with a catchy headline that is now considered insensitive. Apparently, KTVU in the Bay Area is still living in the past when they teased, "Braves Scalped By Cardinals," after their game five loss. I wonder if heads will roll for this?
Matt Lauer: I think it is safe to say if Matt Lauer wants to ever hold down another job in television, he will either need to buy his own network and hire himself or learn a foreign language and move to another country. Personally, I am hoping he learns a new language.
Flying: I am sure it adds to some people's flying experience when they see jets pull up that are painted with cool looking graphics. I saw one posted recently sporting Pixar characters. However, I would prefer airlines put more effort into the maintenance of these jets instead of their appearance. Who wants to crash to an untimely death with Woody?
Ellen and George:  A lot was written about how Ellen DeGeneres sat next to George W. Bush at a recent Cowboys game. How could the two enjoy the game in each other's company when they differ so much politically? It turns out they are actually able to do what our politicians once did and separate their politics from what they share in common. It is possible to be friends with people who think or believe differently than you. Of course, our elected leaders do not like to see this because they are basically paranoid folks who prefer to run campaigns that are based on instilling fear into voters about what will happen if their opponent is elected rather than actually running on their accomplishments.
They Just Died?: The other day, I read a story about a celebrity who passed away and thought to myself, "Huh, I thought he died years ago." Now that a couple of days have passed, I can't remember who the celebrity was, that's how dead he was to me. At least I think it was a he. Maybe the person was female. Maybe they weren't all that famous.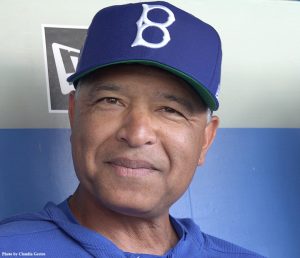 Workout Music: Recently, in the small group fitness classes I teach, there has been some debate over the best and worst music for working out. It seems country music and anything from this century is a no go. Basically, they prefer classic rock as long as it is faster in tempo. Forget about guys like Dylan, Cash, or Nelson. What I find ends the debate is just making their workouts so grueling they can't take the time to notice what kind of music is playing, let alone comment on it.
Back to Normal: My wife was raised a Dodgers fan, her only real blemish from what I can see. Now that their postseason is over, we can get back to our normal nights of her watching something on TV she enjoys while I lapse into my usual post dinner coma. I was worried this baseball stuff might go on into November like it has the last couple of years. I want to thank the Washington Nationals. They are the first group of people from DC to actually accomplish something beneficial to me.
Top photo is a YouTube screenshot of President Trump gesturing at Marine One

Jim is a life long resident of California and retired school teacher with 30 years in public education. Jim earned his BA in History from CSU Chico in 1981 and his MA in Education from Azusa Pacific University in 1994. He is also the author of Teaching The Teacher: Lessons Learned From Teaching. Jim considers himself an equal opportunity pain in the ass to any political party, group, or individual who looks to profit off of hypocrisy. When he is not pointing out the conflicting words and actions of our leaders, the NFL commissioner, or humans in general, he can be found riding his bike for hours on end while pondering his next article. Jim recently moved to Camarillo, CA after being convinced to join the witness protection program.